Cooking Classes & Events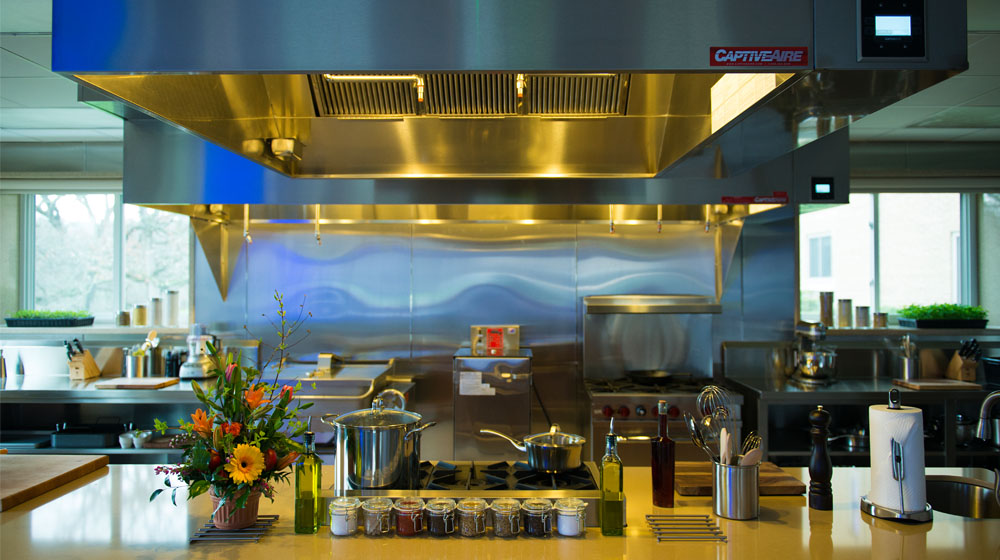 Cooking classes and events are temporarily suspended due to COVID-19 with expected return in 2023.
Our Goal
To provide an educational, energetic, and fun atmosphere to learn the basic fundamentals in the art of cooking while connecting people through food. We pride ourselves in using the best seasonal products available while focusing on the importance of sustainability.
Setting
We are located in the heart of Woodstock, Illinois, surrounded by the beauty of rolling hills and lush landscape—an ecological mecca to this area. Our facility includes four acres of vegetable and perennial gardens which give guests the full 'Farm to Table' experience. Our new kitchen, the Duchossois Food Systems Lab and Kitchen, has a state-of-the-art design and includes a multitude of amenities to create a true educational experience.
About the Duchossois Food Systems Lab and Kitchen
The Duchossois Food Systems Lab and Kitchen at Loyola University's Retreat and Ecology Campus will allow the campus to complete its full mission potential that will benefit Loyola University students, faculty, and staff and will extend learning opportunities to the community. This facility, in conjunction with the sustainable farm, will allow us to teach techniques that will lead to better, smarter, and healthier ways of living.
Our goal is to bring students, staff/faculty, community members, and other partners, including those not familiar with food preparation, engaged in the experience of our kitchen. Groups will be able to participate in a variety of food related workshops during their stay at Loyola's Retreat and Ecology Campus. Workshops will be designed in conjunction with the Loyola Farm to offer well-rounded, seasonal, and educational programs.
These programs can be integrated into any new or existing retreat programs already scheduled for the facility. The new demonstrational kitchen will allow us to open the campus to an even broader range of individuals for a wide range of creative programs. It is our hope that those who participate in programs in the demonstrational kitchen will be left with a lasting appreciation for food production, preparation, and enjoyment.
Classes
All of our cooking classes are designed to be hands-on and encourage guest participation. Attendees will participate in each step of the cooking process to ensure that techniques can be mastered in your home. Our professional instructors will discuss the ins and outs of each recipe while giving valuable tips and instruction along the way. Everyone will work in a group setting amongst peers to prepare each meal and will have the opportunity to sit together at the end of each class to enjoy a meal together while reflecting on the days' activities.
Class Times & Fees
We have a variety of cooking classes open for Summer/ Fall 2018. Please check out our "Culinary Events and Classes" webpage. Learn more

*All classes are subject to cancellation or rescheduling.
Culinary Team Building/Retreat Add-ons
Put yourself in our hands as we design a participation class tailored specifically for your group. This is the perfect setting for entertaining your guests while offering a hands-on educational experience. We supply the staff, training, great foods, and clean-up. Just show-up and enjoy a truly unique experience! Learn more
Private Events
Team Building
Employee Incentive
Farm Workshops
Interested in learning more? Please contact us at lurec@luc.edu or 815.338.1032.