Program Options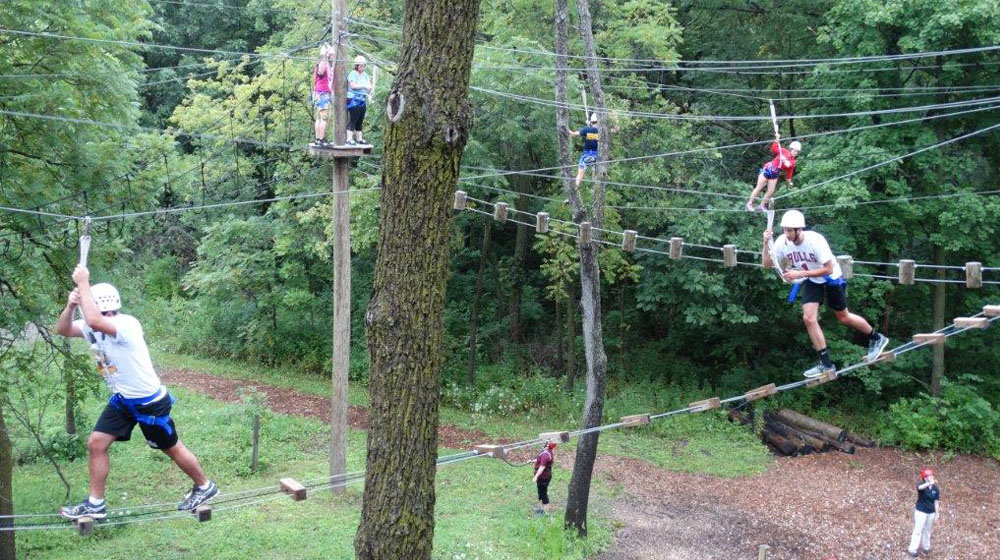 Groups from 12 to 100+ can utilize the LUREC Challenge Course and team building program. ‌
*Minimum group size is 12 people. If your group has fewer than 12 people, you are required to pay program fee equivalent to 12 participants.
**Pricing is listed per person
Short Programs (1/2 hour to 2 hour team building session)
Looking for a unique way to open your retreat that will get everyone moving, talking, and interacting? Need a little something to get your group energized and refocused part way through your retreat? Our retreat openers, group energizers, or short programs will give guests an enhanced retreat experience and will get your group:
Actively engaged
Focused on being part of the group instead of individually oriented
Ready to delve into your retreat with renewed vigor
Short programs are typically offered indoors or on the LUREC lawn as large group experiences so that retreat participants have a common experience.
Half-day (3 to 4 hour morning or afternoon team building session)
Customized progression of group initiatives, low ropes elements and the opportunity for group members to:
Get to know each other better
Find their voice within the group
Work towards building trusting relationships based on a shared experiences and mutual support
Full-day (approximately 7 hours of team building programming)
Additional programming time allows groups to move into more complex activities and the possible inclusion of one of our high elements, thereby offering more skill development potential and a greater transfer of new knowledge to school, work or home.
Multi-day (approximately 10 hours of team building programming over two days)
Add your own group activities during the evening hours and build your challenge course program into a full retreat experience.
A full day of programming followed by a half-day program offers plenty of time to add in a high ropes element while maintaining a robust program progression that comprehensively explores leadership, problem solving, goal setting, and effective communication skills.
*Multi-day programs include 3 or 4 meals and lodging.
**Dorm style—Traditional housing option with twin bunk beds and community shower/ bath facilities.
***Hotel style—Contemporary rooms with two double beds and private bath/ shower, air conditioning.
All rooms include toiletries, bed linens, pillows, blankets, towels, and washcloths.
Sample Program Schedules
Click on the following links below to view a sample program for each time duration.
For Loyola Student Organizations and Loyola Staff/Faculty Groups that are interested in the Challenge Course, please visit the Campus Recreation website at luc.edu/outdoors or e-mail ChallengeCourse@luc.edu. You can also view the Internal Challenge Course Flyer.
For more information, contact Lynda Harrison at lharrison3@luc.edu or 773.508.2317.