Dining Services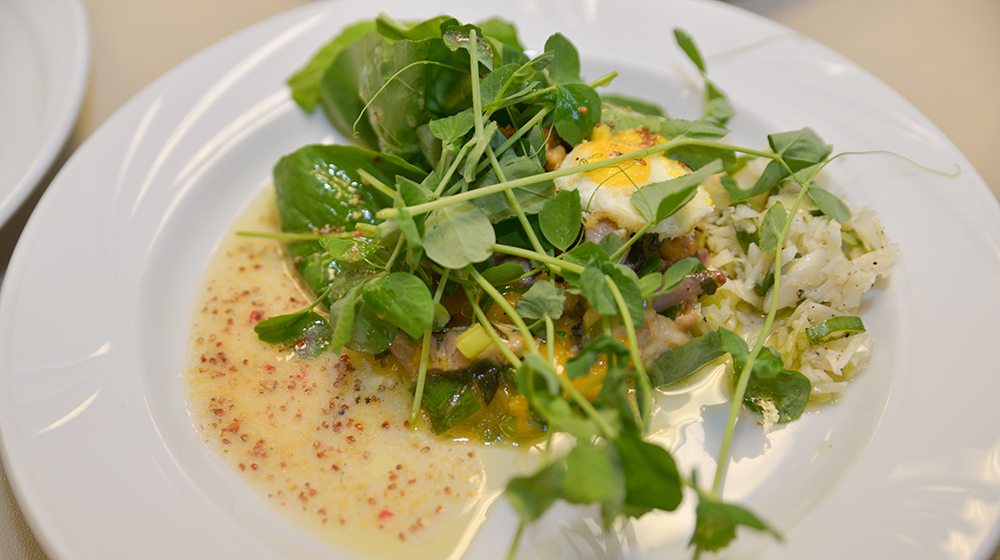 ‌At Loyola's Retreat and Ecology Campus our goal is to provide a satisfying and comfortable dining experience. Our kitchen is run by experienced chefs who create all meals from scratch and will customize any menu to meet your dietary needs. Utilizing only the freshest quality ingredients and local products throughout the season, we create a flavorful and environmentally conscious dining experience. Our products are of the finest taste and quality but also high in nutritional value as well.
When planning your retreat we want to ensure that our guests receive superior service and food and beverage options that exceed their expectations. Our seasoned event professionals will work with you to customize a menu that best suits your group's needs. We can provide a variety of enhancement options sure to impress your guests.
Snack Breaks: Add in a morning, afternoon, or evening snack break to meet your group's nibbling needs. Additional charge will be applied.
Beverage Stations: From coffee and tea to juice and soda, we can provide refreshments throughout the day for a minimal extra charge.
Catering Enhancements: You can also opt to turn your dining hall meal into a catered dining experience. For an additional fee, you can craft your own menu of culinary delights for a sit-down meal, complete with waitstaff, linens, and a fine dining atmosphere.
Cocktail Receptions: You can also enjoy alchoholic beverages and gourmet hors d'oeuvres of your choice for a supplementary cost.
Sample Daily Menu
Breakfast
Coffee, Juice, Milk, Assortment of Cereal, Fresh Fruit, Toast and Bagels, Assorted Muffins
Scrambled Eggs, Sausage, Bacon, Hash Browns, French Toast
Lunch
Salad Bar with Fresh Vegetables, Dressings, Accoutrements
Fresh Seasonal Fruit
Chicken Stir Fry with Mixed Veggies over Rice with Ginger Sweet & Sour Sauce
Mini Calzones and Baked Penne Pasta
Assorted Desserts
Dinner
Fresh Baked Bread and Whipped Butter
Salad with Assorted Dressings
Pan Roasted Chicken Breast with Fresh Mozzarella and Basil
Breaded Pork Cutlets with a Light Lemon Butter
Whipped Potatoes
Assorted Desserts
Cookies
Brownies
Cakes
Dessert bars