Theatre & Social Justice Working Group
Any Loyola Theatre students (majors, minors, or participants in courses or productions) are welcome to attend Loyola Theatre & Social Justice Working Group!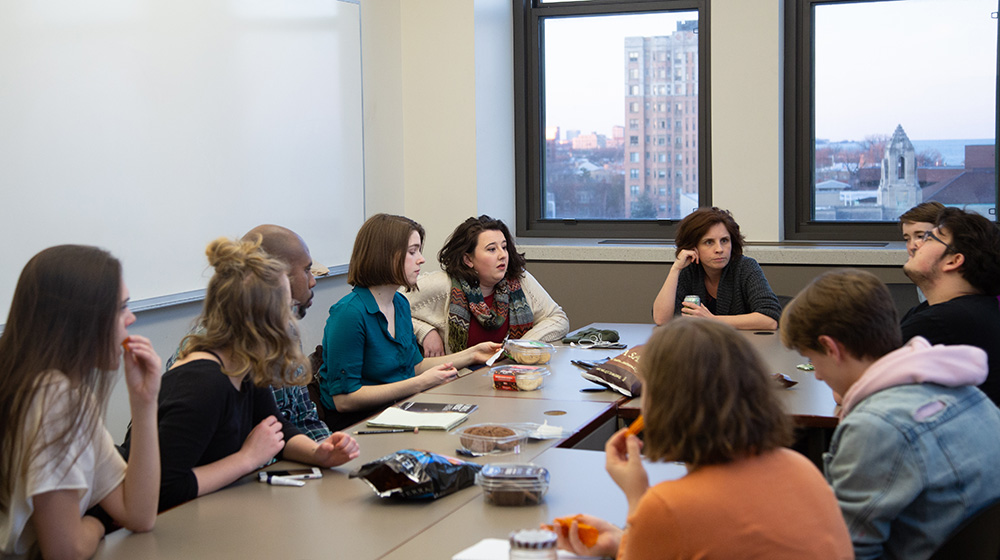 Previously called Dramaturgy Working Group, the group will go by its new name, Theatre & Social Justice Working Group, as of Fall 2021. What we do won't change; the new name just better describes what the group was already doing. TSJ Working Group is not a class. There are no grades. You can come and go. Usually we meet for an hour, on roughly half the weeks of the semester. The specific meeting schedule changes annually, but most of our meetings take place on late Friday afternoons. Attending one meeting doesn't obligate you to attend again. Some students always attend. Some drop in. Theatre & Social Justice Working Group is faculty-coordinated but driven by student interests.
In some sessions, we learn about dramaturgy specifically. (There are many ways that dramaturgy has been defined, but here is one description that is particularly relevant to North America: https://lmda.org/what-is-dramaturgy.) That said, TSJ Working Group is definitely not only for students interested in working as dramaturgs. In fact, probably only about half the participants hope to act as dramaturgs at some point; many are focused on design or playwriting or theatre for social change/political theatre or stage/production management or directing or acting or public relations or casting or all of the above.
In short, if you're interested in how plays and other performance forms engage various publics and/or how theatre artists can help construct a more just world, this group is designed for you. We host sessions on a range of topics. We attend plays together and reflect on them. We talk about the practical elements of applying for work in the arts and for other educational/artistic opportunities. We think about tendencies in contemporary theatre and performance practices, locally, nationally, and internationally. We explore how we as theatre makers can engage as ethically as possible with the times in which we live.
If you'd like to be added to the Theatre & Social Justice Working Group email list so that you are updated about meetings and events, notify faculty coordinator Kelly Howe at khowe2@luc.edu.