Student Employment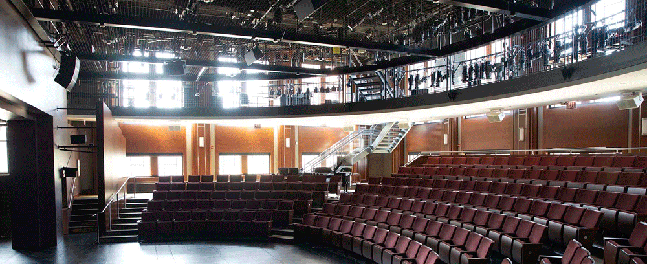 The Department of Fine and Performing Arts is one of the largest student employers on the lakeshore campus.
Student workers in in department gain skills and experience in all areas of the fine and performing arts - from arts administration, to facilities/shop work, to front of house audience engagement and all areas in between - in a fun and dynamic environment where students, staff, and faculty work together to bring rich arts programming to the public, support rich engaged arts learning, and build a thriving arts community at Loyola.
In the Theatre area, there are a variety of paid opportunities to learn new skills and apply classroom skills in various areas of production.
Please review this partial list of job descriptions of typical student job opportunities in theatre to give interested students a better sense of the kinds of roles available. In Theatre, paid employment can be found in various work units (ex. Scene Shop) and vary in responsibility and time commitment.
Please note that these employment opportunities are different than Production Staff opportunities, which are linked to a specific mainstage production or second stage project and require students to register for a 1-credit course.
HIRING PROCESS
Students that have applied for a student worker position can expect the following:
Notification via Handshake or email that the applicant will not be moving forward in the hiring process.

Notification of interest from the work unit Supervisor (ex: April Browning, Production Office) and invitation to interview

Interview in person or over Zoom with the Supervisor

Receive a hiring offer from the Supervisor

Provide contact and personal information to the Supervisor to begin the hiring process.

If this is a student's first job at Loyola (New Hire), the student will be contacted by DFPA Hiring Manager Jose Perez (

jperez32@luc.edu

) with next steps. Students are expected to follow all instructions carefully and completely to move the hiring process forward.

Student will complete a hiring packet online

Student will provide digital copies of their I-9 documents online

Student will need to schedule a New Hire Appointment with Jose Perez to verify I-9 documents and receive additional information and resources.

New and retuning student workers will receive a notification email from HR

informing them of their employee ID number and instructions on how to access KRONOS, the online timecard system.

Upon HR notification, the Supervisor will contact the newly hired student to confirm first day of work and schedule.
Handshake is Loyola's interactive career management tool. Handshake offers job/internship opportunities (including Federal Work Study positions), registration for career fairs and events, an on-campus recruitment program, peer-to-peer messaging and career education.
Once students set up a profile, they will be able to search and apply for Theatre student worker positions. Please note that some opportunities require a Federal Work Study award. In these cases, these specific jobs will only be searchable to students with these awards.
Search tip:
Try doing a company search for "Loyola University Chicago Department of Fine and Performing Arts" to find our opportunities faster.
STUDENT WORKER RESOURCES