Incoming Students
Welcome incoming Theatre students! We have compiled a number of resources which you may find helpful as you navigate the process of visiting, auditioning, and settling in to your new home at Loyola.
Theatre Convocation
Monday, August 28 | 5:00-6:00pm | Newhart Family Theatre (Mundelein Center, 2nd floor)
Don't miss Theatre Convocation to kick off the Fall semester. Meet the the members of the theatre faculty, staff, other students and get important news for the upcoming semester.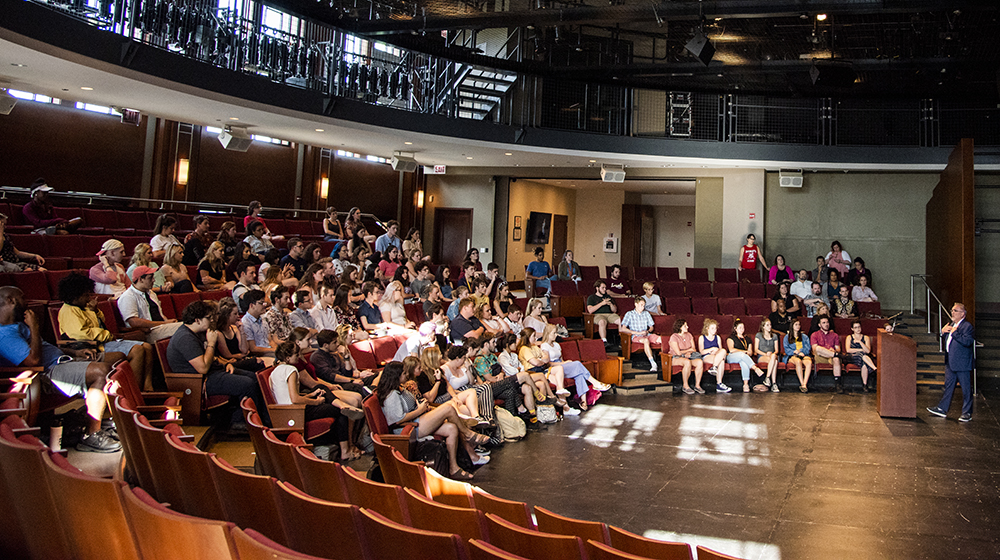 ADMISSIONS
The Theatre Major and Minor is open to all Loyola students. An audition is not required to declare the Theatre Major or Theatre Minor. Loyola's Theatre program is a liberal arts major that encourages students to explore multiple disciplines in theatre. Therefore, there are no "tracks" in the Theatre major.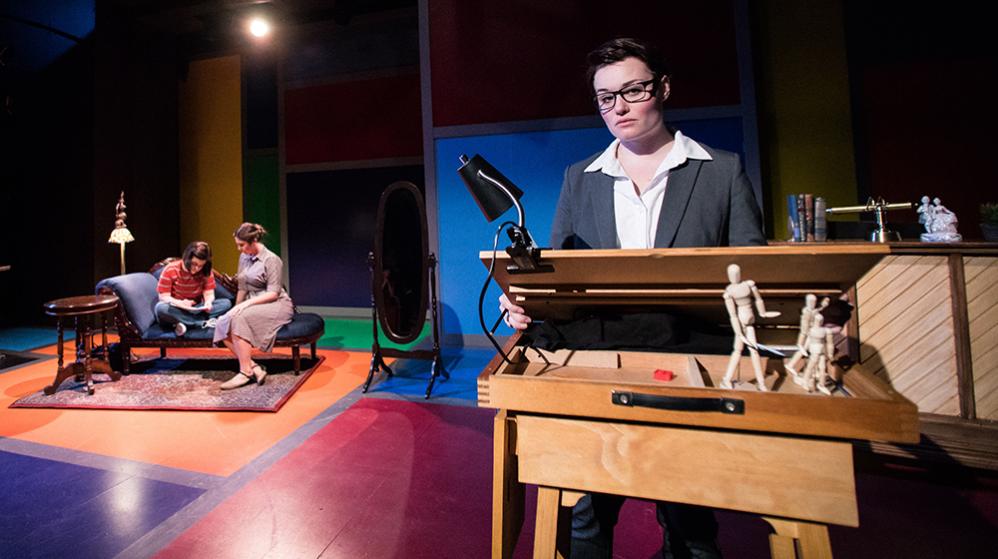 STUDENT OPPORTUNITIES
New Student Showcase
Each Fall Incoming Students get to showcase their talents for the Loyola Theatre Community, with the help of a faculty coach. Complete the interest form below to participate in this year's showcase.
At the Showcase incoming students present a 2-minute monologue, song, poem, or portfolio of design/backstage work. Students will be assigned a faculty couch to aid in selection and rehearsal.
Students do not have to be declared theatre majors or minors to particpate.
Date: Wednesday, September 20 | 5:30pm | Newhart Family Theatre
Deadline: Wednesday, September 6
Fall Auditions
Auditions are open to all active Loyola students regardless of major. Incoming students are invited to audition for mainstage productions in the Newhart Family Theatre and Second Stage Projects led by students. Typically auditions take place at the top of the Fall semester. For a full listing and details about upcoming auditions, visit our Auditions page. Auditions for actors, singers and dancers are held periodically throughout the year.
Student Production Opportunities
In addition to performance opportunities, there are many ways to be involved on the production side of our program. Visit our Student Production Opportunities page for more info.
Incoming students backstage experience interested in diving into stage management, design, and production positions may apply for production rolls via this form.
Email the Production Office with any questions: DFPAproduction@luc.edu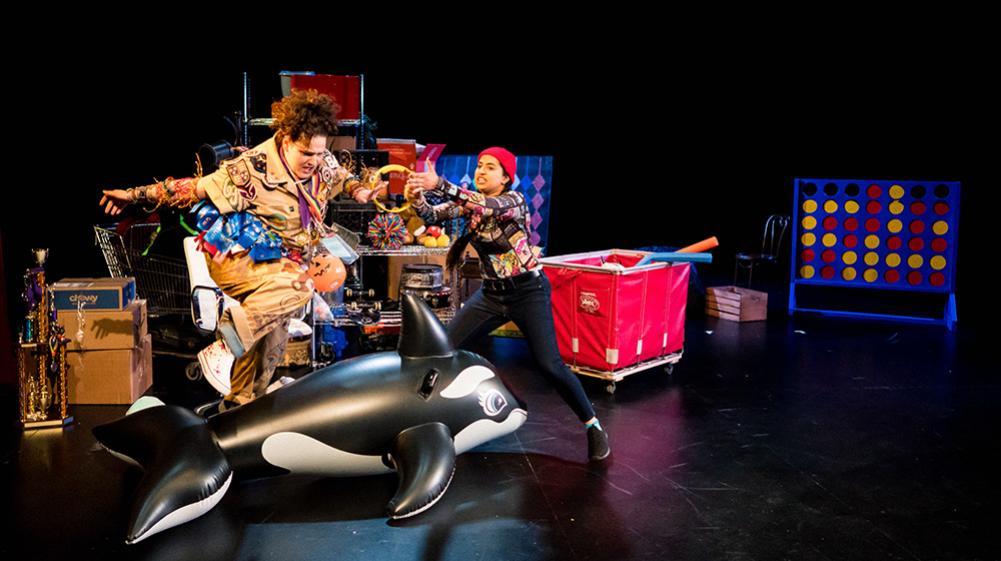 PERFORMANCES
2023-2024 Mainstage Season

As You Like It by William Shakespeare | Directed by Mark E. Lococo
Fairview by Jackie Sibblies Drury | Directed by DeRon S. Williams
Once by Markéta Irglová and Enda Walsh | Directed by Kelly Howe



2023-2024 Second Stage Season

Life is a Cabaret led by Phoebe Ludwig
Without Words led by Hemani Mehta
Cafecito led by Grace Herman
#Enough: Plays to End Gun Violence led by Katie Nowak
Anagnorisis led by Grace Elizabeth Mealey
The Hopes And The Skeptics led by Joseph Cunningham
Girl, That's so Tragic led by Annika Halonen
Courses
We recommend all Freshman majors take THTR 203 Dramatic Structure and Theatrical Practice in their first Fall semester. Design I and Acting I, and a practicum (Ruuning Crew and shop classes) are our other foundations for your first year. Both Acting and Design have a level II course offered in Spring, so start this Fall with the area of study you'd like to focus on.
Register for all of these courses:
THTR 203: Dramatic Structure and Theatrical Practicum (fall) (3 credits)
THTR 252: Theatrical Design I (fall or spring) (3 credits)
THTR 261: Acting I (fall or spring) (3 credits)
and one of the following:
THTR 321 C (costumes), E (electrics), or S (scenery): (2 credits each)
THTR 321 R (run crew): (1 credit)
Center for Diversity and Inclusion (CDI)
The Center for Diversity and Inclusion strives to be the preeminent Ignatian model of social justice education and multicultural student success. Through facilitating intentional reflection of the intersections of identities and critical social analysis of systems of privilege and oppression, CDI seeks to enhance the experience of all members of the Loyola community by cultivating culturally competent agents of social change.
‌The Center for Diversity and Inclusion's co-curricular programs and initiatives intend to complement the academic rigor provided by Loyola University Chicago. Students engaged in CDI programs and initiatives will develop a skill-set aimed at fostering social justice awareness, cultural competency, and ally development.
Programs and Initiatives
Undocumented Student Programs (USP)
Social Justice Education & Practice
Scholar Transition and Enrichment Program (STEP)
Stay Informed: Sign up for the Theatre Sakai
Functioning much like the class-specific Sakai spaces, the THTR PROGRAM Sakai is the best place to find any announcements or information regarding upcoming opportunities. Please email dfpamc@luc.edu to be added to the site.
Connect with us on social media!
Current students may also join LUC Theatre News on Facebook for announcements, programming, and news of interest.
Checklist
Make sure to visit the Theatre Program if you would like to learn more about our program and facilities. Note that this is a private tour, separate from the general campus tour.

Remember to register for Freshmen Orientation this summer! Loyola University Chicago Orientation (LUCO) for first-year students is a summer-long online experience comprised of a variety of opportunities to introduce you to academic and student life at Loyola.

Learn about on-campus job opportunities in the department.

Browse and learn more about the Theatre faculty.