Incoming Students
Welcome incoming Theatre students! We have compiled a number of resources which you may find helpful as you navigate the process of visiting, auditioning, and settling in to your new home at Loyola. Feel free to browse the items below.
Theatre Convocation
Don't miss Theatre Convocation to kick off the Fall semester. Meet the member of the theatre faculty, staff, other students and get important news for the upcoming semester. Email dfpaproduction@luc.edu for convocation details.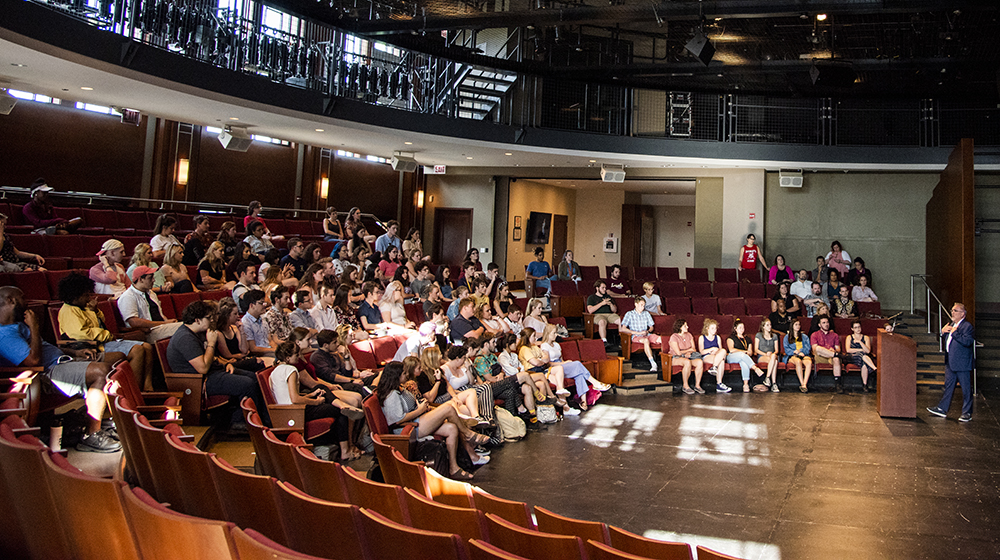 ADMISSIONS
The Theatre Major and Minor is open to all Loyola students. An audition is not required to declare the Theatre Major or Theatre Minor.
Theatre Scholarship
The Loyola Theatre Program offers incoming students the opportunity to audition for its competitive scholarship. Theatre Scholarship Auditions typically take place in early February. For more information about Scholarship Auditions, click here.
STUDENT OPPORTUNITIES
New Student Showcase
Every September, Freshman & New Transfer Students get to showcase their talents for the Loyola Theatre Community, with the help of a faculty coach. Complete the interest form to participate in this year's showcase.
Date and Time of Showcase: TBA
Fall 2020 Auditions
Incoming students are invited to audition for productions in the Newhart Family Theatre and Second Stage Projects led by students. Typically auditions take place at the top of the Fall semester. For a full listing and details about upcoming auditions for Fall 2020, visit our Auditions page.
Auditions for actors, singers and dancers are held periodically throughout the year. Functioning much like the class-specific Sakai spaces, the THTR PROGRAM Sakai is the best place to find any announcements or information regarding upcoming opportunities. Please email dfpamc@luc.edu to be added to the site.
Student Production Opportunities
In addition to performance opportunities, there are many ways to be invovoled on the production side of our program. Incoming students interested in stage management, design, and production should connect with the Production Office via email as soon as possible. Contact DFPAproduction@luc.edu
Internships
There are also a variety of internship opportunities available for Theatre students. Click here for more information about internships.
PERFORMANCES
Check out our 2020-2021 mainstage Theatre season!

Browse our Past Productions!

Interested in attending performances throughout the season? The Department of Fine and Performing Arts offers a Student Pass for Theatre, Music, and Dance. This pass is a flat rate that then allows students to redeem it for tickets to certain performances.
Connect with us on social media!
Current students may also join LUC Theatre News on Facebook for announcements, programming, and news of interest.
Checklist
Make sure to set up a visit to the Theatre department if you would like to learn more about our program and facilities. Note that this is a private tour, separate from the general campus tour.

Remember to register for Freshmen Orientation this summer! First Year Orientations run throughout the summer, with an additional date in late August.