CEO, Chicago Scholars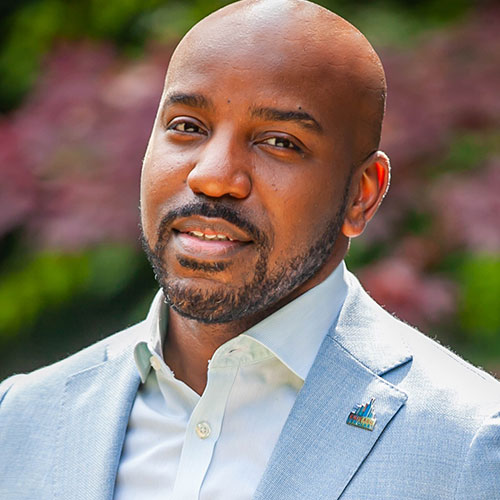 Jeffery Beckham Jr. is Chief Executive Officer at Chicago Scholars. In his role, Jeffery is responsible for leading the development of the organization that serves more than 4,000 first-generation and low-income students to reach their dreams to pursue a college education.
Jeffery is a community leader, artist and tech-entrepreneur known for advancing the fight for equity for youth and marginalized communities throughout the United States. During his career, he has worked in both the for- and non-profit sector in an array of fields such as technology, education, and community economic development. He joined Chicago Scholars after working in technology for Quest Diagnostics, Atlas Medical Corporation and The New Teacher Center.
Jeffery lives by the quote: "To whom much is given, much is required." He is constantly striving to support traditionally underserved youth, working as a mentor with the 100 Black Men of Chicago, Kappa Alpha Psi Fraternity INC. and other programs in Chicago. Jeffery works in ministry as a youth bible study leader, serving in many ministries during his time as a 24-year member of New Faith Baptist Church International in Matteson.
In 2016, Jeffrey was elected as the community representative on the Local School Council at King College Prep and currently serves on the Board of Directors for The 100 Black Men of Chicago and the Free Lunch Academy. He is also a sought-after speaker with appearances at 1871, Facebook, Groupon, and many schools and has been featured as an expert source on Fox-32, WBEZ's Chicago Tonight, WVON's The Perri Small Show, WCIU's The Jam and Chicago.Now, among others.
Jeffrey's thoughtful and dedicated leadership has received numerous awards. WVON and Ariel Investments named Jeffery one of Chicago's Top 40 Game Changers Under 40 years old in 2015, he was a finalist for the Chicago Inno 50 on Fire Award in 2016, and The RAY Awards named him their 2018-2019 Man of the Year for his work in the community.
He's also a 2016 New Leaders Council Alum, Impact Fellowship Alum (2018), Civic Action Capstone Fellowship Alum (2019), and 2020 Bank of America Neighborhood Builder Award Fellow. Jeffery is a graduate of the University of Missori. Amid his numerous impactful leadership positions, Jeffrey began painting last year and uses his art for social and economic justice to make an impact in Chicago at Art by Jeffery Beckham. As a self-taught multi-disciplinary artist, his work has been on display around the world.