Rambler Bucks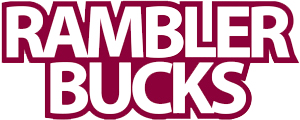 Rambler Bucks are the universal funds accepted at many of Loyola's on and off campus partners. Rambler Bucks offer Loyola students, employees and other community members a convenient method of paying for goods and services.
All members of the Loyola community who receive a Rambler Card are automatically eligible to have Rambler Bucks. At the time the Rambler Card is issued, the balance is $0 and funds can be added with cash, check or credit card. For more information on how to add Rambler Bucks to your Rambler Card please visit Adding Rambler Bucks. One benefit of using Rambler Bucks on campus includes paying no sales tax on food purchases at specified on-campus dining facilities.
For students, Loyola Rambler Cards are active from the first term of enrollment until two months after the last date of the last term of enrollment. For employees, Loyola Rambler Cards are active from the date of hire to the date of termination. Activation dates for all other community members who receive a Rambler Card can vary based on the roles and responsibilities with the University.
If you are experiencing any problems with your Campus Card, please let us know: Report a Problem.