John R. Jozwiak History Scholarship
John R. Jozwiak History Scholarship.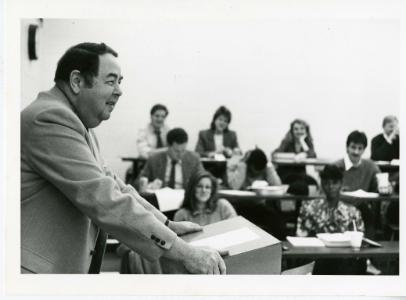 ‌

John R. "Jack" "Joz" Jozwiak (BA '50, JD '54) was Professor Emeritus of Business Law at Loyola University where he was on the faculty for over 40 years.

After attending Loyola Academy, Professor Jozwiak served in the Army in the 1940s. He earned a BA from Loyola University and then stayed to earn his degree of Juris Doctor in Law in 1954. A member of the Society of the Shield and Alpha Sigma Nu, he also served as treasurer of the Midwest Business Law association from 1977-1980. In 1998 he received the Distinguished Service Award from Loyola University in 1998. When Professor Jozwiak died in 2008, he remembered Loyola with a significant estate gift.

The John R. Jozwiak History Scholarship was established in 2008 to support partial tuition awards to rising senior History Majors.

It is awarded annually to the rising senior applicant who has the highest GPA in the major following the processing of Spring Semester junior year grades.

In order to apply, students should log into the Academic Works system and complete their General Application: https://luc.academicworks.com/opportunities/3355

The Jozwiak History Scholarship is set up as an auto-match: any student who completes the General Application and has (1) the academic level of rising senior at the end of the Spring semester and (2) the major of History will automatically become a candidate for review.

The student awardee will be notified after June 1st.