Dining Options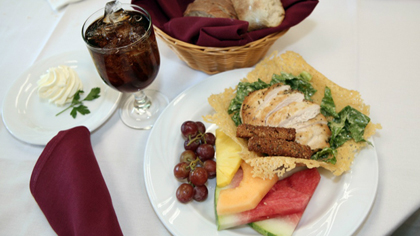 Meals
During your stay with us our goal is to provide a satisfying dining experience. Our kitchen is managed by experienced chefs who create all of your meals from scratch, utilizing only the freshest quality and local ingredients. We can accommodate a variety of special dietary restrictions including vegetarian, vegan, gluten-free, lactose intolerant, shellfish allergies, and diabetic.
Buffet style meals
Served in dining hall for breakfast, lunch, or dinner.
Snack breaks
Morning, afternoon, or evening snacks available. Choose from fruit, granola bars, sweet-n-salty, chips/dip, cheeses, candy, and more.
Beverage stations
Coffee, tea, juice, soda, or water stations are available in your meeting space and will be replenished throughout the day.
Catering enhancements
Opt to turn your dining hall meal into a catered dining experience. Complete with linens, wait staff, and a plated meal based on your menu preferences.
Cocktail receptions
Add a cocktail hour and hors d'oeuvres of your choice for a supplementary cost to any event.