Our Staff
Karen Pettus, Director
Pronouns: She/Her/Hers
Karen graduated in 1976 from the University of Tennessee with a B. S. degree in Special Education. She completed a Master's Degree in Adult Education (1996) and Ph. D. in Educational Psychology and Research (2006) from the University of South Carolina. Karen worked in higher education for the past 30 years as the Director of the Student Disability Resource Center at the University of South Carolina and was the Director of the Counseling, Career, and Disability Services Center at Midlands Technical College for three years. Her desire to see students included in all aspects of life led her to Disability Services at the University of SC in 1994. At the university, Karen educated faculty and staff on the importance of providing appropriate accommodations for students in all aspects of university life. She focused on using the CAS standards as one form of assessment in continuous improvement efforts and using data in decision making to lead the department. Karen was the Co- Principal Investigator for a $150,000 grant to begin the CarolinaLIFE program for students with intellectual disabilities on campus. She won the Student Affairs Diversity Award in 2021. Karen served on numerous campus committees regarding student success and retention, strategic planning committee, and the SACS accreditation committee on Diversity and Inclusion. She chaired the Student Veteran's Committee and the Disability Affairs Committee. She also served on the Advisory Board for the Rehabilitation Counseling Master's Degree program. She also served on the Advisory Board for the South Carolina Department of Education, Office of Exceptional Children for 10 years. Karen is a member of the Association of Higher Education and Disability where she served as Co-chair of AHEAD's DISC Knowledge Community and served as an AHEAD Mentor for new professionals from summer 2020 to spring 2021. She conducted numerous presentations and webinars on management of DS offices, assessment, diversity and inclusion. She was one of the first AHEAD Presidential Fellow Awardees of $1,000 research grant in 1999. AHEAD awarded her $500 for her presentation on Using Data to Develop Our New Student Disability Resource Center in May 2020.
--------------------------------------------------------------------
Grace Hunter, Accessibility Specialist
Pronouns: She/Her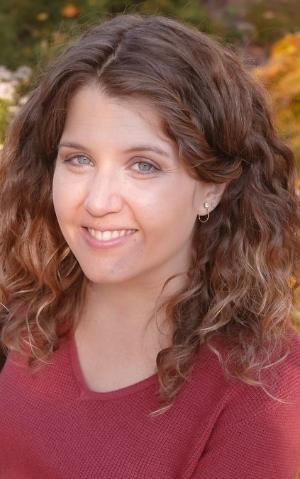 Grace obtained her undergraduate degree in Special Education at Purdue University-West Lafayette, IN, and a master's degree in Special Education from the University of Kansas with a focus on inclusive education. Grace has diverse experience as an educator and case manager in public and private settings for individuals with disabilities and other health-related support needs. Grace recently moved to Wilmette with her husband and two children, and looks forward to bringing her past experience to her new role supporting the faculty and students at Loyola University Chicago.
--------------------------------------------------------------------
Nathan Rider, Accessibility Specialist
Pronouns: He/Him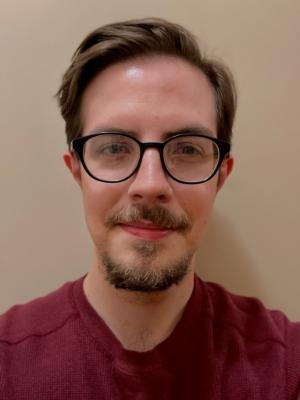 Nathan earned a bachelor's degree in Speech, Language and Hearings Sciences at Purdue University followed by a master's degree from Bowling Green State University in Special Education with a certificate in Assistive Technology. He moved to Chicago following his undergraduate education and has quickly made Roger's Park his home. With his role within the Student Accessibility Center (SAC), he is excited to advocate for the needs of Loyola's student body. In his free time, Nathan likes to play games, watch (occasionally cheesy) horror movies, walk along the beach front and play/listen to music with his friends.
--------------------------------------------------------------------
Tom Osman, Accessibility Specialist
Pronouns: He/Him
Tom earned his bachelor's degree in Special Education from Purdue University and a master's degree in Higher Education Leadership from Concordia University Chicago. He has experience working with individuals with disabilities in a variety of settings. His experience includes working as a special education teacher across all grade levels, working as an autism therapist serving students of all ages, and working in residential/home -based services for those with intellectual and developmental disabilities. In his free time, he enjoys attending Purdue football and basketball games, being with friends and family, and attending classic rock concerts. A fun fact is that Tom is a direct descendant of former Loyola University President Father Robert Kelley. Tom is looking forward to serving students with disabilities as part of Loyola University and being a positive influence on the students he serves.
--------------------------------------------------------------------
Jake Pikula, Accessibility Specialist
Pronouns: He/Him
Jake earned his bachelor's degree in Special Education from Indiana University- Bloomington. In 2020, he went back to school and received his master's degree in Instructional Design and Technology from the American College of Education. Jake spent the last six years teaching special education at the middle school and high school level. He is excited to begin this new role and looks forward to the new experiences that will come from working in Higher Education. In his free time Jake enjoys traveling, going to concerts, and spending time exploring the city.
--------------------------------------------------------------------
Eric Perry, Testing Coordinator
Pronouns: He/Him
Eric earned his Bachelor's degree in Psychology from Purdue University, and his Master's degree in Information Systems & Analytics from Loyola's Quinlan School of Business. He has previously worked in Indianapolis with the Public Allies and AIDS United AmeriCorps programs, where he provided testing, counseling and case management services to people living with HIV/AIDS. After relocating to Chicago, he worked as a case manager, connecting people newly diagnosed with HIV/AIDS to medical care, before coming to Loyola. In his free time, he bartends in the Northalsted neighborhood, and also loves traveling, tennis, and concerts!
--------------------------------------------------------------------
Graduate Assistants
Emilia Salcido
She/Her
Emilia earned her bachelor's in history from the University of California, Santa Barbara and is currently attending both Loyola and Dominican University of a dual degree in both Public History and Library and Information Science. She looks forward to learning more about Chicago's history, experiencing museums, and getting to help her fellow students alongside the Student Accessibility Center. In her free time, Emilia likes to watch Youtube, go to concerts, and knit.
Drew Patterson
He/Him
Drew is a passionate and driven first-year graduate student hailing from the Northeast suburbs of Illinois. Having received a bachelor's degree in Biology, Drew is furthering his education to receive his master's degree in Bioinformatics. When not immersed in academic pursuits, Drew enjoys his time outdoors either hiking or walking, as well as spending time reading. This year Drew is looking forward to starting his new academic chapter as a graduate student learning more about his passion for both biology and technology.
Ivette Harris
She/Her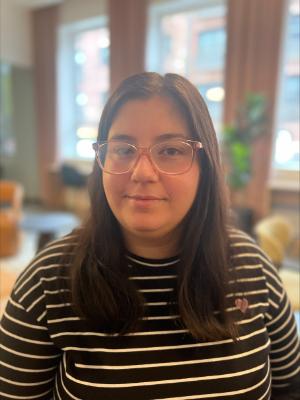 Ivette obtained her undergraduate degree in Psychology (Forensic Psychology) from Arizona State University and is currently a graduate student at Loyola's School of Social Work. In the past, she has volunteered her time working with low-income families to obtain government funding. Currently, she has spent the past year and a half volunteering as a Crisis Counselor at Crisis Text Hotline. In her free time , she enjoys swimming , reading novel collections and watching cartoons with her toddler daughter.
Sabrina Gludt
She/Her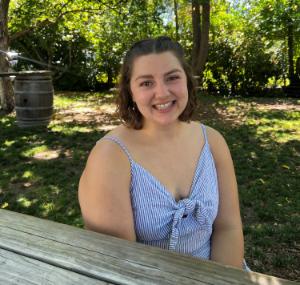 Sabrina earned her bachelor's degree in Sociology from the University of San Francisco in California, and is a current graduate student in the Higher Education program at Loyola. She has previously worked with first generation students and students of color, giving support and guidance throughout their college journey. She hopes to continue her work with college students as an advisor and is eager to start her new position as a graduate assistant, aiding students through the Student Accessibility Center (SAC). In her free time, Sabrina enjoys reading, playing games with her friends, enjoying days by the lake, and listening to music.
Allison Redlich
She/Her
Allison received her bachelor's degree in Communication Sciences and Disorders from Louisiana State University in her hometown of Baton Rouge, Louisiana. She is currently a graduate student at Loyola's School of Social Work. She enjoys volunteering, recently as an English tutor for Ukrainian refugees and as a support specialist for the Louisiana Foundation Against Sexual Assault's crisis hotline. Allison deeply values empathy and service, eager to support students in any way. In her free time, she likes to play/listen to music, spend time in nature, explore the city, and watch college football.
Crystal Salgado
She/Her
Crystal is originally from Chicago, but went to Syracuse University for undergrad, majoring in Neuroscience, Public Health and Economics. She is currently a first-year law student at Loyola. In her spare time, Crystal enjoys running, reading, drawing, traveling and learning new languages (as of now she can currently speak Spanish, French, Italian and Swedish). This year she is looking forward to meeting new people, getting reacquainted with the Chicago winter weather and a great academic school year!
Joy Gabala
She/Her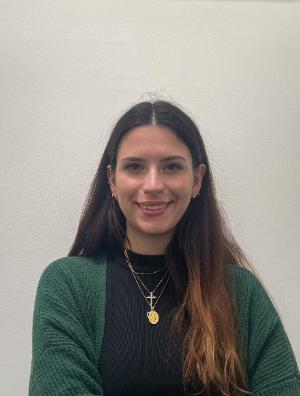 Joy earned her bachelor's degree from Illinois State University in English with a Publishing emphasis and a Psychology minor. She is in the process of obtaining her School Psychology MEd/EdS from Loyola's School of Education. In her summers she enjoys mentoring students grades 4th through 9th in STEM activities. She spends her free time attending concerts, listening to audiobooks, and going on walks.
Bernard Boateng
He/Him
Bernard, a versatile individual, shares a unique story shaped by his Ghanaian roots and South African upbringing. He earned his degrees in South Africa and is now pursuing a Master of Science in Data Science at Loyola University Chicago. Holding a Bachelor's and Master's degree in Civil Engineering from the University of Johannesburg, he brings a blend of analytical rigor and computational prowess through his academic journey in mathematics and computer science. Bernard's global perspective, nurtured through experiences in South Africa and Chicago, adds diverse layers to his cultural tapestry. In his leisure time, he finds joy in watching sports, appreciating the thrill and excitement that games bring.