Classroom Alarm
Classroom Panic Alarm
Emergency Classroom Alert System
A new security feature is now available in our electronic classrooms on the Lake Shore and Water Tower campuses. Should a security emergency arise, any person can quickly and easily notify the Department of Campus Safety via the instructor keyboard by pressing the F9 and F11 keys simultaneously (see picture below). Doing so will send an immediate and discrete alert to campus police, who will dispatch a security detail to the classroom. No audible or visible alarm will be made inside the classroom with the exception of a small popup window appearing on the task bar of the classroom computer. The classroom workstation does not need to be logged in for the notification to be sent, just powered on.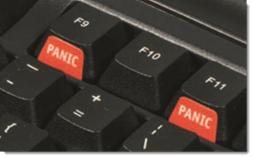 Please note that this system should only be utilized for emergencies of a threatening security concern. If there are other emergencies that arise such as a medical incident or a fire you should contact Campus Safety by calling 773.508.SAFE.
In the event of an accidental triggering of the system please immediately call Campus Safety at 773.508.SAFE.