Register Your Bike Today
New Bike Registration Policy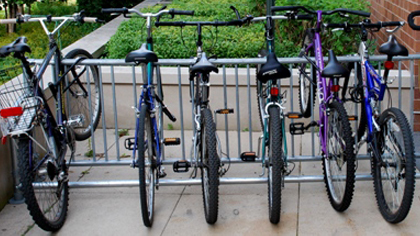 Faculty and Staff Bike Owners,

In an attempt to help stop bike thefts on University property, Campus Safety has a registration program that will allow the department to immediately identify the owner of any bike that comes to our attention.

This registration policy applies to all students, faculty, or staff members that bring a bicycle on Loyola University Chicago property. Everyone will need to register their bike with Campus Safety and have a new registration decal affixed to their bike.

To obtain your bike registration decal, register your bike using the Campus Safety online Bike Registration form, then print a copy of the form and bring it, along with your bike, to the Campus Safety office located at 6427 N. Sheridan Rd on the LSC or 26 E. Pearson on the WTC. We will make sure the form includes all the necessary information, and we will then issue the decal, record the number of your decal on the registration form, and then place the decal on your bike. We will also check the type of lock you have for securing your bike to a bike rack, and make suggestions if a better lock should be used.