Rohina Malik
The Department of Fine and Performing Arts Theatre Program at Loyola University Chicago is pleased to announce Rohina Malik as its Artist-in-Residence for Spring 2024.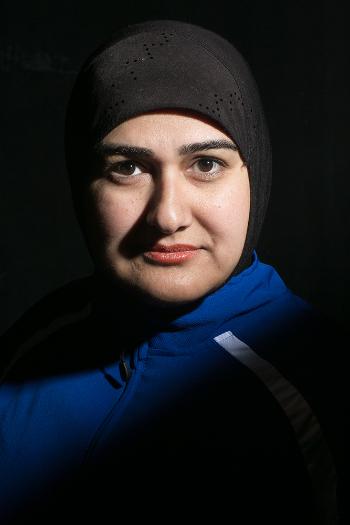 "MALIK GIVES VOICE TO CHARACTERS FROM WHOM WE HEAR FAR TOO LITTLE IN THE THEATER."
—Chris Jones, Chicago Tribune
Chicago-based playwright and screenwriter Rohina Malik will be introduced to the Loyola community through a weekend presentation of her one-person play Unveiled: A One Woman Play. This critically acclaimed play traces the lives of four Muslim women, who over tea, uncover what lies beneath the choice to wear a hijab. In this highly entertaining and powerful performance laced with humor, Malik portrays Muslim women whose lives have been drastically affected by 9/11. Unveiled has been presented at theaters across the United States and has had international presentations in Switzerland, Egypt, and South Africa.
Three performances of Unveiled at Loyola will be followed by a community talk-back with tea service on January 25-26 at 7:30pm and January 27 at 2:00pm in the Newhart Family Theatre on the Loyola University Chicago Lake Shore Campus. This special program is open to the Loyola community and general public. Visit our ticketing website for details.
During her residence, Malik will engage with students in the Theatre Program by teaching the Playwrighting course, an extremely popular experiential learning elective, which will culminate in an afternoon of public readings by professional actors. She will also teach the Theatre Workshop class (THTR 305) with a focus on new play development. Malik's residence will culminate with the commission of a new play, with an engaged learning opportunity for students to participate in the development process.
Lee Keenan, Director of Theatre at Loyola, emphasizes the unique impact on students that Malik's residency will have on their developing artistry:
I am elated to bring to our students a new voice, a new mentor, an expert on playwriting that can take them through the process of bringing a new play to life and inspire them with her talent. Rohina Malik and her work exude empathy and our students know I see theatre as an empathy factory; I think it is our most important gift to audiences.
Rohina Malik is a critically acclaimed, award-winning playwright, actress and solo performance artist.  She was born and raised in London, England, of South Asian heritage.   Her acclaimed one-woman play Unveiled has been produced at theaters across the country.  Rohina's plays The Mecca Tales and Yasmina's Necklace were both nominated for Joseph Jefferson Awards for Best New Play.
Malik was selected to receive the 2018 Lee Reynolds Award, given annually to a woman active in any aspect of theatre whose work has helped to illuminate the possibilities for social, cultural, or political change. Malik's plays have been produced at the 16th Street Theater, The Goodman Theater, Victory Gardens Theater, Crossroads Theater, Chicago Dramatists, Next Theater, Brava Theater, Voyage Theater Company, Silk Road Rising, Theater Project Baltimore, Mustard Seed Theater, New Rep in Boston, the Greater Boston Stage Company, Water Tower Theater in Dallas, TX and Premiere Stages in NJ.
Visit Rohina Malik's website to learn more.