Intercampus Shuttle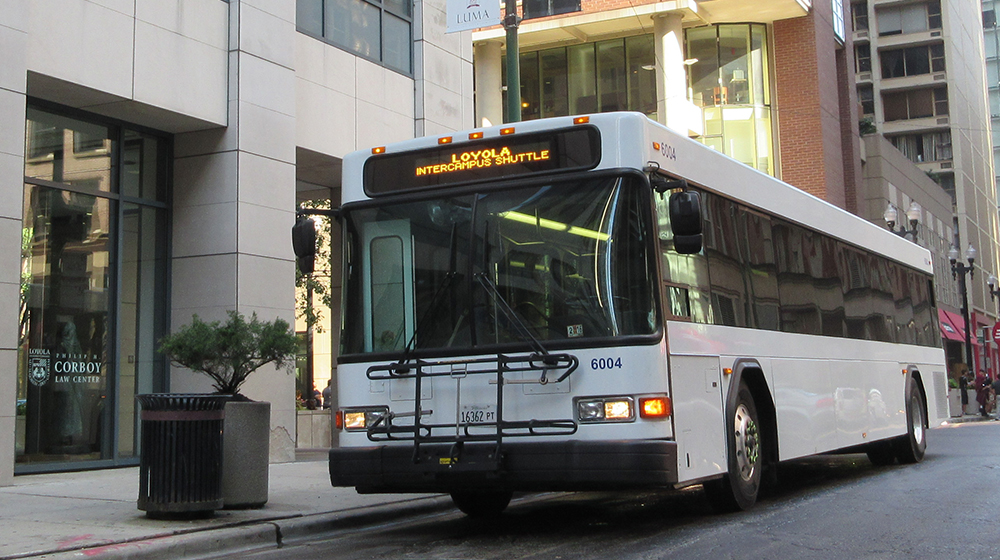 Intercampus Shuttle General Information
Masks must be worn to board the Intercampus Shuttle.
The Loyola Intercampus Shuttle is a supplemental transportation service available for current Loyola University Chicago students, faculty, and staff. A valid Loyola ID is required and must be shown to ride the shuttle. U-Pass or Drivers License are not accepted. Service operates on weekdays only, when classes are in session during the academic year (fall/spring only).
The shuttle stops are located at the South end of the West Quad (Lake Shore Campus) and Corboy Law Center (Water Tower Campus). At the Water Tower Campus, the line for the shuttle forms inside the east doors of the Corboy Law Center lobby.
Shuttle buses run a continuous loop between the Lake Shore Campus (LSC) and the Water Tower Campus (WTC), Monday through Friday, starting at 7 a.m. The final shuttle buses depart LSC and WTC at 12:10 a.m.

There is no shuttle service on Saturday or Sunday.

Due to limited capacity please plan ahead and allow plenty of time to reach your destination.

Under normal traffic conditions, travel time is less than half an hour. During peak travel periods or inclement weather, the trip may take longer.
Shuttle Bus Tracking
Shuttle riders can track the location of the intercampus shuttle on a live updating map as well as estimated arrival times on their mobile device, laptops and desktops by going to https://lucshuttle.com. We recommend that riders bookmark the site for quick, easy access. This site also provides real time travel alerts and notifications.
Public Transportation
Loyola's Water Tower and Lake Shore Campuses are both located close to Chicago Transit Authority (CTA) bus and train routes, including the #147 and #151 buses, and the Red Line elevated train. To give students the full advantages of public transportation, Loyola participates in the CTA U-Pass program, which gives a student an unlimited number of rides aboard all CTA buses and trains, and eliminates the need to pay cash per ride. For more information, visit: www.luc.edu/upass. For more information about CTA service, visit: www.transitchicago.com
Medical Center Service for Nursing Students
Currently, there is no shuttle service to and from the Maywood Campus.