home_news
2018 New Graduate Assistant Workshop
Please confirm your attendance by responding to this RSVP link.
Agenda:
9:00 AM Check-In Begins Crown Center Auditorium, 1025 W Loyola Ave, Chicago, IL, 60626
9:25 AM Dean's Welcome and Introductions Dean Tom Regan, S.J. and staff
9:30 AM Guidelines for Graduate Assistants Dr. Jessica Horowitz and Dr. Sue Penckofer, Associate Deans of the Graduate School
10:00 AM Coordinated Assistance and Resource Education (CARE) Amber Miller – Assistant Dean of Students
10:30 AM Assistantship Panel Dr. Robert Bulcholz, History; Dr. Christine Pajunar Li-Grining, Psychology; Dr. Scott Tindale, Social Psychology; Dr. Jim Knapp, English
11:30 PM Lunch and Student Assistantship Experience Panel Lyle Enright, English; Kelly Polnaszek, Clinical Psych; Cameron Williams, Sociology
1:00 PM GLACIER for International Grad Students Granada Center 213
2018 New Graduate Student Orientation
The Graduate School New Student Orientation Agenda
August 21, 2018
Crown Center Lobby and Auditorium
1025 W Loyola Ave, Chicago, IL 60626
8:30 – 9:15 AM
Registration, Resource Fair, and Continental Breakfast
9:15 – 9:30 AM
Dean's Welcome and Introduction

9:30 – 10:30 AM
Diversity and Inclusion session

10:45 – 11:15 AM
Graduate Student Finances with Bursar

11:15 – 11:45 PM
Discussion about Title IX and Graduate Students

12:00 – 1:30 PM
Lunch and Faculty/Student Panel in Rambler Room, Centennial Forum
Spring 2018 Professional Development Workshops and Brown Bags
All workshops and brown bags will be held at Lake Shore Campus unless otherwise noted. You may register for all sessions here.
Can't make it to one of our workshops? Go to our Professional Development Resources here for archived materials and videos from workshops.
---
Diversity Issues in the Classroom: Advice for Graduate Student Lecturers, Teaching & Research Assistants
Monday, January 22 | 6-7:30pm (Information Commons 4th Floor)
In light of challenging politics and transforming attitudes about what is deemed acceptable to say in the classroom, Loyola graduate students have come together to put on a program designed for handling and negotiating issues of diversity and inclusion. The event, which takes place early in the Spring semester, is tailored for graduate students, teaching assistants, as well as research assistants. Dr. Christopher manning from the History Department will be one of the facilitators of the program. Pizza will be provided at 6pm (first come, first served).
Please register by 48 hours before the session. Click here to RSVP.
Co-sponsored by: EDGE (Enhancing Diversity in Graduate Education), Historians for a Just Society, and the Loyola University Chicago Graduate School.
---
Thesis/Dissertation Formatting Information Session
Tuesday, January 30 | 3-4pm
OR
Wednesday, February 7 | 4-4pm
(Both sessions will be held in Granada 420)
The Graduate School, in partnership with the library, is offering a formatting session which will include general formatting guidelines, online submission procedures, and details about copyright issues for theses and dissertations. Space is limited so if you are interested in attending this session, please RSVP to formathelp@luc.edu to reserve a spot. Please indicate in the email which session you would like to attend.
Visit the Graduate School's formatting page for more information about submitting your thesis/dissertation, including formatting guidelines.
---
Graduation Information Session
Thursday, February 8 | 4-5pm (Granada 291)
This session will provide important information for all students planning to graduate this spring or summer and will answer the most common questions students have. Please register by 48 hours before the session. Click here to RSVP.
---
Identifying and Communicating Roles and Skills Outside the Academy (Career Planning Series, pt 1)
Wednesday, February 28 | 4-5pm (IC 215)
Inside academia one's discipline is often seen as the work, while the underlying skills and capabilities that make one successful are unspoken. In this first part of a two part series on career development and planning, staff from the Career Development Center will explore the skills you are most interested in utilizing, connect them to roles or functions of the working world, and discuss strategies and language to best communicate those skills in a resume or CV outside of academia. This session is appropriate for any Masters or PhD student considering a career outside academia. Please register by 48 hours before the session. Click here to RSVP.
---
Diversity Awareness Workshop and Mixer
Friday, March 2 | 3-4pm (McCormick Lounge)
This workshop will discuss some of the impacts that the variety of identities we carry with us have on our lives. We will end the workshop with a more relaxed social time for the participants to get to know each other better. Please register by 48 hours before the session. Click here to RSVP.
Co-sponsored by: EDGE (Enhancing Diversity in Graduate Education) and the Loyola University Chicago Graduate School.
---
Developing Career Identity and Effective Networking (Career Planning Series, pt 2)
Tuesday, March 20 | 4-5pm (IC 112)
In a wide range of careers, holding a specific degree does not by itself articulate your interests, goals, and strengths. In this second of a two-part series on career planning and development, staff from the Career Development Center will discuss parameters for constructing and communicating your own personal "career identity" and explore ways to communicate that identity through networking, informational interviews, etc. This session is appropriate for any Masters or PhD student considering a career outside academia. Please register by 48 hours before the session. Click here to RSVP.
The Graduate School announces new Associate Dean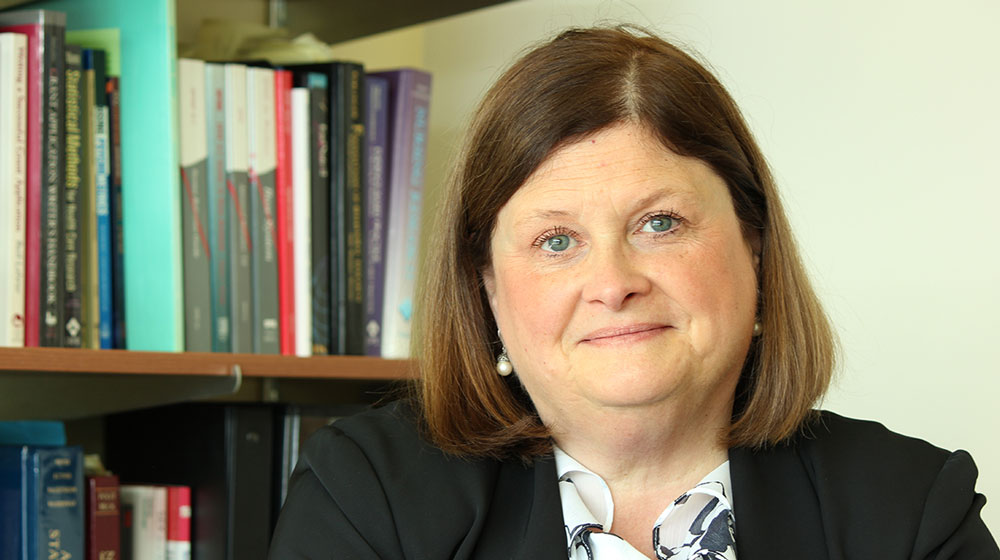 Sue Penckofer, PhD, Faculty Scholar and Distinguished University Research Professor in the School of Nursing, will become the Associate Dean of the Graduate School, effective July 10, 2017.
Penckofer joined Loyola's School of Nursing (SON) in 1984—where she taught undergraduates and subsequently progressed to teaching graduate students. She served as the Associate Dean for Research in the SON from 1998 to 2006. During that time she was also appointed as the Director of the SON Doctoral program from 2003-2006. After 2006, she focused her efforts on teaching and research and was awarded numerous local, regional, and national grants including those from the National Institutes of Health. Prior to joining Loyola, Penckofer served as faculty at Rush University of Chicago's College of Nursing and at the University of Illinois at Chicago, College of Nursing, and Department of Medical-Surgical Nursing.
In addition to her teaching and administrative work, she has written and co-authored numerous journal articles, book chapters, abstracts, and other publications on nursing, cardiovascular nursing, and related topics. In 2013, Penckofer was honored with the distinction of Fellow in the American Academy of Nursing and in 2015, she was recognized for her research and service for the SON, and was appointed as a Distinguished University Research Professor. She has also been recognized as Graduate Faculty Member of the Year and for excellence in teaching, mentoring, and advising from the Graduate School.
2017 Samuel A. Attoh Diversity and Inclusion Awards
Samuel A. Attoh, Dean of the Graduate School from 2005-2015, believed that increasing the recruitment of underrepresented students and faculty, advocating for and supporting the interests of all students, including but not limited to historically underrepresented students, LGBTQ students, veterans, and students with disabilities, and working with graduate programs to develop and sustain diverse and inclusive academic and social environments created a strong graduate community. In so doing, it was his belief that our students would be equipped to help address social problems and respond creatively and compassionately to the challenges facing our local, state, national, and global communities.
The Graduate School at Loyola University Chicago continues this vision, believing that our students are best served when the university population reflects the larger society. Accordingly, the Graduate School encourages the programs under its jurisdiction to embrace diversity and strive for inclusion. In harmony with the Jesuit principles of cura personalis (care of the whole person) and homonis pro aliis (people caring for others), inclusion affirms the dignity of all members of the Graduate School community and commits our graduates to put their knowledge, skills, and talents in the service of others.
In honor of Loyola's Jesuit values and the legacy of the late Dean Attoh, the Graduate School is pleased to announce the recipients of the inaugural Samuel A. Attoh Diversity and Inclusion Awards.
Individual Winner: Cameron Williams
Cameron Williams is currently completing his 5th year in the Sociology doctoral program. Cam researches how public housing residents resist and react to the rapidly spreading practice of depopulating public housing, a topic that he first became passionate about through his volunteer work at his church. Tami Love, an organizer for the Logan Square Housing Organization, notes that Cam first became involved with their project to preserve Lathrop Homes (a public housing community on the North Side) in the summer of 2013. In the years since then, Ms. Love describes Cam as having become "one of the most involved students I have worked with in my almost 25 years of community organizing." Dr. Kelly Moore, Graduate Director of Sociology, notes that Cam "engenders a sense of family from those with whom he serves" in both his teaching and his community service.
Dr. Moore also says that "Cam draws on a deep well of faith to carry out these many ways of being a person for others. He doesn't talk much about it, and he doesn't brag or tell many people about what he is doing for others: he just does it." It is this quality that truly embodies the legacy of Dean Samuel Attoh in Cam's work. From volunteering for acts of civil disobedience on behalf of vulnerable populations to mentoring undergraduate students (Cameron was also awarded Graduate Student Teacher of the Year this year) his career at Loyola is filled with extraordinary passion coupled with a vision of justice for others. We can't wait to see what Cameron does next.
Group Winner: Committee on Diversity Affairs from the Department of Psychology
A diverse academic community is characterized by new perspectives and fresh methodological approaches to scientific, humanistic, and social science fields of study. It enhances the pursuit of knowledge and its contribution to our understanding of the world around us. Inclusion values open dialogue, mutual respect, and cultural competence. The Committee on Diversity Affairs (CODA) from the Loyola Department of Psychology exemplifies these values. In their mission statement, the members of CODA proudly state that they aim "To promote and foster an academic community that celebrates and supports diversity in multiple areas of departmental life. To provide support, networking opportunities, and mentoring to students of diverse backgrounds. To increase and support culturally competent research on diversity topics. To promote the inclusion of diversity throughout our curriculum. To give students experiential learning opportunities that address diversity issues."
While many diversity groups might talk a similar talk, CODA absolutely walks the walk as well. Dr. Robyn Mallett notes that CODA works with students of diverse backgrounds to help them learn "how to persist in research that can be emotionally draining, especially if one has a personal stake in the research question." Dr. Perla Gámez says that CODA was one of the first organizations she joined when she was hired as a junior faculty member and watched the group transform from one that was primarily composed of faculty members to its current composition, which is about equally composed of faculty and graduate students. This transformation has allowed CODA to make their graduate student mentoring truly relevant. Dr. Gámez notes that "as a Latina and the first in my family to attend college and graduate school, I know firsthand the significant role that a sense of community can have in the college experience of underrepresented students, in particular, contributing to their academic and life success. Given that CODA provides a formal space for faculty and students to put their knowledge and talents in the service of individuals from diverse backgrounds, it also serves to build community for underrepresented students and thus, encourages their academic and social success."
Spring 2017 Professionalization Events
Project Management Workshop
May 15th, 9:00 - 4:00, Information Commons 4th floor
Whether completing a dissertation on time, writing a grant proposal, or spearheading a service project, effective project management can make the difference between a toxic disaster and a successful project completed on time. Over the course of one day, students will delve into each stage of project management, from defining achievable goals to determining critical timelines and negotiating collaborative roles. Participants will leave the hands-on workshop with a fully developed project plan and a robust set of project management tools.
This workshop is open to all Masters and Doctoral Graduate School students. RSVP here.
It's the Graduate School's Second Annual Three Minute Thesis (3MT) Competition!
Thursday, February 16th | 3:30 pm| Information Commons, 4th floor | LSC
Come watch our graduate students presenting thesis/dissertation research in three minutes and using 1 slide! What is 3MT? This competition began at the University of Queensland in Australia http://threeminutethesis.org/ a few years back – universities across the world are now participating in this unique event.
Students from all disciplines are asked to communicate their research to non-experts in three minutes and with the use of one PowerPoint slide. Cheer them on and support graduate student research.
The Winner of the 3MT will be invited to compete in the regional Midwestern Association of Graduate Schools (MAGS) 3MT event on April 7th at 10:00 at the Omni Severin, Indianapolis, IN.
Snacks will be provided after the competition.
Working with the Institutional Review Board (IRB)
Thursday February 23rd
5:00 – 6:00 pm │Granada 420 │ LSC
Graduate Students planning to conduct "Human Subject Research" should attend this information filled workshop. You will receive pointers for preparing your proposal and submitting it to the Loyola University IRB. Click here to RSVP.
Graduation Information Session
Monday, February 13 | 4:00 – 5:00 pm │ LSC | Cuneo Hall 002
OR
Monday, February 27 | 4:00 – 5:00 pm │ LSC | Cuneo Hall 002
**Note: these sessions will also be recorded and posted on the Graduate School website if you are unable to attend either session.
On May 9, 2017 at 3pm, the University is hosting the Graduate School's only commencement ceremony. If you plan to finish your degree in either May 2017 or August 2017, this session will go over the eligibility process for your degree conferral, information for the May 2017 commencement ceremony, and we will answer any questions you may have about either process.
Attendance is limited to graduate students in The Graduate School. Click here to RSVP.
Beyond the Ivory Tower: Tips for Finding Non-Academic Jobs
Tuesday, March 21 | 6 PM | Granada Center 420
It's never too early to start planning for a career you'll love! Attend this workshop to map out your career goals and leave with a strong and compelling resume once you graduate! Go here to RSVP
Tips for Turning Your Vitae into a Resume
Tuesday, April 11| 6 PM | Granada Center 290
Thinking about a career outside the Academy? One good first step is to learn how a resume differs from a CV, and how you can turn your already existing CV into a resume that can get you hired. Go here to RSVP.
Neuroscience Doctoral Student Wins Regional Dissertation Presentation Competition
Audrey Torcaso, a doctoral candidate in Neuroscience, placed first in the regional Midwestern Association of Graduate Schools' Three Minute Thesis competition in Indianapolis on April 7, 2017. Audrey was sponsored in the competition by the Loyola Graduate School, after winning the LUC competition on February 16, placing first out of nine competitors. She composed her three minute presentation on a portion of her research for her dissertation "Examining the effects of adolescent binge alcohol consumption on the negative feedback of the HPA axis and adult responses to psychological stress." Congratulations Audrey!
Loyola University Chicago Victorian Society Conference
On Saturday, October 29th, 2016, the Loyola University Chicago Victorian Society hosted professors and graduate students from a variety of Chicago institutions such as UIC and University of Chicago, while others traveled to Lake Shore Campus from other states and countries. Generously sponsored by the Graduate School, the Department of English, and Dr. Paul Eggert, Martin J. Svaglic Chair of Textual Studies, LUCVS's inaugural day conference "Past and Present: New Directions in Victorian Studies" focused firstly on new interpretations of Victorian investment in establishing the historical importance of the past and future significance of developments in their own time. Secondly, scholars grappled with how certain aspects of Victorian life and culture are historicized in the present day, specifically querying as to what directions the field of Victorian Studies is currently taking in a variety of focalizations. Thirdly, readings of the Victorian period provoked examination of the reasons behind the development of contemporary interpretative lenses.
After a beautiful sunrise and donut and coffee breakfast at 8am, Dr. Patricia Mooney-Melvin, Interim Dean of the Graduate School, started off the conference by asserting that historical and literary periods alike are marked and defined by technological advances and connections that have never been made before. Dr. Melissa Bradshaw of the Writing Center Program introduced academics Dr. Anna Kornbluh (University of Illinois at Chicago) and Dr. Benjamin Morgan (University of Chicago) both founding members of the V21 Collective, an organization described as being devoted to defetishizing the archival and resisting the genealogical trajectory of historical study common in contemporary Victorian Studies. Kornbluh and Morgan gave a joint presentation for the morning plenary, a talk that anticipated and foregrounded some of the major themes for the day. Both papers responded to the need to move beyond positivist historicism in Victorian studies. They suggested that a renewed study of form/formalism and a kind of "presentism"—that does not reduce literature and the past to a mere instrument—might offer possible avenues for moving forward.
The conference continued with four panels, each dealing with a different topic of Victorian research and social theory. Panel 1: "Realism" investigated how realism appeared in various forms within famous Victorian novels, emphasizing the contrasting portrayal of objects of production and ephemera in 20th-21st century literature. Next, Panel 2: "Labor and Dickens" focused on Charles Dickens's use of narrative length, timeframe, and metaphorical imagery to form the landscape of his novels. After lunch and conversation, Panel 3: "History" examined obscure Victorian perspectives on history, as evident in adult and children's books from the period. The last panel of the day, Panel 4: "Art History" focused on Victorian attitudes to establishing the language, meaning, and form of art in their own period. These presentations were all well received and provoked lively discussions during the Q&A sessions.
Dr. Micael Clarke (Associate Professor of English) introduced the keynote speaker Dr. Elaine Hadley, (University of Chicago). Clarke applauded the dedication Hadley has shown to guiding students towards a self-aware approach both to education and developing their own future careers in teaching and other fields. Hadley spoke on theories of human capital and its relationship to contemporary economics, citing the work of Gary Becker in particular. She contrasted the economics of human capital, which insists that self-investment results in a return on said investment, with the economics of higher education, which historically insists that education is its own reward even exclusive of further earning potential. Hadley claimed that this is a false dichotomy, as higher education and liberal arts are retreating into the intangible benefit theory despite the increasing job-training emphasis on college degrees in the university at large. Acknowledging that there are no easy answers to this issue, Hadley concluded by generally referencing the problem as it appears in English and/or Victorian studies.
An evening wine and cheese reception followed Dr. Hadley's talk at which much mirth and lively conversation was had before the day conference concluded. LUCVS would like to thank all participants and LUCVS members who came together to arrange this event, particularly our guest speakers, members, sponsors, and Dr. Melissa Bradshaw and Dr. Micael Clarke for their unfailing encouragement and helpful advice on all sorts of matters. We look forward to announcing next year's theme soon on our website: http://lucvictoriansociety.wixsite.com/lucvs/about-lucvs.
Write-up by Lydia Craig, doctoral candidate in English
Graduate School Receives Grant from NEH
"What are you going to do with that?" Talk to any humanities doctoral student and he or she will be able to rattle off multiple instances when they've been asked to justify the point of their degree. The National Endowment for the Humanities (NEH) launched an initiative over the summer to help make answering that question a little easier in the future. The NEH "Next Generation Humanities PhD" project awarded 25 planning grants of $25,000 each and three implementation grants of $350,000 each to help institutions plan and implement changes to graduate education that will broaden the career preparation of a PhD student beyond a career in the academy. "The academic-focused future we're accustomed to training graduate students for is disappearing," said NEH Chairman William D. Adams. "If graduate programs wish to make a case for the continuation of graduate education in the humanities, they're going to have to think about the professional futures of their students in entirely different ways."
The Graduate School received a $25,000 planning grant from NEH for a series of efforts grouped under the title Charting Career Pathways: Enhancing and Sustaining Doctoral Education in the Humanities. These related projects will be directed by Dr. Patricia Mooney-Melvin, the Interim Dean of the Graduate School. Focusing on data gathered from current LUC graduate students in the humanities, Charting Career Pathways will create workshops, internship opportunities, and other forms of career assistance based on the needs of our graduate students.
Central to the project are workshops and in the field experiences. In partnership with the School of Communications, the Graduate School will be hosting a series of workshops designed to help humanities students take their critical thinking skills and develop ease in speaking about topics outside of the narrow focus of their dissertation research. The Graduate School will also be developing a series of workshops designed more broadly around the development of professional skills that will be applicable outside the academy as well as foster a better understand of the hiring process. The Graduate School also has partnered with the Illinois Humanities Council to pilot a program designed to place students with paying assistantships in non-academic settings.
Philosophy doctoral candidate Nicoletta Ruane, who is the first recipient of the assistantship in the field, is working for 10 months with Illinois Humanities. She is responsible for helping to develop a new community-based program called Illinois Speaks. The goal of Illinois Speaks is to provide "resources to support monthly small group discussions within communities throughout the state. These discussions will focus on current events and the impact of these events on our communities. They will be led by paid facilitators from the community who have been trained by Illinois Humanities and who will have access to materials focusing on media representations of current events provided by Illinois Humanities."
Dr. Mooney-Melvin spoke with History doctoral student Ruby Oram about Charting Career Pathways:
What are the goals for the project "Charting Career Pathways"?
This project has 6 major goals. We want to create opportunities for our students to see themselves as possessing multiple career pathways. An important part of student success revolves around advising and mentoring and this project hopes to strengthen faculty ability to discuss multiple career pathways. We hope to work with the career planning and placement center to develop a robust career guidance program for graduate students. We want our students to be able to communicate with a wide range of audiences. Finally, we want to give students experience outside of the academy while in their graduate programs. Secondary goals include shaping student recruitment messaging to reflect multiple career pathways and to explore curricular opportunities.
Why is it important to provide doctoral students in the humanities with multiple career pathways?
Doctoral education offers students the opportunity to gain both breadth and depth in a discipline. They also acquire and hone a wide variety of skills and abilities that can serve them well wherever their interests take them. While many students may find academic positions, others will take a different path. It is our responsibility to offer all students the ability to appreciate the range of opportunities available to them.
Charting Career Pathways allows the Graduate School to be part of a larger national initiative to enhance doctoral education in the humanities as well as provide useful resources for our students and faculty. We look forward to a very productive year ahead!