Arabic Language Tutors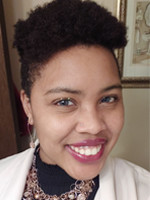 Natasha Brasfield
"I am a senior majoring in International Business while specializing in Arabic Language & Culture and [Mandarin] Chinese Language & Culture. I just finished my second year of Arabic language, along with a year gap for studying at University of International Business and Economics (UIBE) in Beijing, China.
I am a language buff and have learned 7 languages so far, fluent in 3 (Spanish and Mandarin). In my free-time, I dabble in calligraphy, fashion sketching, translation, dance, and trying new foods. When at home in St. Louis, I volunteer at an organization for immigrants and refugees that helps people get U.S. citizenship, learn English, and get accustomed to life in the U.S. I am very excited to be an Arabic tutor this year. Stop by for help, a chat, and an Arab treat!"
Arwa Madhwala
"I'm a junior at Loyola, studying Finance and Arabic Language. I have a passion for learning about other cultures and languages, stemming from my years living in multiple countries at a young age. I speak 5 languages, and I am currently trying to learn German and French as well. I love learning about the world through art, history, music, and literature. I believe in growing my cultural competence and hope to apply what I learn from others in my future work, travels, and personal encounters. I aspire to use my language and business skills to once again live abroad and continue my enthusiasm for understanding and immersing myself in various cultures."
Former Tutors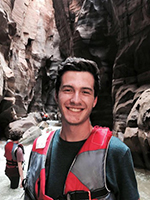 Kyle Scheuring
Kyle is a senior at Loyola University Chicago studying English Literature, Studio Art, and Arabic Language. He has a particular interest in language and literature, studying Arabic for two consecutive years and spending a summer abroad in Amman, Jordan at the University of Jordan.
Kyle's interest in language also mixes with his love of music, and he has begun collecting soul records from the Arab world. Although surrounded by Spanish speakers while growing up in the Southwest, Kyle finds knowing Arabic helps him establish many relationships and friendships in Chicago, and he is always looking to learn new words.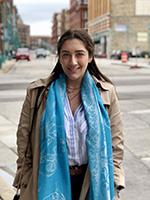 Maria Ravazoula
Maria is a senior at Loyola University Chicago majoring Criminal Justice and Psychology with a minor in Arabic Language and Literature. She recently graduated from two consecutive years of the Arabic Program at Loyola. She is fluent in 3 languages, including Greek and French, and has learned a total of 6 languages. She loves working with and helping other students, as well as providing them with ways to better understand the ins and outs of languages.
In her free time, Maria likes to get involved in various philanthropical organizations throughout campus. In the fall 2018, Maria received the distinguished opportunity to join the Jesuit Honor Society, Alpha Sigma Nu.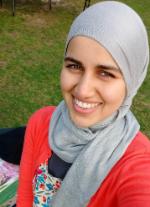 Ariane Rahim
Ariane Rahim is currently an undergraduate student at Loyola University Chicago. She is a senior majoring in French and double-minoring in Arabic and Islamic World Studies. She has recently completed her Arabic minor after studying the language for two consecutive years.
Although a non-native speaker, Ariane's passion for learning Arabic has led her to practice the language in various ways. She reads Arabic books, volunteers at non-profit organizations helping Syrian, Palestinian, and Iraqi refugees, and speaks to Arab friends and strangers alike when the opportunity arises.
Despite living in Chicago, Ariane still encounters unique situations where she can communicate and help others in Arabic. Read her blog entries to learn more about these experiences!
Anisa Hussain
I graduated from Loyola in 2017 with a degree in Biology and minors in Psychology and Arabic Language & Culture. I have tutored in a variety of subjects throughout my four years (going on five) at Loyola and this is my third year as an Arabic tutor. My interests include film and literature from around the world as well as service, specifically regarding the plight of refugees and immigrants. I am currently earning my Masters degree in Medical Sciences at Loyola and am especially interested in merging my passions for service and medicine. I'm looking forward to another year of tutoring Arabic in the LLRC!
‌Jessica Paterson
‌Jessica is a senior majoring in Political Science and International Studies, with minors in Arabic, Islamic World Studies, and Peace Studies. She has taken Arabic at Loyola for two years, completing her 104 level class last spring. She has a passion for helping other students learn an understand not only the Arabic language, but also its relating culture and history. As a non-native speaker, Jessica understands the difficulties of learning a new foreign language and is able to assist in mastering the basic principles of the Arabic language. In the future, Jessica hopes to utilize her Arabic language skills in both her work and personal travels.

Megan Meagher
My name is Megan Meagher. I am a junior majoring in History with an emphasis in the Middle East, and minoring in Arabic Language & Culture and Islamic World Studies. I have now completed two years of Arabic at Loyola and have continued to develop my studies in Arabic through the CLS (Critical Language Scholarship) program, where last summer I spent 8 weeks in Tangier, Morocco as part of a language-intensive program. I am now using what I have learned from both my classes at Loyola as well as in Morocco to help me study Classical Islamic texts as part of an independent research project through the Provost Fellowship. My hope is to continue my studies in Arabic and religious studies at the graduate level. I have loved volunteering as an Arabic tutor, both in terms of fostering the growth of others' language acquisition as well as witnessing the ways in which other students' dynamic array of interests in the Arabic language continues to evolve and deepen throughout their time at Loyola.
Ali Siddiqui
Ali Siddiqui is currently a Loyola undergraduate student majoring in Biology with minors in Asian Languages and Literature as well as Biostatistics. He has studied Arabic since high school and is currently doing a second year of Arabic at Loyola University Chicago. Additionally, he has studied the language at various institutions in the Chicago-land area such as Darul Hikmah as well as privately with scholars in the field.
Though he is not a native speaker of the language, he is convinced that his history of learning Arabic as a second language helps him better connect with his students and teach the language. Ali is a recipient of the Joyce Scholarship and while he is currently taking Arabic courses at Loyola, he plans to continue studying the language after graduation.
Ali receives great positive evaluations from students he is tutoring at different levels of Arabic . He is also very dedicated to working with Dr. Sawsan Abbadi, the coordinator of the Arabic program at Loyola University Chicago. In May 2012, the Center for Tutoring and Academic Excellence has awarded Ali with the SISTER MARY JOHNETTA TUTOR OF THE YEAR AWARD!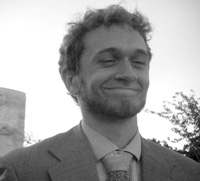 Chris Benson
Chris Benson is a Loyola undergraduate student majoring in History, Anthropology, and Sociology with minors in Islamic World Studies and Asian Studies.
He first studied Arabic independently before entering Loyola and taking the second year classes his freshman year. That summer he received the Critical Language Scholarship to study Arabic in Rabat, Morocco, for eight weeks, taking intensive Arabic classes during the day and enjoying his host family life at night.
As a non-native speaker from an especially non-diverse neighborhood of Cincinnati, Ohio, Chris knows he can relate to students' initial difficulties with the Arab language and culture and guide them through to the eventual rewards of studying such an unfamiliar language.