Cudahy Library Mural
New Lands in North America Explored and Evangelized by Fathers of the Society of Jesus
Oil on canvas, 38' x 35'
Date: 1930
Artist: John Warner Norton (1876-1934)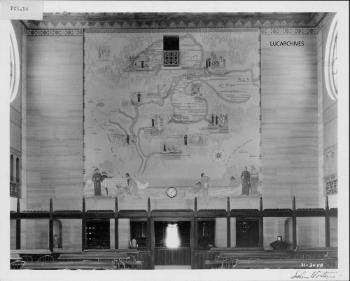 This mural by John W. Norton (with assistance from his students Tom Lea and June Knabel) is conceived as a pictorial cartographical record of Jesuit missionary activity in the Great Lakes region and the Upper Mississippi Valley during the seventeenth and eighteenth centuries. It is loosely based on the map created by Jacques Marquette, S.J., during his explorations in 1673-1674. Legends are in French but the title is in Latin. All personal names (except Joliet) are of Jesuit missionaries. The events depict are selective as no attempt was made to create a comprehensive map.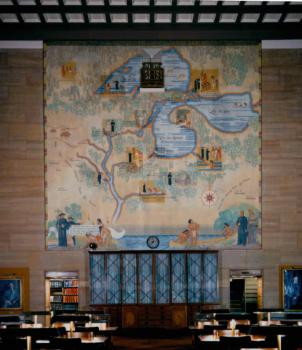 Scenes and events depicted on the mural:
1. The arrival at Sault-Ste-Marie in Upper Michigan of St. Isaac Jogues and Charles Raymbault, the first Jesuit missionaries to reach the Middle United States.
2. The mission of La Pointe on Lake Superior, Northern Wisconsin, founded by Claude Allouez, 1665.
3. The mission of St. Francis Xavier, Green Bay, Wisconsin, also founded by Claude Allouez, 1668.
4 Claude Dablon at St. Ignace, Upper Michigan, 1670.
5. Louis Joliet and Jacques Marquette, discoverers of the Upper Mississippi at Prairie du Chien, Wisconsin, 1673.
6. The same at the mouth of the Arkansas, the Lower Mississippi, 1673.
7. Marquette's wintering on the site of modern Chicago, 1674-1675.
8. The first Kaskaskia mission, established by Marquette on the Illinois River, 1675.
9. Death of Marquette on the east shore of Lake Michigan, 1675.
10. The Miami-Potawatomi mission on the St. Joseph River in the vicinity of Niles, Michigan, founded about 1689.
11. The mission of the Guardian Angel on a site within the present municipal limits of Chicago, opened about 1696.
12. The mission of St. Francis Xavier on the Wabash River (present Vincennes, Indiana). First priest known to have visited the site, the Jesuit Guyenne, 1734.
13. Joseph Pierre de Bonnecamps on the Ohio, 1749. His map of the region that subsequently became Ohio is the earliest extant.
Renovation of the Mural
In the mid-2000s the Cudahy Library reading room was renovated. As part of this project the mural was taken down and cleaned. While the mural was down, the balcony and clock that had been in the middle of the mural were removed and the resulting empty spaces were painted in as part of the mural.
Previous: Cudahy Library History