Damen Cinema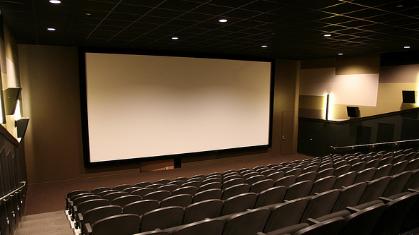 Damen Student Center Cinema Reservations
The Damen Student Center Cinema is now available for reservations through the 25Live web-viewer.
All student organizations and university departments wishing to reserve the Damen Student Center Cinema can request to reserve the space through 25Live. All requests will be screened to determine if the group requesting the space has met the requirements for screening a film in the space.
What are the requirements?
All groups that wish to use the Damen Cinema for a film screening must be aware that we require groups to possess the Public Performance Rights for any film that they would like to show.
What are Public Performance Rights?
Public Performance Rights (PPR) are the legal rights to publicly show a film or video (media). Normally the media producer or distributor manages these rights. The rights-holder can assign PPR to others through a Public Performance License.
When are Public Performance Rights Required?
PPR are required for:
All screenings of copyrighted media to audiences outside of regular curriculum. Examples:

Student club events

Extracurricular sponsored events such as general lectures

Film series
PPR are not required for:
Home viewing

Screening media in the context of face-to-face teaching in the service of regular curricula

See: Title 17 of the United States Code, Chapter 1, Section 110
Why should you learn about Public Performance Rights?
Showing media, whether borrowed from the library or rented/purchased, to groups outside of the classroom may be illegal, and may place the University at risk legally.
Does Loyola University Chicago Libraries purchase videos with Public Performance Rights?
Since LUC Libraries acquires media to support the curriculum, and face-to-face teaching is exempt from PPR, LUC Libraries does not typically secure PPR with video purchases. However, many distributors of our educational videos include PPR in the purchase price, which means these videos can be shown anywhere to anyone.
How can you tell if a video from LUC Libraries has Public Performance Rights?
Videos in the LUC Libraries collection with PPR typically include a note in the "Summary" field of the catalog record: Includes Public Performance Rights
Securing Public Performance Rights
Individuals and organizations are responsible for obtaining and purchasing performance rights for all publicly screened media.
Some companies to contact to secure (license) PPR:
Swank Motion Pictures, Inc.

Kino International

Criterion Pictures USA

Modern Sound Pictures