Arabic learners at Loyola University Chicago shared their heartfelt collage of voices and images using a few learned Arabic words to express multi textual deep reflections. In selected samples here, we share feelings of gratitude to the blessings of families, friends, professors, schools, nourishment, besides hope, peace, compassion, resilience, and selfless sacrifices to help us grow. Our thanks to Chairperson Susana Cavallo and Dean Peter Schraeder for all support for the Arabic Program Minor @ Loyola.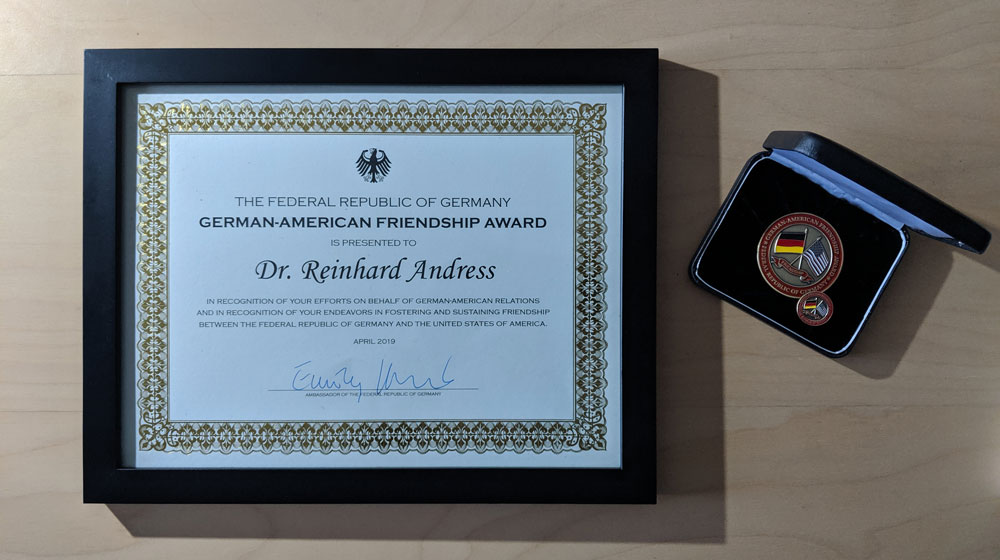 Professor and Director of German Studies, Dr. Reinhard Andress received the German American Friendship Award. This prestigious award is given twice per year by the Ambassador of the Federal Republic of Germany in Washington, Emily Haber, in a small ceremony at the General Consulate of the Federal Republic of Germany in Chicago.
Resources
Programs
Welcome
¡Bienvenidos! Willkommen! huānyíng! marHaba! Yookoso! Witamy!
Our department serves over 2700 students a year in twelve different languages!
Bilingual poetry reading by Alejandro Duque Amusco and Susana Cavallo from Dreams on Fire. Sueño en el fuego. English translations by Susan Kimmelman.

Susan Kimmelman was a Chicago dancer, writer, activist and candidate for the MA in Spanish at Loyola University Chicago from 1999 to 2001. Her masters thesis was to be a translation of the poetry of the Spanish writer, Alejandro Duque Amusco. Unfortunately, Kimmelman died in 2001 before seeing her translations in print. In 2021, with the consent of her family and the enthusiastic support of the poet, Susana Cavallo decided to edit Kimmelman's work, with the hopes of an eventual publication—Kimmelman's fervent dream. Duque Amusco and Cavallo will be performing a bilingual reading of those incandescent translations, now present in the bilingual collection: Dreams on Fire. Sueño en el fuego (Chicago: Cloud Hands Press, 2022).


Please join me in a beautiful reading of our first blog for the Arabic minor (ARLC) by our recent graduate from Loyola's College of Arts and Sciences, Nasar Qureshi. He has double-majored in Cognitive-Behavioral Neuroscience and Biology, while minoring in Islamic World Studies (IWS) and in Arabic Language & Culture Minor (ARLC). In his blog, Learning Arabic @ Loyola: A Non-Arab's Journey for Spiritual Growth, Nasar walks us through his whole-hearted journey to learn Arabic as a channel to better understand his spiritual connections to the Creator and Creation. Nasar emotionally and intellectually provides little glimpses of this learning expedition: with dedication, perseverance, adoration, and humility. His transformation into a more enlightened learner is graceful. We are indebted to Nasar's voice and memories of Arabic @ Loyola.

As we get ready for the end of the semester, graduation preparations, and summer break, please join me in reading our last blog for Arabic for the spring semester. I'll conclude with a reflective action-inspired voice of our dear Arabic minor student, Ethan Schneider, a senior majoring in Global Studies! Ethan has just finished a 4-month intensive engagement with Loyola University Chicago's Washington, D.C. Internship Program where he got to apply and refine skills for advocacy actions; political, religious, and humanitarian for the service of others! With a focus on Churches for Middle East Peace (CMEP), Ethan emphasizes the personal and professional interdisciplinary expertise he acquired in the Arabic classes to help him navigate his journey in DC. We are very proud of your authenticity and conscious dedication, dear Ethan!

For more than 10 years, I've been posting special voices and narratives of my Arabic students at Loyola! Every time, I feel an overwhelming sense of awe by the harmonized accounts yet inimitable experiences of those voices. Please enjoy Danny's admirable voice which embodies the nostalgic feelings of all Arab descents in the diaspora: An active engagement with Arabic language and culture(s), an invitation for a fulfilling global awareness of the Other, a purposeful familiarization with new ways of being, and a tendency to look forward and inward in our implementation of critical transformation of human conditions via language and culture. We are indebted to MLL and CAS for all kind support of our Arabic minor!

Chinese Language and Culture Presentations at LLRC

On March 21, 2023, more than 50 students, faculty, and staff participated in the Chinese Culture Day at the Language Learning Resource Center (LLRC). Nine students currently enrolled in Chinese classes gave presentations on various aspects of Chinese culture, ranging from traditional vs. modern architecture, to Chinese holidays and the zodiac, to how learning Chinese contributed to the pursuit of equal treatment for foodservice workers. Participants not only learned about Chinese culture but also sampled delicious Chinese cuisine and snacks. The event was organized by the Chinese Program with generous support from LLRC.


With a focus on Arabic in Eritrea, please join me in reading an inspiring voice of resilience from our dear Heden, a sophomore studying Global Studies and Environmental Policy with a minor in Arabic Language and Culture. In her blog, Rebuilding Bridges through Arabic, Heden genuinely shares her perseverance to learn Arabic, a demanding language, with a clear passion to reconnect and rebuild ties with her closest loving family in Eritrea. Heden's words are testimony to the power of language to restore relationships, lost or forgotten, and to recreate a life and a world of belonging!

Arabic Music and STEAM

On March 1st, the LLRC and Arabic Language and Culture Minor welcomed Mr. Majed Abu Ajameyeh to immerse students in a traditional Arabic music ensemble. Using the traditional Arab instruments, the oud, qanoon and ney, Mr. Majed Abu Ajameyeh presented a dazzling one-man-show and discussed the origins of each instrument while Loyola students enjoyed an authentic Arab lunch.


Film Screening of The Earth Seen from the Heart (La terre vue du coeur, Iolande Cadrin-Rossignol)

Please join us for a screening of the Quebecois film (in French with English subtitles), La terre vue du Coeur (The Earth Seen from the Heart, 2018), directed by Iolande Cadrin-Rossignol. This documentary features scientists, writers, and artists who are addressing and seeking solutions for crises in biodiversity today. The director dedicates this film to future generations. Date: March 13, 2023 Time: 5:45-7:30 Location: IES room 124


Please join me in reading an exceptional voice of empowerment from our dear alumna Natalie Burdsall. Graduating as summa cum laude in May 2022 with BAs in Global Studies and Communication Studies, and minors in Arabic Language and Culture and Islamic World Studies, she currently works as the Communications Officer for the Chicago Council on Global Affairs' Center on Global Food and Agriculture. In her blog, A World of Possibilities: My Journey with Loyola's Arabic Program, Natalie contemplates her takeaways from the Arabic classes to become an artist of her life and the spaces she co-creates, a transformative voice that looks compassionately at the future, and a social agent of change in a world of endless possibilities.

We start this new semester and New Year with a special blog from Kate Stewart focusing on authentic advocacy for women's education, mentorship, and equitable access to resources world-wide. Kate is a senior majoring in Global Studies and Political Science with a minor in Arabic Language & Culture. She has been our beloved Arabic tutor since last fall 2021. Her timely blog highlights direct and indirect global ideologies, systems, and thoughts that set hurdles in the lives of women. Kate's experiential engagement with GirlForward in Chicago as a communications intern is a unique platform to think and work across boundaries for humanitarian support.

Chanukkah Karaoke Party

With the support of the LLRC and the Hebrew Studies Program - the Loyola-Israel Student Alliance (LISA) "Chanukkah Karaoke Party" on December 1 was a celebration of Chanukkah and Hebrew! Many students from across the university came to watch and sing along with Israeli and Chanukkah Music Videos in English and in Hebrew, Hebrew with English Translation and Hebrew with English Transliteration! And besides the music, there was Candle Making for Chanukkah and other holidays and delicious Cookie Decorating! And, of course, people played the traditional Chanukkah game of spinning a Dreidel!


We conclude our semester, and this special time of the year, with Mary's blog on the Holy Land! Mary is a senior majoring in Advocacy and Social Change, and minoring in French Language and Literature. She is also learning Arabic this semester. In her blog, Mary shares a personal journey of exploration of self and others in the Holy Land; its people, legacy, delicacies, hopes and pains, and a rich history of holiness to all faiths!

Please allow me to conclude this month with its focus on gratitude with a beautiful blog from our Arabic learner, Habeeb, who is a sophomore majoring in Neuroscience. Habeeb shares a heartfelt adventure into a timeless zone of spiritual connections to the glorious past and a hopeful prayer for a peaceful harmonious existence and positive mindset!

Please take a few moments to read Winta's contribution to our Arabic blog "An Eye on the Arab World" through her short visit to Dubai en route to Eritrea to meet the family that she has not seen in 16 years. Winta is a junior majoring in Global Studies with a minor in Arabic Language and Culture. This blog is a record of Winta's fascination by the linguistic and cultural hybridity in Dubai and the role of languages in facilitating a welcoming exposure. She adds that her introduction to Arabic language and culture has helped her further appreciate the rewarding values of human interaction.

"You have your Lebanon and I have mine. / You have your Lebanon with her problems, and I have my Lebanon with her beauty...Gibran Khalil Gibran." With these graceful poetic words Andrew Milewski, S.J., a graduate student in the social philosophy program and a learner of Arabic at Loyola, reflects on his visit to Lebanon over summer 2022 with other American Jesuit scholastics in order to study Arabic and learn about the works of the Society of Jesus in the Middle East. Andrew's blog is a personal emotional reflective journey of beauty and suffering, grace and pain, and smiles and tears of a nation clutching a flame of hope! We are indebted to MLL and CAS for all kind support of our Arabic program!

Día de los Muertos at the LLRC

On October 25, 2022, students and faculty in the Department of Modern Languages and Literatures celebrated Día de los Muertos (Day of the Dead). David Beltrán, a Spanish faculty member, and a local artist, Teresa Magaña, shared invaluable cultural insight into the history, traditions, and symbolism that define Día de los Muertos celebrations in Mexico. Magaña, a self-described "Tejana, Mexicana, and Chicana" artist, displayed many of her own pieces of artwork and guided attendees in a calavera (skull) decorating activity. In collaboration with Paulina Dzieza, the manager of the Language Learning Resource Center (LLRC), Spanish faculty members, David Beltrán, and Sarah Obrist, organized this cultural event that celebrated the enduring traditions of Día de los Muertos.


"100 Countries 100 Turkish Folk Songs" at the LLRC

On October 7, 2022 at 1:00 p.m Loyola's Language Learning Resource Center (LLRC) was immersed into Turkish culture during a visit from Loudingirra Ozdemir, Turkish folk musician, who presented his journey of "100 Countries 100 Songs" to Loyola students and staff. As the smell of fresh gyros and baklava filled the air, approximately thirty-five students and professors gathered at Loyola's LLRC to listen to Ozdemir cover some of his favorite mystic folk songs.


Please take a few moments to read Zain's beautiful encounter with visiting his Homeland, Palestine, for the first time! A junior double majoring in Political Science & Philosophy with a minor in Arabic, Zain shared treasured moments in visiting some Muslim and Christian sites in Jerusalem. I can't stress enough the value of travel/immersion for intellectual and emotional growth as citizens of a diverse world! We are indebted to MLL and CAS for all kind support of our Arabic program!

Mid-Autumn Festival at LLRC

On September 29, 2022, more than 50 Chinese language students, faculty, and staff attended the Chinese Mid-Autumn Festival (aka the Moon Festival) celebration at the Language Learning Resource Center (LLRC) while enjoying an authentic Chinese meal and delicious mooncakes. Students gave presentations on various aspects of Chinese culture, ranging from the Moon Festival to traditional Chinese marriage customs, to ancient Chinese philosophers such as Confucius (孔子)and Mencius (孟子). The students also practiced calligraphy and made lanterns, which are typically floated in rivers in China to drive away evil spirits and to brighten the night sky, bringing good fortunes to families. The event was organized by Professor Hong Chen, director of the Chinese Program, and Paulina Dzieza, LLRC manager.


In light of t​he current global predicaments and crises that impact the lives of refugees and immigrants, please enjoy reading Giulianna's wonderful blog working for the Arabic program. A sophomore majoring in Journalism with minors in Spanish, Arabic, and Political Science, Giulianna underscores the priceless value of learning about the languages/ cultures/ and faiths of migrants and refugees to better serve them and advocate for their needs!

Please spare a few moments to explore the SIT study abroad program in Rabat titled "Multiculturalism & Human Rights." I can't stress enough the value of language immersion and cross disciplinary cultural explorations for global citizenry and advocacy. I'm indebted to the kind welcome of the distinguished academician and mentor Dr. Taieb Belghazi who has directed the SIT Rabat / Morocco program for over 25 years. I'm also thankful to "LangZone" Founder and Director Dr. Meryem Bakkali for her time and passionate conversation on the teaching of Arabic at Rabat. My gratitude to MLL and CAS for all kind support of the Arabic program @ Loyola.

Please enjoy reading a few insights and browsing some beautiful photos from the recent visit to the Center for Cross-Cultural Learning CCCL, a prominent language and culture center in the vibrant corner of the old city/traditional markets of Rabat, Morocco. Kind gratitude to the center's directors and founders, Dr. Moudden and Dr. D'Ouezzan, for their generous hospitality and collaboration.

With gratitude to the generous support of Modern Languages and Literatures at Loyola University Chicago, it was a pleasure to attend the Third International Conference on Education Development and Opportunities for Innovations hosted by the School of Humanities & Social Sciences and the Center for Arabic and Literacy Education at Al-Akhawayn University in Ifrane, Morocco. It has been a unique opportunity for transdisciplinary collaboration in language studies and the vital impact on education in African and global contexts.

Amid all global perspectives to perceive our worth in the world, the Arabic program shares a special Lakota voice that reminds us of the virtue of conscious self-awareness to better understand, rediscover, and cherish the distinctive "self" of all humans! Brandon, a pre-law student at Loyola University Chicago majoring in Economics with a double minor in Legal Philosophy and Arabic Language, shares his voice and that of the Lakota people: "I am Native American, African American, and Syrian American. More people discover they are from a combined racial and ethnic experience through modern-day DNA testing, but how do we use that knowledge to understand ourselves and others?"

Please tune in to our recent blog from Christian who is double majoring in Political Science and Global Studies as well as double minoring in Arabic and Islamic Studies. In his blog, Christian accentuates the value of an international perspective on education to better understand peoples and their cultures in contexts. He shares his feelings towards the kindness, trust, and hospitality he encounters in Jordan, his very first trip to an Arab country!Thanks to all at MLL, Global Studies, and CAS for continued support of the Arabic minor!

To conclude​​ Jacob's biblical trip to the holy land of Palestine, please join me in sharing tidbits of important sites historically and theologically. ​Jacob, a student of Arabic and Film Studies, draws our attention to the sensory integrative experiences of being physically at such holy sites, emotionally and spiritually connected to subtle dimensions of faith, and trying to process the complex interactions across time and space! Our thanks to MLL and CAS, Faculty, staff & students, for their continued support of Arabic @ Loyola!

Following the ​trilogy of Jacob's contributions to our Arabic Program blog " An Eye on the Arab World", please join me in viewing- "Jordan: First Gate of our Biblical Pilgrimage!" exploring at first hand desert landscapes of Jordan that has been part for the biblical journey into the Holy Land! The micro and macro lenses by which Jacob views the landscapes capitalize our human duality: Nucleus size in comparison to the cosmos yet massive ability to transform the universe! Our thanks to MLL and CAS, Faculty, staff & students, for their continued support of Arabic @ Loyola!

Please join me in reading our new entry for "An Eye on the Arab World" by Jacob, an Arabic student at Loyola who majors in Film Studies! Jacob humbly takes a personal journey to Egypt to explore his father's homeland, Church, Childhood school and neighborhoods with an eye on gaining a new perspective on the value of languages and cultures in satisfying our desire for "belonging" emotionally, physically, and spiritually in a rich heritage of vast diverse voices! Our thanks to MLL and CAS, Faculty, staff & students, for their continued support of Arabic @ Loyola!

Please join me in reading this unique interdisciplinary blog by Lilly, a rising talent in the Arabic minor. Lilly employs the powerful tools of Art to give voice to the silenced ones and offer a critical platform to seek intrinsic changes to Women's education globally, with particular focus on the Middle East. In her own words, Lilly reflects: "I chose to name this piece "Pulling Strings", because I realized that women are often treated as if they are nothing more than puppets waiting for a puppet master to breathe life into them. I wanted to depict how giving someone an inferior education or taking away their chance to an education is the same as attaching invisible strings to them and controlling their every movement and thought."

Please join me in reading our special edition blog by Denise, a Loyola staff and current student of our Arabic program. Denise shares treasured life-transforming moments enabling her to engage in new relations, explorations, and challenges in a new language and culture(s). We honor her journey, positive attitudes, cheerful presence, and her perseverance in our classes and beyond! Our thanks to MLL and CAS for the kind support of Arabic @ Loyola!

Our Arabic program at Loyola has participated in a unique opportunity with a youth created and coordinated program (Teen Teers Team's Azha Project). This language and cultural exchange project is led by a group of high school students in Libya! At Loyola, we too have been excited to engage in an international opportunity for personal and professional understanding of self and the "Other," seek interdisciplinary foundations for language and culture exchange, and reflect on becoming conscientious learners and mindful agents in a multi-cultural global context.

Academic Award Polish American Congress

The Department of Modern Languages & Literatures program at Loyola congratulates Bożena Nowicka McLees, the director of the Interdisciplinary Polish Studies for receiving the Academic Award from the Polish American Congress (PAC) Illinois Division at their 51st Annual American Heritage Award Banquet, which was held on Sunday, October 24th, 2021.


We are delighted to walk through a new journey of exploring Arabic at home, here in Chicago, as shared by our dear Callahan, a sophomore majoring in Political Science and a new student of Arabic 101 (we hope to see you in the minor too yaa Callahan). Describing the learning of Arabic, Callahan introspectively says "It open one's heart, and enriches the mind!"Callahan's considerate words urges us to cherish the learning of Arabic with a conscientious, observant, and exploratory human lens advocating for interdisciplinary humanely engagement with the world via languages and cultures. Many thanks to Chairperson, Dr. Cavallo, and Dean, Dr. Schraeder, for their continued support of Arabic at Loyola.

Adriana Trigiani, Italian American Author, Dinner Conversation

Join us at Casa Italia in Stone Park on Wednesday, October 20th at 5:45 PM for dinner and conversation with best-selling author Adriana Trigiani! In this LIVE streamed event Adriana will talk about her career as a successful writer of over 20 fiction and nonfiction books and how her Italian American heritage informs her work.


And They Came To Chicago: The Italian American Legacy

Join us for a live streamed presentation of the documentary "And They Came To Chicago: The Italian American Legacy" on Thursday October 21, 2021 at 5:15PM. Writer/director Gia Marie Amella will introduce her film, which explores 150 years of the Italian experience in Chicago, and take questions from participants after the screening.


2021 Midwest University Chinese Speech Contest

In the 2021 Midwest University Chinese Speech Contest, Loyola fielded six competitors amongst a total of nearly 50 registrants from 10 universities in six Midwestern states. Punching above their weight, Ramblers took home four out of 10 gold medals awarded on the day.


We are delighted to read the passionate words of Maria, a senior graduating this year with a BS in Cognitive and Behavioral Neuroscience with a minor in Arabic Language and Culture. In her blog, Maria traces her journey in learning Arabic to understand the Quran and finding meanings in her daily prayers! Exploring the interconnections across her original language(s) and Arabic is a reminder of the lingua franca of Arabic at several junctures in history!

The students in the Spring 2021 class FREN319 (The Romantic Century), taught by Dr. Julia Elsky and tagged with Women's Studies & Gender Studies, is excited to share the exhibition that they created on Omeka.

We are delighted to walk through a new journey to the Middle East as shared by Taha, a senior majoring in History with double minor in Arabic and Classics. With a focus on "Muhammad Ali Mosque", Taha situates us into a nexus of sciences, histories, religions, and languages that make this visit breathless and advocates for interdisciplinary engagement via languages and cultures.

Andrew, a graduate student in the social philosophy program, a Jesuit scholastic studying for future ordination, and a learner of Arabic at Loyola, opens his heart to memories of Arabic speaking catholic parishes and his journey with the Jesuits to learn Arabic nationally and internationally! Nothing is humbling like observing our learners' diverse goals and investments that enrich our Arabic program and strengthen the advocacy of several humanitarian causes!

Lilly, a freshman majoring in Cognitive & Behavioural Neuroscience and minoring in Spanish and Arabic, opens her heart to a beautiful family bonding via Arabic. As Bulgarian, she grew up speaking and learning a few languages including English, French, and Spanish. But Arabic, has been the jackpot! Inevitably, language learning tames our perceptions manifested in how we correspondence wisely to the world, within our own smaller circles and the larger interrelated ones. Lilly's blog brings these words to life acquiring a true essence of compassionate cultural/ linguistic reality!

Arabic learners at Loyola University Chicago make their voices heard through a mosaic of sensory heart-felt words and images to share their feelings and thoughts on the sociocultural, political, humanitarian, mental, and personal impact of the pandemic and the current vaccinations. With Loyola spirit reflected in their constructions, we invite you to tour our blog and reflect on samples of their cries for hope, equity, and inclusive global support. Our thanks to Chairperson Susana Cavallo and Dean Peter Schraeder for all support for the Arabic Program Minor @ Loyola.

This is how Elizabeth describes her emotionally heart-felt blog on being able to interact with her Grandmother in South Sudan for the first time via learning Arabic; a family separated not only by borders and geopolitical barriers, but also language. Elizabeth, a student of Arabic majoring in Global & International Studies, takes a courageous step to open her heart and ours into a new horizon where languages are not just a luxury of knowledge but the soul of human connection. Her words bring tears and ignite the platform of languages as a vital voice of diversity! We extend our thanks to Chairperson, Susana Cavallo, and Dean, Peter Schraeder, for their support of the Arabic Program at Loyola!

With much timely need for expanding our horizons internationally as global multi-faith, multi-linguistic, and multi-racial created communities, please take a few moments to read Myah's blog titled "A Ferry to the Blue City: Chefchaouen, Morocco." Myah invites you to a virtual tour into the beauty of the Blue City "Chefchaouen" and the multiplicity of influences by Arabs, Amazigh, North African, Portuguese, Spanish, among others.

The Arabic program is thrilled to share with you Elise's blog "Reconstructing Love with Refugees @ Camp Eleonas in Athens!" at such a timely need to share love, compassion, and respectful understanding across the globe! Elise is a doctorate student in the Department of Political Science (Global Politics) who is learning Arabic at Loyola. Thank you, Elise, for reminding us of the beauty of diversity!

In this article for the Harry Ransom Center's series "What Is Research?" Julia Elsky reflects on her experience in archives in France and the United States while writing her book, Writing Occupation: Jewish Émigré Voices in Wartime France (Stanford University Press, 2020). She discusses what archival research can tell us about the life of a novel, and in particular about Jean Malaquais's wartime novel told from the perspective of refugees in France.

In spirit of Loyola's mission and the Arabic program's focus on interdisciplinary and Global Awareness Initiative, please join me in reading Ibrahim's blog as he connects his personal firsthand impressions with documentary reflections to allow an interactive re- learning of the Arab and Muslim imprints in Southern Spain/ Al-Andalus! Don't miss the marvelous photos! A special gratitude to Dr. Cavallo and Dr. Schraeder for advocating for Arabic at LUC.

Italia nel cuore. Dr. Sergio Corsi: Professor of Italian and Italian Literature

Message from the Chair: Dr. Sergio Corsi retired from Loyola last spring after 47 years of passionate service. Sergio loved his work and loved his students. His dedication to them was and remains legendary. I am sad to inform you that his beloved wife, Dr. Naomi Corsi, died recently. She was commemorated at a private family service on January 2. I would like to take this opportunity to express our profound sorrow to our beloved colleague Sergio and to his son, David Corsi, and his family. Dr. Wiley Feinstein gave a beautiful tribute to his close friend and "brother". The tribute, "Italia nel cuore," as well as a video celebrating Sergio and his fabled teaching and dedication to Italian literature, especially Dante, can be found at these links:


Julie Elsky's ground-breaking book Writing Occupation: Jewish Émigré Voices in Wartime France was published in December (2020) by Stanford University Press. It appears in the series Jewish History and Culture, and studies the wartime experiences and writings of Jewish émigré authors in France. It also focuses on the topics of bilingualism and translation.

No time like those days to express our shared humanity, love for peace, respect, tolerance and global family connections. We invite you to read our blog on voting 2020 and enjoy samples of images, posters, and quotes from Arabic students at Loyola. Thank you for all supporters at CAS, especially Dr. Cavallo and Dr. Schraeder.

Reflecting on her study abroad experience in Spain, Myah, a Spanish major and Arabic minor, brings in beautiful reminders of the priceless role of languages as doors into exploring the intellectual contributions of civilizations across history and the common values of human life! Much needed for our global interdisciplinary collaborations. Please read her words and enjoy her images of the Muslim Civilization in Southern Spain

In May 2018, Dr. Reinhard Andress organized a conference at Loyola on The Early Stages of Exile. The conference volume with additional articles, edited by Dr. Andress, appeared in July 2020 with Brill/Rodopi in the Netherlands under the title of Vorstufen des Exils / Early Stages of Exile. Exile is usually defined as the time one lives elsewhere, involuntarily separated from home. However, exile can also be conceptualized more broadly as a process already starting at home, while traveling into exile and/or before arriving in the place of exile. It includes the sense of alienation at home for political, racist, religious, cultural or linguistic reasons, also for reasons of sexual orientation or censorship. Pondering the pros and cons of exile, establishing networks of resistance, matters of bureaucracy or learning a new language are just some of the additional aspects. This volume attempts to shed detailed light on those early stages of exile.

The Diversity, Equity, and Inclusion Committee of the Department of Modern Languages and Literatures at Loyola University Chicago is sponsoring the 2020-2021 lecture series, which will address issues of health and sickness, both individual and social, engaging with how discourses of plague, hygiene, and containment are inflected with power and race.LEARN MORE

Please join us in a joyful reading of Katie's blog speaking of her growth in independence, resilience, and trust while in a study abroad program in Tunisia. In her own words, this experience in Arabic abroad "expands your view of humanity and reminds you that the difference between yourself and someone on the other side of the world is merely superficial".

Carinne Jarvis, a French Minor at Loyola University Chicago, competed in a call for papers from the American Journal of French Studies in the Spring of 2020 on the topic of "Transportation and New Technologies". Carinne came in 4th place in this highly competitive call for papers for her essay "Ce qu'on peut attendre dans une société qui est basée sur la technologie". Carinne is continuing to study French this year and is currently enrolled in French 270, a survey course to explore French literature from the Middle Ages to the 18th century. Congratulations Carinne!

Join Nabil in his experience doing volunteer work with orphans and refugees in Jordan, highlighting the role of language in human connections.

Learn about recent and future initiatives contributing to combat racial justice.READ MORE

In "Boston to Dublin", Arabic minor Michael Ghiloni shares his fascinating experience giving an Arabic lesson while en route to Ireland!

With gratitude to funding support from MLL Chairperson Professor Susana Cavallo, the Arabic program at Loyola enjoyed a mesmerizing demonstration of Arabic classical music sounds and instruments by our kind professional musician Mr. Majed Abu Ajameyeh.

In "Love Under Siege" Nida, an Arabic language & culture minor, shares her recent blog - an interactive linguistic and cultural event that brings together humor and tears of love in Palestine; moments of cultural humility and a door of understanding.

We are excited to share our latest blog "An Eye on the Arab World" reflecting on our visit to the World Islamic Sciences and Education University (WISE) in Amman, Jordan.

Please enjoy Nida Hameed's beautiful reflections on her passion for learning Arabic via participating in Palestinian Culture Night at Loyola. We are so proud of your enthusiasm, Nida, and your lovely connections between classroom learning and cultural experiences on campus - a great path for life long learning of language and culture.

Please spare a few moments to read Sabrina's blog, reigniting our interest and rekindling our passion in learning foreign languages and cultures. A beautiful story of family service!

Join us in congratulating William, a graduate student with exceptional dedication to Arabic at Loyola, for another wonderful blog post on his passionate work with the Jesuits in Egypt. We are so humbled by William's great work and beautiful words on the multi religious, racial, and linguistic diversity of our existence!

Italian Dual Credit Program & Sculpting America with an Italian Chisel with Lou Del Bianco

The Dual Credit Program at Loyola University Chicago welcomed the visit of the Italian AP class from St. Viator's High School, organized by Mrs. Mirella Rullo and Prof. Anna Clara Ionta. The students joined the Italian class of professoressa Anna Taraboletti Segre and then, attended a lecture by Lou Del Bianco organized by Dr. Carla Simonini.


Social Justice Research Fellowship - Seraphina Meacham

Seraphina Meacham, Gannon Scholar and Honors undergraduate student, was awarded a LUROP grant (Social Justice Research Fellowship) for 2018-19 to conduct a research project, Immigrant Women and Art: Exploring Identity, under the mentorship of Dr. Cristina Lombardi.


Arabic: Your Ticket to the Middle East

Theresa Smiley, a Loyola student majoring in Global and International Studies and Political Science, with minors in Arabic Language and Culture, Islamic World Studies, shares her experience with Arabic studying abroad in Amman, Jordan, where she participated in an intensive Arabic language program through CET Academic Programs.


PEN Zentrum

Reinhard Andress (Professor of German, Director of German Studies) has been nominated and accepted for membership in PEN ZENTRUM deutschsprachiger Autoren im Ausland (PEN CENTRUM of German-speaking Authors Abroad) in recognition of his scholarly contributions to transatlantic relations in the field of German Studies. The PEN Zentrum is engaged in the freedom of art in all its forms and across borders, and fights against racism and all other forms of discrimination.


We too? Feminism, Sexual abuse and Gender Power

On the emblematic date of March 8, at the Parthenon Hall of University of Rome Sapienza, students and faculty gathered for the seminar We too? Feminism, Sexual abuse and Gender Power by Cristina Lombardi-Diop, of Loyola University Chicago. Lombardi-Diop carried out an in-depth analysis of the new movements against sexual abuse and its implications for international feminism in its different forms.


Chinese Mid-autumn Festival

On September 28, students taking Chinese language classes at Loyola gathered at the Language Learning Resource Center (LLRC) to celebrate the Chinese Mid-autumn Festival, also known as the Moon Festival. Six students gave presentations on Chinese culture, and the topics included modern Chinese fashion trends, the Moon Festival, tea culture, gift giving practices in China, Chinese traditions, and modeling in China. In addition to learning about Chinese culture, the students, faculty, and staff sampled delicious Chinese cuisine and deserts, including the famous mooncakes. The event was sponsored by LLRC and the Chinese Language and Culture Minor program.