With gratitude to funding support from MLL Chairperson Professor Susana Cavallo, the Arabic program at Loyola enjoyed a mesmerizing demonstration of Arabic classical music sounds and instruments by our kind professional musician Mr. Majed Abu Ajameyeh.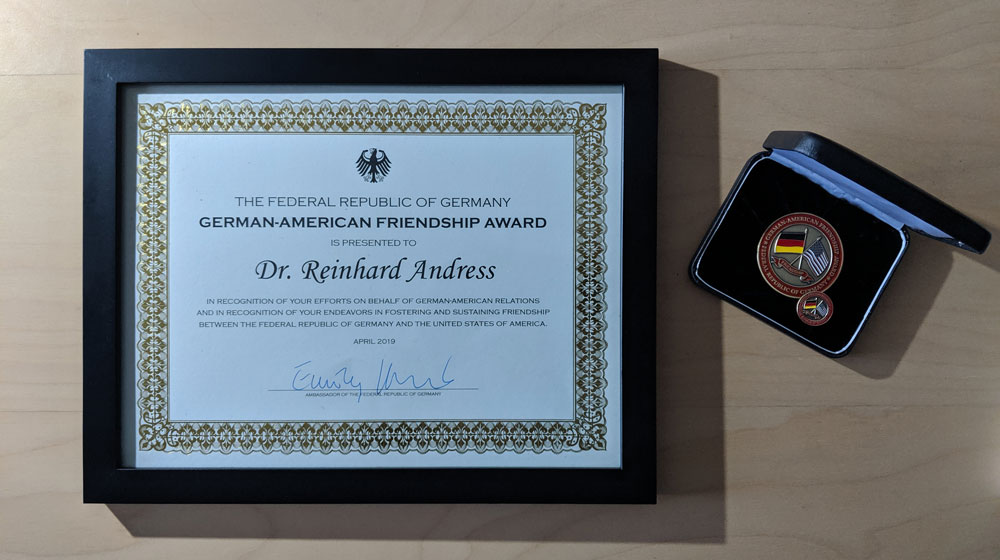 Professor and Director of German Studies, Dr. Reinhard Andress received the German American Friendship Award. This prestigious award is given twice per year by the Ambassador of the Federal Republic of Germany in Washington, Emily Haber, in a small ceremony at the General Consulate of the Federal Republic of Germany in Chicago.
Resources
Programs
Welcome
¡Bienvenidos! Willkommen! huānyíng! marHaba! Yookoso! Witamy!
Our department serves over 2700 students a year in twelve different languages!
Join Nabil in his experience doing volunteer work with orphans and refugees in Jordan, highlighting the role of language in human connections.


Learn about recent and future initiatives contributing to combat racial justice.
READ MORE

In "Boston to Dublin", Arabic minor Michael Ghiloni shares his fascinating experience giving an Arabic lesson while en route to Ireland!


In "Love Under Siege" Nida, an Arabic language & culture minor, shares her recent blog - an interactive linguistic and cultural event that brings together humor and tears of love in Palestine; moments of cultural humility and a door of understanding.


We are excited to share our latest blog "An Eye on the Arab World" reflecting on our visit to the World Islamic Sciences and Education University (WISE) in Amman, Jordan.


Please enjoy Nida Hameed's beautiful reflections on her passion for learning Arabic via participating in Palestinian Culture Night at Loyola. We are so proud of your enthusiasm, Nida, and your lovely connections between classroom learning and cultural experiences on campus - a great path for life long learning of language and culture.


Please spare a few moments to read Sabrina's blog, reigniting our interest and rekindling our passion in learning foreign languages and cultures. A beautiful story of family service!


Join us in congratulating William, a graduate student with exceptional dedication to Arabic at Loyola, for another wonderful blog post on his passionate work with the Jesuits in Egypt. We are so humbled by William's great work and beautiful words on the multi religious, racial, and linguistic diversity of our existence!


Italian Dual Credit Program & Sculpting America with an Italian Chisel with Lou Del Bianco

The Dual Credit Program at Loyola University Chicago welcomed the visit of the Italian AP class from St. Viator's High School, organized by Mrs. Mirella Rullo and Prof. Anna Clara Ionta. The students joined the Italian class of professoressa Anna Taraboletti Segre and then, attended a lecture by Lou Del Bianco organized by Dr. Carla Simonini.


Social Justice Research Fellowship - Seraphina Meacham

Seraphina Meacham, Gannon Scholar and Honors undergraduate student, was awarded a LUROP grant (Social Justice Research Fellowship) for 2018-19 to conduct a research project, Immigrant Women and Art: Exploring Identity, under the mentorship of Dr. Cristina Lombardi.


Arabic: Your Ticket to the Middle East

Theresa Smiley, a Loyola student majoring in Global and International Studies and Political Science, with minors in Arabic Language and Culture, Islamic World Studies, shares her experience with Arabic studying abroad in Amman, Jordan, where she participated in an intensive Arabic language program through CET Academic Programs.


PEN Zentrum

Reinhard Andress (Professor of German, Director of German Studies) has been nominated and accepted for membership in PEN ZENTRUM deutschsprachiger Autoren im Ausland (PEN CENTRUM of German-speaking Authors Abroad) in recognition of his scholarly contributions to transatlantic relations in the field of German Studies. The PEN Zentrum is engaged in the freedom of art in all its forms and across borders, and fights against racism and all other forms of discrimination.


We too? Feminism, Sexual abuse and Gender Power

On the emblematic date of March 8, at the Parthenon Hall of University of Rome Sapienza, students and faculty gathered for the seminar We too? Feminism, Sexual abuse and Gender Power by Cristina Lombardi-Diop, of Loyola University Chicago. Lombardi-Diop carried out an in-depth analysis of the new movements against sexual abuse and its implications for international feminism in its different forms.


The Life of Dr. Carole Holdsworth

The Loyola University Chicago community mourns the death of Carole Holdsworth, PhD, retired professor in the department of Modern Languages and Literatures. A professor of Spanish and Spanish literature, Dr. Holdsworth retired in 2016 after 51 years at Loyola. Dr. Holdsworth specialized in research concerning the contemporary novel, Don Quijote, and modernismo. She frequently taught introduction to Spanish literature, Don Quijote, and medieval Spanish literature.


Study Abroad

Interested in studying abroad? Click to see more information...