archive
Screening of Father Stu with Featured Guest Mark Wahlberg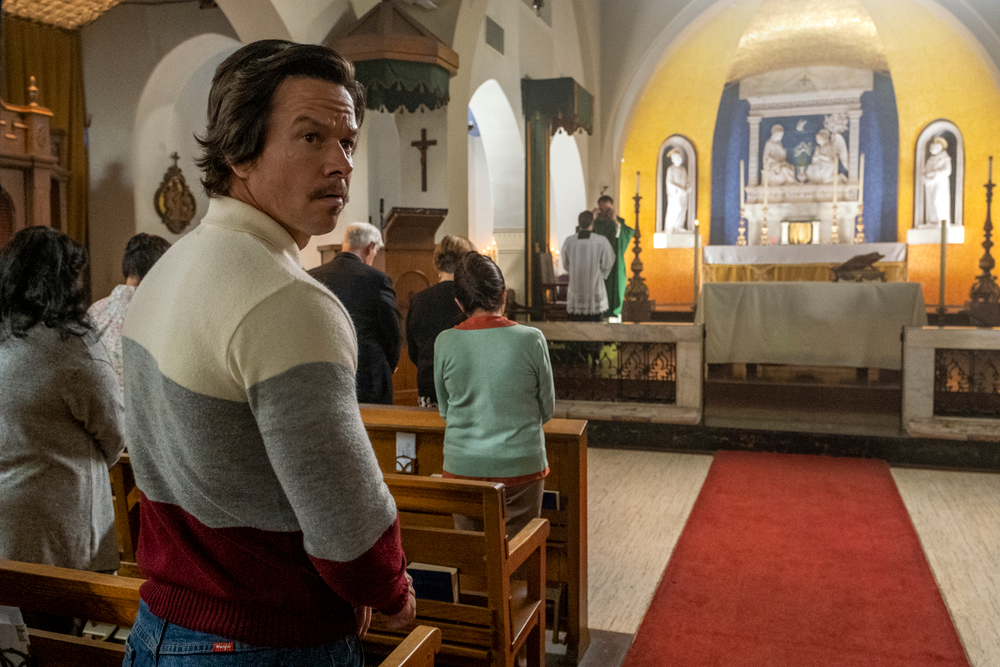 We recently co-hosted a special premiere screening of Father Stu starring Mark Wahlberg here at Loyola University Chicago. Mark Wahlberg was in attendance for some comments and introduction to this film for a full audience at the Damen Cinema on campus. Father Stu is based on a true story of Father Stuart Long, an amateur boxer who discovered his calling in the Church.
About the Film
Based on a true story, Father Stu is an unflinchingly honest, funny and ultimately uplifting drama about a lost soul who finds his purpose in a most unexpected place. When an injury ends his amateur boxing career, Stuart Long (Mark Wahlberg) moves to L.A. dreaming of stardom. While scraping by as a supermarket clerk, he meets Carmen (Teresa Ruiz), a Catholic Sunday school teacher who seems immune to his bad-boy charm. Determined to win her over, the longtime agnostic starts going to church to impress her. But surviving a terrible motorcycle accident leaves him wondering if he can use his second chance to help others find their way, leading to the surprising realization that he is meant to be a Catholic priest. Despite a devastating health crisis and the skepticism of Church officials and his estranged parents (Mel Gibson and Jacki Weaver), Stu pursues his vocation with courage and compassion, inspiring not only those closest to him but countless others along the way.
Written for the screen and directed by Rosalind Ross, and starring Academy Award Nominee® Mark Wahlberg (Best Supporting Actor, The Departed, 2006) as Father Stu, along with Academy Award Winner® Mel Gibson (Best Director, Braveheart, 1995), Academy Award Nominee® Jacki Weaver (Best Supporting Actor, Silver Linings Playbook, 2012) and Teresa Ruiz (Narcos). The film is produced by Mark Wahlberg, Stephen Levinson and Jordon Foss and executive-produced by Miky Lee, Colleen Camp, Rosalind Ross, Patrick Peach and Tony Grazia.
About Mark Wahlberg
Mark Wahlberg earned both Academy Award® and Golden Globe® nominations for his standout work in the family boxing film The Fighter and Martin Scorsese's acclaimed drama The Departed. Wahlberg has played diverse characters for visionary filmmakers such as David O. Russell, Tim Burton, and Paul Thomas Anderson. His breakout role in Boogie Nights established Wahlberg as one of Hollywood's most sought-after talents.
Wahlberg's remarkable film career began with Renaissance Man, directed by Penny Marshall, and The Basketball Diaries, with Leonardo DiCaprio, followed by a star turn opposite Reese Witherspoon in the thriller Fear. He later headlined Three Kings and The Perfect Storm, with George Clooney, and The Italian Job with Charlize Theron. Wahlberg then starred in the football biopic Invincible and Shooter, based on Stephen Hunter's best-selling novel, Point of Impact. Wahlberg reunited with The Yards director James Gray and co-star Joaquin Phoenix for We Own the Night, which he also produced. In 2013, he teamed with director Peter Berg on military drama Lone Survivor and 2 Guns with Denzel Washington. The following year, he starred in Ted 2 with Seth MacFarlane and Daddy's Home opposite Will Ferrell. Wahlberg's additional credits include The Gambler, The Lovely Bones, The Other Guys, Pain & Gain, Contraband, Ted, Transformers: Age of Extinction, Deepwater Horizon, Patriots Day, Transformers: The Last Knight, Daddy's Home 2, All the Money in the World, Mile 22, Instant Family, Spenser Confidential, the animated film Scoob, Joe Bell, and Infinite. Upcoming is Father Stu, the true-life story of a boxer-turned-priest.
An accomplished film and television producer, Wahlberg has produced Infinite, Joe Bell, Spenser Confidential, Instant Family, Mile 22, Daddy's Home 2, Patriots Day, Deepwater Horizon, Entourage, The Gambler, Lone Survivor, Broken City, Contraband, The Fighter (for which Wahlberg was nominated for an Oscar® for Best Picture) and We Own the Night. For television, Wahlberg was executive producer Emmy-nominated "Wahlburgers" on A&E, docuseries "McMillion$" and hit comedy "Ballers" on HBO. He executive produced HBO's "Entourage" through its impressive eight-season run as well as "In Treatment," "Boardwalk Empire," and "How to Make It in America." He executive produced three seasons of "Shooter" for USA Network. For his work in television, Wahlberg has received a BAFTA, a Peabody, seven Emmy nominations, six Golden Globe® nominations and a Golden Globe® Award for "Boardwalk Empire" in 2011.
A committed philanthropist, Wahlberg founded The Mark Wahlberg Youth Foundation in 2001 to benefit inner-city children and teens.