The Saint John Henry Newman Lecture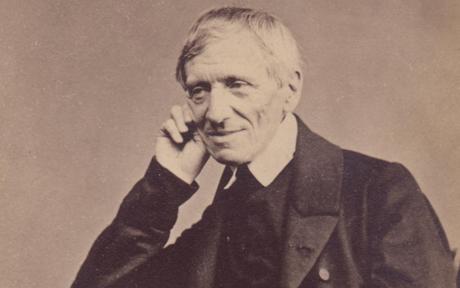 The Saint John Henry Newman Lecture Series is named after the great 19th century English prelate who wrote very movingly about his intellectual journey toward Roman Catholicism in his spiritual autobiography, Apologia pro vita sua (1864). Newman's work helped later generations of Catholics and Catholic converts map out ways to understand the datum of religious faith in light of the contemporary issues facing modern life.
Honoring this engagement with the Catholic tradition, CCIH invites scholars each spring to recount their own discovery (or rediscovery) of the Catholic intellectual heritage in light of their ongoing scholarship.
You Cannot Do This Without God's Grace: Newman, Dowling, and Conversion as Daily Practice.

March 14, 2023
Dawn Eden Goldstein offered this year's Newman Lecture: You Cannot Do This Without God's Grace: Newman, Dowling, and Conversion as Daily Practice. The Newman Lecture series invites scholars to recount their own discovery of the Catholic intellectual tradition in light of their ongoing research and thought. This event was free & open to the public. This event was in-person and will be livestreamed. Registration to the livestream is closed.


The 2022 Saint John Henry Newman Lecture: Dr. Jennifer Newsome Martin

February 17, 2022, 7:00 PM CDT
Zoom Forum
Jennifer Newsome Martin, Associate Professor of Theology at the University of Notre Dame, offered this year's Newman Lecture: The Sacrament of the Possible, or, Why I Became a Catholic. The Newman Lecture series invites scholars to recount their own discovery of the Catholic intellectual tradition in light of their ongoing research and thought. This event was free & open to the public.


The 2021 Saint John Henry Newman Lecture: Dr. Jennifer Frey

March 25, 2021, 4:00 PM CDT
Zoom Forum
Catholic convert Jennifer Frey, Assistant Professor of Philosophy at the University of South Carolina, offered this year's Newman Lecture. Dr. Frey's research examines the intersection of action, ethics, and meta-ethics. This event is free & open to the public. Registration required.


The 2017 Cardinal Newman Lecture: Chris Haw

After a week in jail following an Iraq War protest in 2003, Chris Haw, as a disaffected evangelical, moved into "America's most dangerous city" to start a small community in an abandoned house and work with a Catholic church. In his lecture, "Rust Belt Apocalypse and the Eucharist," Haw shared how a poetic mixture of myth and logic, an active patience amidst godlessness, and the drama of scapegoating as symbolized in the Mass all permeated his conversion and research.


On February 12th, Dr. James Garbarino presented CCIH's first Cardinal Newman Lecture. Dr. Garbarino, the Maude C. Clarke Chair of Humanistic Psychology at Loyola University Chicago, recounted his intellectual rediscovery of Catholic Social Thought within the context of his own work on the human rights of children. Video of the lecture: The (re-)Discovery of Catholic Social Theory in Understanding Trauma, Violence, and the Human Rights of Children. Watch Video