Faculty Seminar
All Things Ignatian: Catholic Intellectual Life and the Common Good
Loyola University Chicago's Jesuit, Catholic heritage is an essential component of its mission in higher education. This faculty seminar is a semester-long course that studies in a systematic way the educational enterprise of Loyola University through the prism of the Catholic intellectual heritage and the contemporary applications of Ignatian pedagogy. The seminar's goal is twofold: to engage faculty more deeply with the university's Catholic heritage as a reference point and resource for social justice; and to invite faculty reflection on the interplay of faith, reason, and justice as it pertains to their teaching, scholarship, and participation with the community here at Loyola and beyond.
Structure of the Seminar
This semester-long course for faculty meets for 9 two-hour meetings in the early evening. The seminar consists of 15 full-time faculty from across the university.

Seminar sessions are led by faculty from the Hank Center, the Center for Ignatian Pedagogy, Jesuits and others who have shared commitments to orientating faculty in the Jesuit tradition and mission of the university.

Enrolled faculty members are awarded an honorarium for full participation in the 9 units of the seminar.

Short reflections on the readings or themes for each unit of the seminar are written, shared, and discussed through Sakai as part of the assessment of the seminar.

At completion of the seminar, enrolled faculty are eligible for a summer research grant from CCIH that brings together ideas from the seminar with particular scholarship and research interests of faculty members.
Setting the Stage
The seminar begins with a look at Ignatius of Loyola and the 450-year history of Jesuit higher education in its desire to address issues of social justice. In the summer of 2015, Jesuit universities from around the world met in Melbourne to talk about how they might collaborate on some of the pressing problems in education today. The following short video, Expanding Jesuit Higher Education Network: Collaborations for Social Justice, provides a great synopsis of this event to open the seminar's initial conversation.
Sample Syllabus from Spring 2020
Faculty Seminar
All Things Ignatian: Catholic Intellectual Life and the Common Good Spring, 2020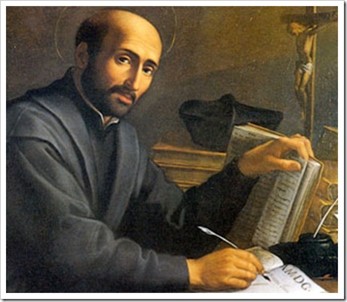 Hank Center Library (Cuneo Hall, 425)
Nine Wednesdays, 4-6PM
"So that the river of tradition may come down to us, we must continually dredge its bed."
Henri de Lubac, S.J. (1945)
"What then does a university do, immersed in this reality? Transform it? Yes. Do everything possible so that liberty is victorious over oppression, justice over injustice, love over hate? Yes. Without this overall commitment, we would not be a university, and even less so would we be a Catholic university."
Ignacio Ellacuría S.J. (1982)
The full copy of the Spring 2020 syllabus as an example can be found here: Faculty Seminar Syllabus.