home_news
Faith in Focus Film Series: The Ultimate Sacrifice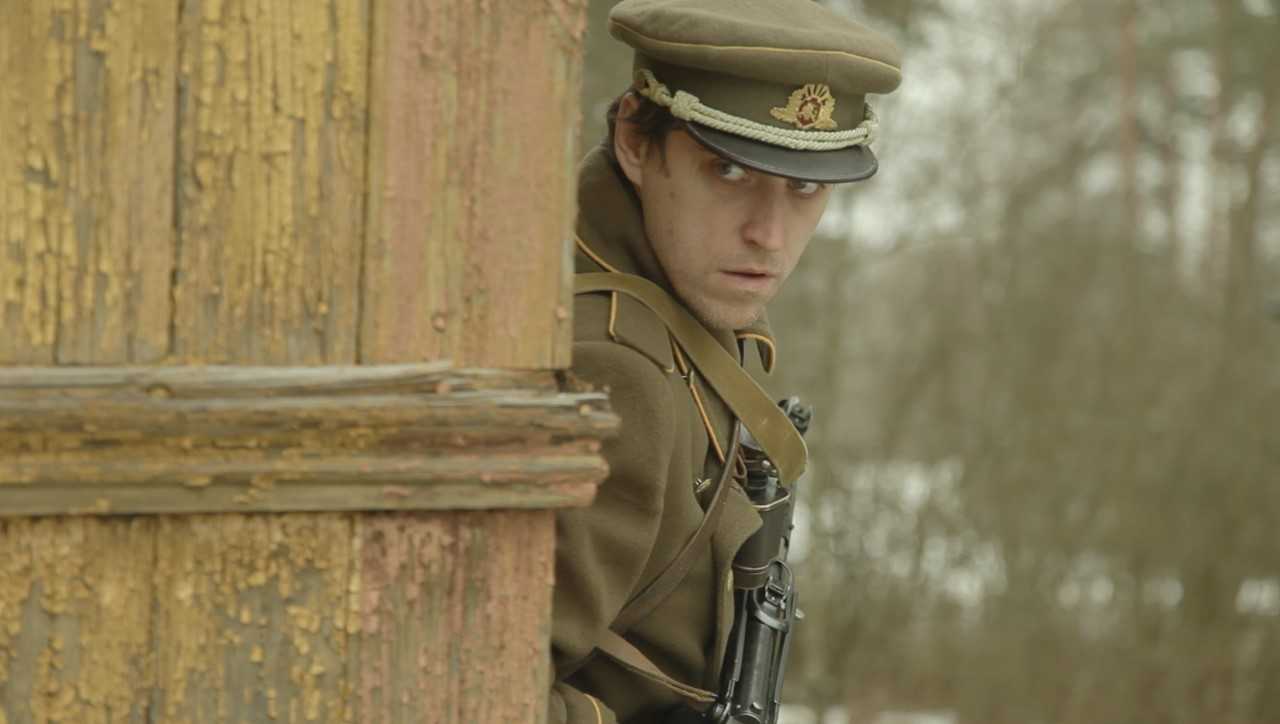 Tuesday, 24 October 2017
6:00PM - 8:00PM
Damen Student Cinema, Damen Student Center
Lake Shore Campus, LUC
The Hank Center for the Catholic Intellectual Heritage will present a unique opportunity to view the documentary: The Ultimate Sacrifice (2017). This film is about Juozas Vitkus, a legendary Lithuanian Colonel who led a resistance movement against Soviet occupation in the 1940s and 50s. Post film discussion will be led by special guest, grandson of Colonel Vitkus and former Jesuit Provincial of Lithuania and Latvia, Fr. Gintaras Vitkus, SJ.
The Lithuanian resistant movement, or guerrilla war, is not a very well-known event in European history. After the end of WWII, when major political players started to rebuild their own countries, Lithuania was annexed to the Soviet Union. Lithuanian soldiers, doctors, teachers, engineers and peasants who opposed Soviet rule retreated into the forests where they started a war against the Russian occupants, who greatly outnumbered them. Resistance soldiers, also known as Forest Brothers, obstructed the establishment of Soviet government institutions and pro-Soviet farms, and minimized the influence of Communist propaganda. Their ultimate goal was to recreate an independent Lithuania. However, as time passed, it became obvious that Western European countries were not going to aid the Lithuanians, and without their support the fighters had no chance of success against the more powerful Soviet enemy. Eventually, resistance soldiers made an explicit decision not to accept any new members. Lithuanian resistance lasted from 1945 to 1953.
Colonel Juozas Vitkus was the head of the resistance group that was fighting in southern Lithuania. He had been trained as a military engineer in Belgium, and was a Lieutenant-Colonel by 1940 during the first Soviet occupation. Luckily, he was not deported by the Soviet government to Siberia like many Lithuanian military officers at that time.
During the German occupation, unwilling to work in an army subservient to the Nazis, he went into civilian life and helped to create an underground military school with the intention of training volunteer soldiers. He was the highest ranking officer from the formerly independent army in the resistance movement.
After one massive "forest soldiers" execution, Soviet collaborators stumbled across Vitkus while he was washing his clothes by a stream. He defended himself with a pistol, wounding two soldiers, but was wounded in turn by a grenade and captured alive. He died from wounds while being transported to prison. His burial place remains unknown.
Colonel Vitkus' grandson Rev. Vitkus, SJ also has a life story that is marked by unconventional choices and courage to follow the heart. Fr. Vitkus is a graduate of the Medical School at Vilnius University and for several years had a successful medical practice. However he left his career to become a priest underground in the Soviet society where religious people were persecuted, Christian holidays were forbidden and churches were turned into sport gyms or warehouses.
The evening will provide an opportunity to learn about two destinies, where individual choices and sacrifices made to honor the highest ideals become symbolic and inspirational examples of determination to defend freedom and identity.
This event is free and open to the public.
That We May All Be One: Reformation and the Spirit of Christian Unity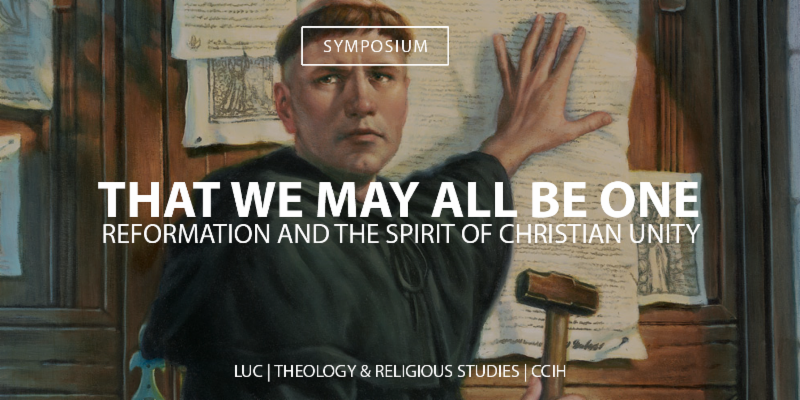 October 18th, 2017
4th floor, Information Commons
Loyola University Chicago, Lake Shore Campus
6501 N Kenmore Ave, Chicago, IL 60660

This Event is Free and Open to the Public
On October 18th, the Joan and Bill Hank Center for the Catholic Intellectual Heritage will mark the 500th anniversary of Martin Luther's 95 Theses with a day-long symposium that looks at ecumenical dialogue through the years and the legacy of the Reformation.
Christian thinkers and leaders will discuss historic divisions emerging from Reformation controversies as well as points of shared theological, cultural, and pastoral concerns among Christian churches.
Among the many scholars and religious leaders speaking and presenting are Martin Marty, Jon Sweeney, Susan Ross, Robin Lovin, Aana Marie Vigen, Jon Nilson, Fr. Thomas Hickey, John Armstrong, Craig Mueller, Ellen Wondra, John Paul Salay, and more. The full schedule for the day is listed below:
Event Details
8:15: Hospitality
9:00: Welcome
9:10-10:15: Keynote: Martin Marty, October 31, 1517: Martin Luther and the Day that Changed the World
Interviewed by Jon Sweeney
Break
10:30-11:45: Susan Ross and Robin Lovin, In Conversation: Martin Luther's On Christian Liberty
Moderator: Hille Haker
11:45-12:45: Lunch on your own. A list of recommended restaurants can be found here.
12:45-1:30: Aana Marie Vigen, "A Lutheran Love Letter to Pope Francis"
1:45-3:00: Craig Mueller, John Paul Salay, and Fr. Thomas Hickey, "Ecumenical Chicago: Lutheran-Catholic Pastoral Dynamics"
Moderator: Lauren Schwer
Break
3:30-4:45: Jon Nilson, Ellen Wondra, and John Armstrong, "Longing for Unity: Three Stories"
Moderator: Shane Gormley
5:00-5:30: Vespers (located at Madonna Della Strada Chapel, one building south of the Information Commons)
Golf Cart Shuttle Available
8:00am-9:00am: Shuttle from Parking Garage to Information Commons
12:00pm-1:00pm: Shuttle Available
5:00pm-6:00pm: Shuttle from Information Commons to Parking Garage
Reformation Symposium Speakers Featured on NPR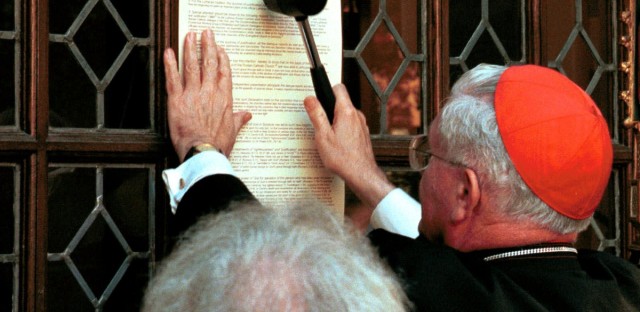 The Hank Center's Featured Speakers, Aana Marie Vigen, Susan Ross, and Craig Muller, with Fr. Don Senior and David Goa, recently spoke on NPR about the Protestant Reformation's 500th anniversary and the Hank Center's upcoming Symposium.
A podcast of this discussion, "How the Protestant Reformation Still Drives Western Civilization 500 Years Later", can be found on WBEZ's website.
Around the globe, the Protestant Reformation's 500th anniversary will be commemorated this month. The Hank Center will lead a day-long Symposium on Wednesday, October 18.

On October 31, 1517, Catholic priest Martin Luther nailed his 95 Theses to the door of the Castle Church in Wittenburg, Germany. His revolutionary ideas challenged the Roman Catholic Church and touched off religious and social changes still apparent today.
Many historians credit the Protestant Reformation with providing the undergirding for capitalism, Western democracy, and accelerating the growth of the modern secular state.
NPR discussed the past 500 years with a number of religious experts who will be featured at the Hank Center's upcoming Symposium:
Fall 2017 Faculty Reading Group: Orthodoxy and Fr. Brown by G.K. Chesterton
FIRST MEETING (Cuneo Hall, Room 425)
Group A: Monday, Oct. 2nd, 10:00AM to 11:30PM
Group B: Tuesday, Oct. 3rd, 2:00PM to 3:30PM

SECOND MEETING (Cuneo Hall, Room 425)
Group A: Monday, Oct. 23rd, 10:00AM to 11:30PM
Group B: Tuesday, Oct. 24th, 2:00PM to 3:30PM
This reading group is open to Loyola University Chicago faculty from all campuses. Please contact HankCenter@luc.edu with any inquiries.
The Joan and Bill Hank Center for the Catholic Intellectual Heritage is pleased to announce our Faculty Reading Group for this upcoming semester. The Fall 2017 reading group will be dedicated to the seminal work Orthodoxy, and the mysteries of Fr. Brown, from English journalist, novelist, short story writer, cartoonist, Catholic apologist, and social activist, G.K. Chesterton. This group will explore what this strange and singular 20th century British writer knows about faith and culture, and what he can teach contemporary readers. His work has been revitalized over the past few years, signaling to audiences the wisdom and timelessness found in his witty and prophetic voice. His work looks to explore and find Orthodoxy in a climate of heterodoxy.
All faculty are invited to join.
Sacred Sustainability: Life Hacking a Living Tradition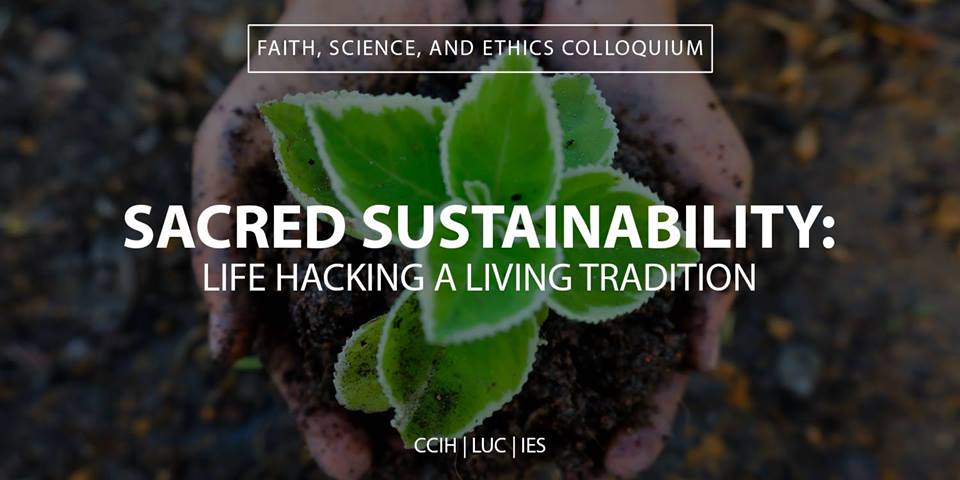 Wednesday, 4 October 2017
3:30PM - 5:30PM
McCormick Lounge, Coffey Hall
Lake Shore Campus, LUC
Social entrepreneur, speaker and author of Y on Earth, Aaron William Perry will lead the audience in an interactive, and educational discussion titled: "Sacred Sustainability: Life Hacking a Living Tradition". In the spirit of Pope Francis's Laudato Si, Perry will discuss the connection between health, sustainability and well-being. Having founded and grown companies in the recycling, renewable energy and natural food spaces, Perry has a particular expertise in agriculture, energy, supply chain transparency, management, financial modeling, capital raising, and leadership. His background in philosophy, literature, sustainable development, and permaculture makes Perry a deeply perspicacious and thoughtful leader, mentor, and student at this point of inflection we face as a culture and species on planet Earth.
For more information on Aaron Perry and his work please visit:http://www.yonearth.world/
I Was a Stranger: Student Stories of Religious Hospitality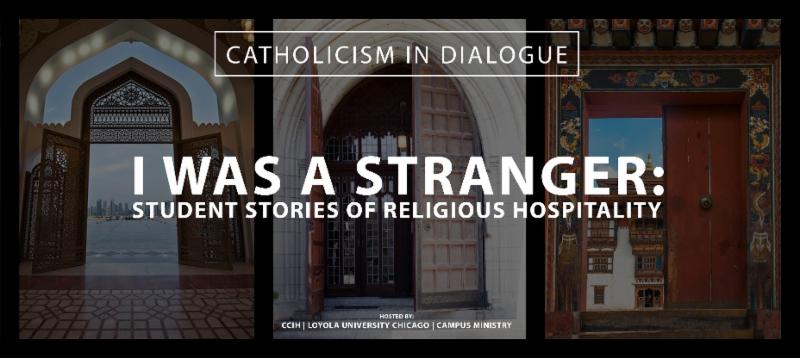 Thursday, 28 September 2017
3:00PM - 5:00PM
McCormick Lounge, Coffey Hall
Lake Shore Campus, LUC
This fall, CCIH shifts the focus of its Catholicism in Dialogue event toward the contemporary challenge of living together in a multicultural and interfaith setting, and combines forces with Campus Ministry and the Department of Theology & Religious Studies to offer students a yearlong experience of hospitality through many events.
I Was a Stranger: Student Stories of Religious Hospitality, taking place on Wednesday, September 28th, kicks off this week of hospitality events. At this event, student representatives from Loyola's major faith communities will share experiences in which they were welcomed into their own faith communities through initiation rites, conversion experiences, and times of support in the midst of the everyday trials and challenges that are part of an authentic religious life. After the presentations, students will be available to discuss their respective traditions in more detail during a time of casual conversation and refreshments.
Emphasizing the point that practice is the bedrock of religious reflection and experience, the rest of this week will be filled with opportunities to participate in enacted religious welcome practices. Opening their doors to all members of our campus community, various faith communities will sponsor actual religious practices that are central to their traditions in order to share lived ritual experiences that shape faith communities and the unique ways that each religious tradition understands the nature of embracing of others. The week will hopefully reveal not only the diversity of religious experience and thought at Loyola, but also the value in acknowledging, preserving, and enriching this religious diversity for our whole community, nation, and world.
Thank You and Farewell, Fr. Bosco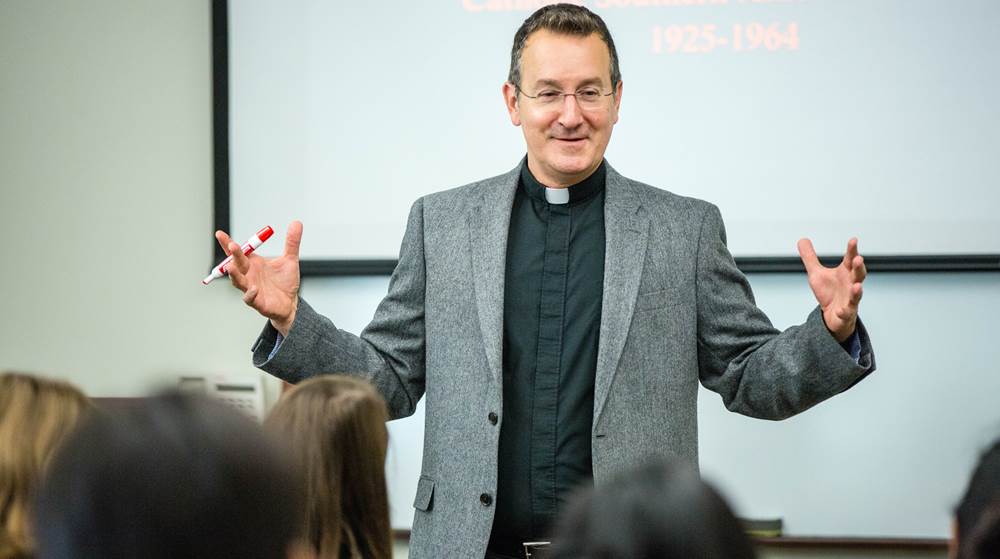 Farewell to Fr. Mark Bosco
The John and Bill Hank Center for the Catholic Intellectual Heritage says farewell to Fr. Mark Bosco, S.J., who has served as director of the center for the last five years. Fr. Bosco is a scholar of 20th-century Catholic theology, culture, and aesthetics, and an expert on Catholic writers Graham Greene and Flannery O'Connor. In his time at the center, he spearheaded numerous conferences and events for students and faculty alike.
In his final year with the Hank Center, Fr. Bosco led an initiative to create LUC's first faculty seminar, All Things Ignatian: Catholic Intellectual Life and the Common Good, a course designed to deepen understanding of the institution's Catholic mission and Jesuit heritage. Most recently, Fr. Bosco produced and co-directed (with Loyola colleague Elizabeth Coffman) the feature-length documentary, Flannery O'Connor: Acts of Redemption. The film is in post-production and is being considered by PBS for its American Masters series.
In commenting on his years at the center, Bosco explains that "The Hank Center was already a presence at the university. What I've done in my term as director is to make it a more integral part of the university, a place where we hold conferences, film and lecture series, symposiums and get students involved with faculty research in the field."
At Loyola, Fr. Bosco also held a joint faculty position in the Theology and English departments, where he taught such courses as The Catholic Literary Tradition, Sacramental Theology/Theological Aesthetics, and Art and Religious Imagination and 20th Century American. Living in a student residence hall at Loyola, he often cooked Italian dishes for students and hosted them for fellowship and conversation.
In pursuing his new position at Georgetown University, Fr. Bosco comments that he was attracted to Georgetown "because of the sense that it not only represents and nurtures its own faith tradition, but engages in interreligious dialogue and reaches out to people of all faiths." Fr. Bosco will also become a full-time lecturer in Georgetown's English department.
Fr. Bosco was (and remains) a superb friend, mentor, colleague, and director to many in his 14 years at Loyola University Chicago. His presence on campus will be greatly missed, but CCIH takes solace in the fact we have excellent future collaborations planned. The Hank family and the center's staff and faculty wish to thank Fr. Bosco for his excellent service and wish him the best in his exciting new leadership role at Georgetown.
America Magazine Welcomes Hank Center Alumnus: Angelo Jesus Canta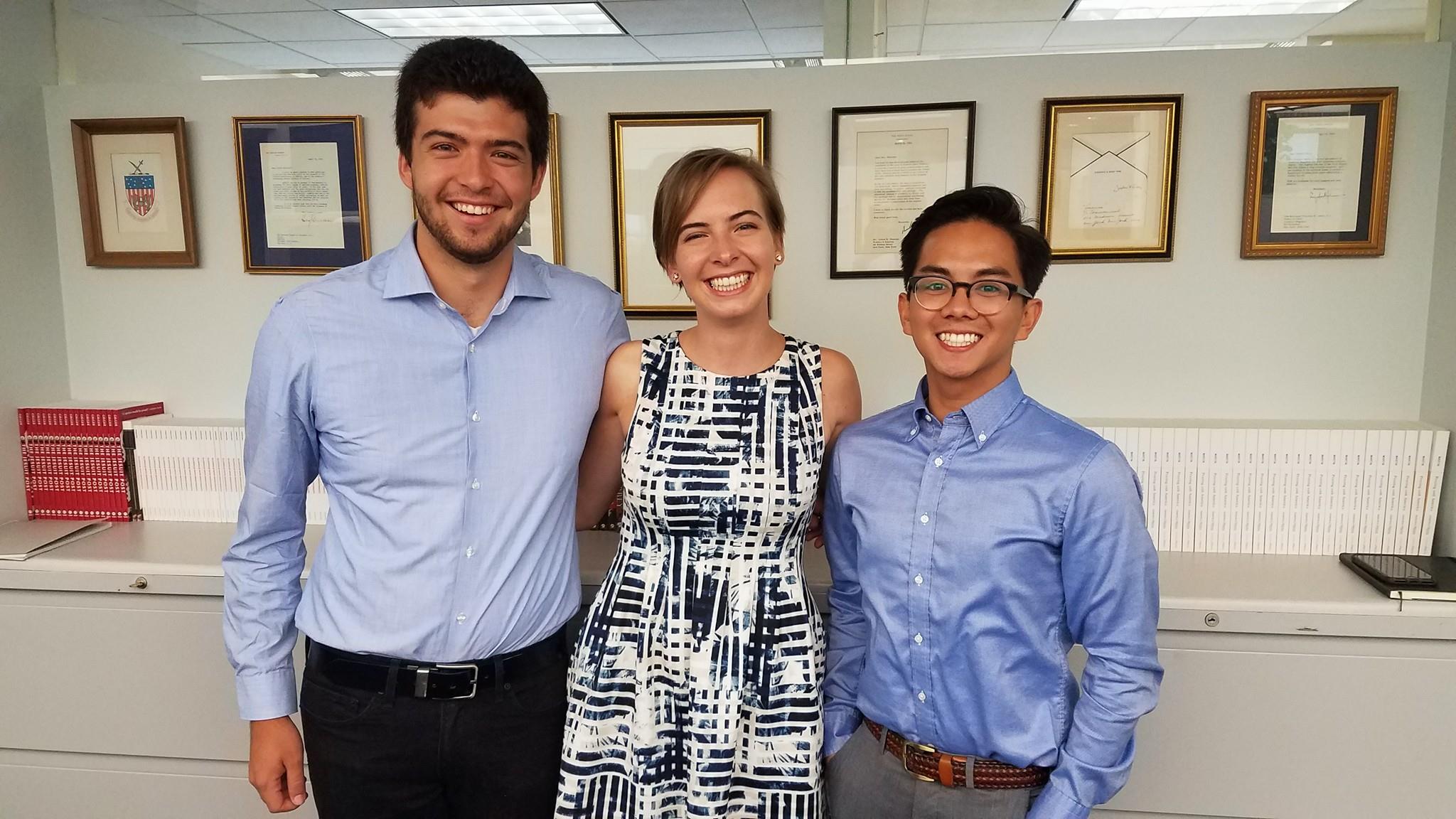 This past week, America Magazine welcomed the latest O'Hare Fellows to its team. Among the three college graduates selected for this highly competitive program was Loyola University Chicago and the Hank Center's own Angelo Jesus Canta (pictured right).
Angelo was selected for the program last March, while finishing his final semester at LUC. He graduated Summa Cum Laude with a bachelor's of arts degree in theology, with minors in visual communication and Catholic studies. In addition to this, Angelo was a Ricci Scholar, a part of the Jesuit honors society, Alpha Sigma Nu, as well as Loyola's interdisciplinary honors program. He spent two years as the Hank Center's research undergraduate research assistant and graphic designer, doing incredible work for the center.
As an O'Hare Fellow for America Magazine, Canta will spend one year at America Media working on print, digital, audio and film projects while benefiting from mentoring and professional development opportunities. Fellows spend the year living at Fordham University Lincoln Center, where they can engage in a dynamic community in the heart of New York City, the media capital of the world.
Joining Angelo are Antonio De Loera-Brust from Loyola Marymount University (pictured left), Colleen Dulle from Loyola New Orleans (center). As Fr. James Martin S.J. joked in his post to Facebook, "it helps to go to a school named after St. Ignatius Loyola."
The Hank Center congratulates and celebrates Angelo as he pursues the Catholic intellectual tradition and the intersection of theology and culture at America Magazine. We wish him the best in this exciting new adventure!
The picture is courtesy of Fr. James Martin, S.J.
Catholicism: Called to Tradition of Revolution?
Wednesday, November 29
7:00-8:30 PM
The Den, Damen Student Center
Students Only
On November 29, 2017, Jesuit scholastic, Michael Martinez spoke to over 70 students about what it means to be a young adult and practicing Catholic in the 21st century. His talk focused on how, "as Catholics," practicing the Tradition "does not allow us to forget the Truth that the love of God and love of neighbor are one." Martinez proposed that the "Revolutionary part" of the Catholic faith is that the truth must not remain some "philosophical principle" taught long ago, but an invitation to Christian action. The "tradition" is that this truth becomes a responsibility, by the grace of God, for us to incarnate this truth in our daily lives. Martinez, in both traditional reflection and rousing hip-hop performance, proclaimed what the Christian tradition always does: the beautiful call of "Christ's Revolution."