archive
*mark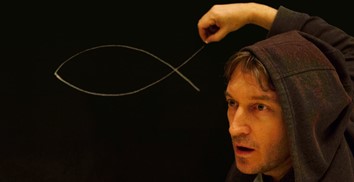 Friday, 10 October 2014 &
Saturday, 11 October 2014
7:30p.m.—The Newhart Family Theater
2nd Floor, Mundelein Center
Lake Shore Campus, Loyola University Chicago
*mark, performed by George Drance, directed by Luann Jennings, with original music composed by internationally acclaimed, award winning composer Elizabeth Swados, who just completed a successful run Off-Broadway at La MaMa ETC in New York City.
Written during Nero's brutal persecution of the followers of "the Way", the Gospel of Mark was recited in its entirety, giving courage to this community of quiet rebels whose radical compassion threatened the Empire's status quo. The production imagines the Gospel performed by a street artist, and asks what it would be like if our experience in 2014 were the same experience of those in Rome under the madness of Nero?
Actor George Drance, SJ, has performed and directed in over twenty countries on five continents. The work of his New York company, Magis Theatre, has been praised by the New York Times for its artistic skill and daring.
Director Luann Jennings founded the new Arts Ministry at Redeemer Presbyterian Church in New York City. She has taught theatre at St. John's University and currently works with students of Baylor University.
Elizabeth Swados has composed, written, and directed issue oriented theatre for over 30 years. Some of her works include the Broadway and international smash hit "Runaways," Obie Award winning "Fragments of a Greek Trilogy," "Alice at the Palace," with Meryl Streep, and "Missionaries," about the four Maryknoll women killed in El Salvador. Her many awards include: five Tony nominations, three Obie Awards, and a Guggenheim Fellowship.
In his apostolic exhortation entitled "The Joy of the Gospel" His Holiness Pope Francis writes: "Whenever we make the effort to return to the source and to recover the original freshness of the Gospel, new avenues arise, new paths of creativity open up, with different forms of expression, more eloquent signs and words with new meaning for today's world."
For more information, please contact CCIH at 773.508.3820 or catheritage@luc.edu.