home_news
Videos Available| Spring 2021 Series | Catholic Higher Education in Light of Catholic Social Thought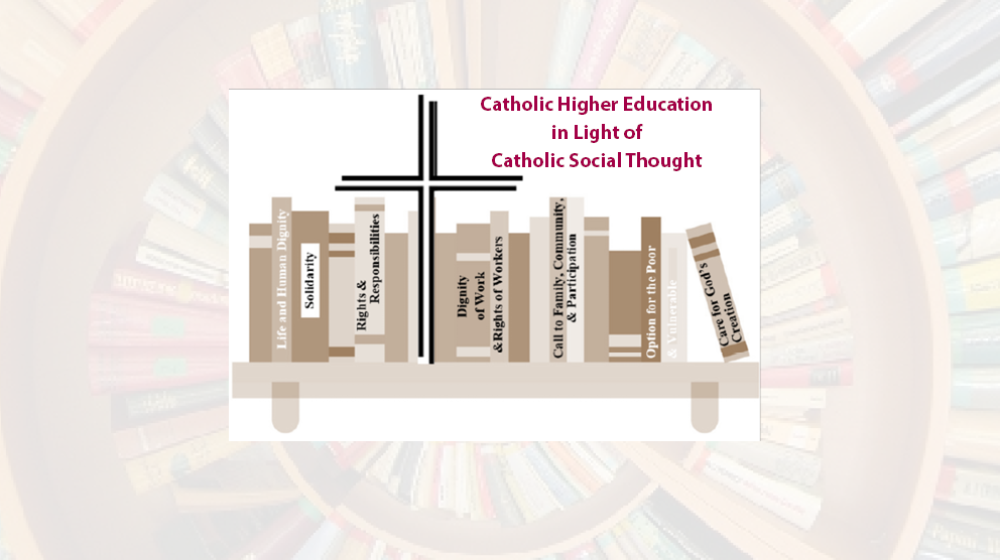 Beyond Patriarchy: Women and Lay Leadership
Featuring Catherine Punsalan-Manlimos, this final session in a series based on the forthcoming publication Catholic Higher Education in Light of Catholic Social Thought engages the origins of Catholic colleges and universities, founded by religious congregations and dioceses; with the social structures and leadership styles established by those origins and persisting to varying degrees today; with the great changes in Catholic higher education since the 1960s, not least the increasing roles and responsibilities of lay men and women; with remaining obstacles to the full participation of lay people, especially women; and with the responsibilities of Catholic colleges and universities, in light of CST, to identify and overcome those obstacles.
Featuring Catherine Punsalan-Manlimos with a response from Kathleen Maas Weigert.
| | |
| --- | --- |
| | Catherine Punsalan-Manlimos is Assistant to the President for Mission Integration and Associate Professor in Religious Studies at the University of Detroit Mercy. Previously, she was the Malcolm & Mari Stamper Chair in Catholic Intellectual and Cultural Traditions and Inaugural Director of the Institute for Catholic Thought and Culture at Seattle University where she was also Associate Professor in Theology and Religious Studies and Director of Catholic Studies. She began her academic career at the Ateneo de Manila University (Philippines) where she received her Bachelor of Science degree in Physics and Masters in Theological Studies and taught undergraduate and graduate theology courses for five years. She earned her Ph.D. from the University of Notre Dame in Systematic Theology in the area of the intersection of religion, science and the preferential option for the poor. Her current research projects examine the intersections of the Catholic Social Tradition, Catholic Higher Education and the contribution of marginalized voices. |
| | As of July 1, 2020, Kathleen Maas Weigert is a Professor Emerita at Loyola University Chicago where she taught Sociology and Peace, Justice and Conflict Studies. Among her publications is a co-edited volume, Living the Catholic Social Tradition: Cases and Commentary (2005), and a co-edited issue on CST for the Journal of Catholic Higher Education (Winter 2018). Dr. Maas Weigert is currently co-leading a multi-university research project on how college students learn about and appropriate the Catholic social tradition, a second project that focuses on a new Catholic community organizing group in Chicago, and collaborative book project with six colleagues that focuses on women engaging the Catholic Social Tradition. |
7:00-8:15 PM CDT
Zoom Forum
Help Wanted: Labor Policies, Problems, and Opportunities
This presentation will identify the forces that have reshaped the U.S. economy and higher education over the past half century; examine how those forces have affected not only the environment in which Catholic colleges and universities operate, but the internal dynamics of those institutions (e.g., outsourcing of services, use of adjunct faculty, erosion of tenure, opposition to unions); and frame more just and sustainable alternatives in light of CST.
Featuring Joseph A. McCartin with a response from Dan Rhodes.
| | |
| --- | --- |
| | Joseph A. McCartin is Professor of History and Executive Director of the Kalmanovitz Initiative for Labor & the Working Poor at Georgetown University, where he has taught since 1999. His research focuses on the intersection of labor organization, politics, and public policy. He is an award-winning co-/author or co-/editor of eight books (most recently, Labor in America, with Melvyn Dubofsky) and more than 130 articles, chapters, and reviews in the fields of labor history and labor studies, and he has held fellowships or visiting appointments from the National Endowment for the Humanities, the Woodrow Wilson International Center for Scholars, L'Ecole des haute etudes sciences sociale (EHESS), and the Warren Center of Harvard University among others. His writing has appeared in a range of popular venues and he is a member of the board of the Catholic Labor Network and the Albert Shanker Institute and a contributing editor to Labor: Studies in Working-Class History. |
| | Daniel P. Rhodes is Clinical Associate Professor and Director of Contextual Education at the Institute of Pastoral Studies, Loyola University Chicago. His work crosses the divides between the academy, the church, and society with an emphasis on community organizing, education, ecclesiology, political theology, and ethics. His latest coedited book (with Charles Marsh and Shea Tuttle) is Can I Get a Witness?: Thirteen Peacemakers, Community-Builders, and Agitators for Faith and Justice (Eerdmans, 2019). |
7:00-8:15 PM CST
Zoom Forum
What Students? Which Mission?
Colleges closing. Tuitions rising. Graduation rates lagging. This talk presents institutional data on Catholic colleges and universities in the U.S. to examine student demographics, institutional practices, and how larger structural factors influence how Catholic colleges and universities operate in the U.S. today, often in direct opposition to the tenets of Catholic Social Thought. The role of Catholic K-12 education is also discussed. The presentation ends with questions that individual colleges can explore and encourages Catholic college networks to consider how to come together to work towards a better embodiment of mission through the students that we enroll and educate.
Featuring Laura Nichols with a response from Jennifer Boyle.
| | |
| --- | --- |
| | Laura Nichols is an applied sociologist at Santa Clara University in California where she teaches community-based courses in education and participatory research. She co-edited, with Terry-Ann Jones, Undocumented and In College: Students and Institutions in a Climate of National Hostility (Fordham University Press 2017) a project coordinated by Fairfield University partnering with Santa Clara U and Loyola University. The research sought to better understand the role of Jesuit colleges in enrolling students who were undocumented and student's experiences at Jesuit colleges. Her latest book, The Journey Before Us: First-Generation Pathways from Middle School to College (Rutgers 2020) researches the experiences of alumni from a Nativity middle school and their pathways through Catholic and public high schools as well as different types of post-secondary experiences. |
| | Jennifer R. Wozniak Boyle is Clinical Professor, Associate Dean for Academic Affairs and Director of Operations at Arrupe College of Loyola University. At Arrupe College, Dr. Boyle oversees faculty, curriculum, advising and academic support programming and assists the Dean with strategic management and operations. She serves on LUCs Academic Program Review Committee, and Board of Undergraduate Studies; and on the Academic Committee of the Board of Trustees for Chicago Jesuit Academy. Prior to assuming her role at Arrupe College, Dr. Boyle served as Associate Professor and Chair of the Political Science Department at Elmhurst College (2006-2015) and President of the Illinois Political Science Association (2005-2007). In recognition of her teaching, Elmhurst College awarded her the President's Award for Excellence in Teaching in 2005. Dr. Boyle has published on the European debt crisis, European Union and European regional development policy (including Conditional Leadership, Lexington Books 2006). Since coming to Arrupe College, Dr. Boyle's research interests have grown to include higher education administration. Most recently she has co-authored "Cura Personalis as Institutional Practice" (with J. Bninski Jesuit Higher Education 2020). Dr. Boyle earned a Ph.D. in political science from Loyola University Chicago (2002) and a B.A. from the College of the Holy Cross. |
7:00-8:15 PM CST
Zoom Forum
A System Adrift? Catholic Social Thought as an Anchor for Catholic Higher Education
This session of our series is concerned with elaborating the current challenges to Catholic colleges and universities in the context of the U.S. system of higher education, clarifying what CST is, and explaining its relevance for Catholic higher education.
Featuring Jennifer Reed-Bouley and Bernard Prusak, editors of the book Catholic Higher Education in Light of Catholic Social Thought: Critical-Constructive Essays (forthcoming in 2021 frou Paulist Press), with a response from Michael Schuck.
Mentioned in this session:
Dr. Bernard Prusak is Professor of Philosophy and founding Director of the McGowan Center for Ethics and Social Responsibility at King's College in Wilkes-Barre, PA.

Dr. Prusak's scholarship focuses in moral and social philosophy. He has published widely in scholarly journals and books on such topics as parental obligations and children's rights, conscience, just war, religious liberty, the moral limits of markets, and the principles of cooperation and double effect; he also

writes for Commonweal magazine

, where he worked as an editorial assistant before graduate school, and

America magazine

. He serves as a senior editor for the journal

Expositions: Interdisciplinary Studies in the Humanities

, for which he edits the forum

"Ethics in Focus."

He is a member of the steering committee of the

Catholic Social Teaching Learning and Research Initiative

, a collaboration of faculty and administrators from Catholic colleges and universities across the United States, and he has been guest editor of three issues of the

Journal of Catholic Higher Education

. He also serves on the Wilkes-Barre General Hospital Ethics Committee, the Geisinger Wyoming Valley Hospital Ethics Committee, and the Ethics Advisory Council for Geisinger's

MyCode Community Health Initiative

.

Jennifer Reed-Bouley is Professor and Program Director of Theology at College of Saint Mary in Omaha, Nebraska. She earned her Ph.D. in Christian Ethics and MA in Theology from Loyola University Chicago, and her BA from the University of Notre Dame. Her article "Challenging Racism and White Privilege in Undergraduate Theology Contexts: Teaching and Learning Strategies for Maximizing the Promise of Community Service-Learning," Teaching Theology and Religion 18/1 (2015), won the College Theology Society's annual award for "Best Article Published in Theology."
Michael Schuck is Professor of Theology at Loyola University Chicago, and founding Director of the Joan and Bill Hank Center for the Catholic intellectual Heritage. Dr. Schuck is currently Co-Director of the International Jesuit Ecology Project, which has produced Healing Earth, a free online textbook in environmental science, ethics, spirituality and action. His main research interests are Roman Catholic social thought with special attention to its history, variety, and relationship to other forms of social thought, ancient and modern.
7:00-8:15 PM CST
Zoom Forum