home_news
The Future of Catholicism in America Discussion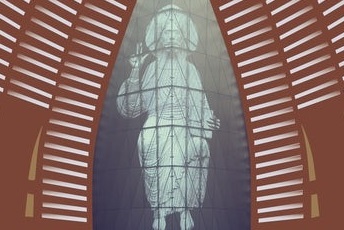 Friday, April 5th
9:00 a.m.-3:00 p.m.
McCormick Lounge, Coffey Hall
Following the formal program, all were invited to continue the dialogue at lunch: 1:00 p.m. in Palm Court, Mundelein Hall
Lake Shore Campus, Loyola University Chicago
A series of dialogues on the volume, The Future of Catholicism in America, featuring its editors, Patricia O'Connell Killen and Mark Silk, along with other scholars and students. All wereinvited to share in conversations about the timely and important topics highlighted by this new book.
Sponsored by LUC's Hank Center for the Catholic Intellectual Heritage, the Greenberg Center at Trinity College, and Gonzaga University through the Women, Faith and Leadership Fund provided by Bart and Hilke Gallant.
This event was free and open to the public.
Read more about the publication: The Future of Catholicism in America (Columbia University Press)
Schedule:
McCormick Lounge, Coffey Hall

| | | |
| --- | --- | --- |
| Leadership & Public Influence | 9:00-10:15 PM | This panel explored issues of leadership, relationship and attitudes of clergy and laity, and the forms of public influence of Catholicism in the United States today. With Joseph Chinnici, Katarina Schuth, and Richard Wood. Bren Ortega Murphy moderated. |
| Church in the Public Square: Relationships for the Public Good | 10:45-11:15 PM | This panel explored how the Church supports the common good in its social apostolate. Specific attention was given to the Church's relationship with organized labor and its other fields of advocacy and justice. With Larry Dowling and Peter Gilmour, who moderated. |
| People and Practice | 11:30-1:00 PM | This conversation explored demographic trends, attitudes, and practices around prayer and liturgy. With William Dinges, Timothy Matovina, and Andrew Walsh. Heidi Schlumpf moderated. |
Palm Court, Mundelein Hall

Begins with lunch in Palm Court at 1:00 PM.
| | | |
| --- | --- | --- |
| Student Perspectives on the Future of Catholicism | 1:15-2:30 PM | Students responded to our previous conversation and thoughts on The Future of Catholicism in America. This conversation brought student voices into the wider conversation on the future of the church. With Emily Kate Marticello, Kathleen McNutt, Mark Neuhengen, and Jacob Torbeck. Mark Silk moderated. |
| Concluding Comments | 2:30 PM | Mark Silk and Patricia O'Connell Killen, co-editors of The Future of Catholicism in America (Columbia University Press, 2019), concluded today's dialogues with final thoughts. |
Participant Biographies:
Joseph Chinnici, O.F.M. (D.Phil., Oxford University) is professor of history and president emeritus at the Franciscan School of Theology in Oceanside, California. A specialist in American Catholic history and the development of Franciscan spirituality, he is a professed member of the Order of Friars Minor. His most recent book is When Values Collide: The Catholic Church, Sexual Abuse, and the Challenges of Leadership (2010). Currently he is completing a new work, Going Public, Becoming Global: American Catholicism 1945-1965.
Fr. Larry Dowling is pastor of St. Agatha's Church in North Lawndale. Fr. Dowling, who grew up in downstate Paris and has master's degrees in math and physics, took an unconventional path to the priesthood, working as an actuary for 10 years before entering the seminary at thirty-three. Fr. Dowling has been an agent of justice and healing in his many ministries.
William D. Dinges (Ph.D., University of Kansas) is Ordinary Professor of Religion and Culture in the School of Theology and Religious Studies at the Catholic University of America. He is the author of numerous historical and ethnographic studies of American Catholic life, co-author with Dean R. Hoge, Mary Johnson, S.N.D., De N., and Juan L. Gonzales, Jr., of Young Adult Catholics: Religion in the Culture of Choice (2001), and is at work on a book called Catholics at Prayer: The "Holy Sacrifice": Ritual, Culture and Social Change in the American Catholic Experience.
Peter Gilmour (D. Min., University of Saint Mary of the Lake) is Professor Emeritus, Institute of Pastoral Studies, Loyola University Chicago focused on Pastoral Leadership, Narrative Theology, and Religious Education in his teaching and research. He is the author of The Wisdom of Memoir: Reading and Writing Life's Sacred Texts, (St. Mary's Press, 1997) and The Emerging Pastor: Non-Ordained Catholic Pastors (Sheed and Ward, 1985). He wrote the monthly "Odds and Ends" column for U. S. Catholic Magazine for 11 years. Dr. Gilmour received his undergraduate degree in 1964 and his Master's degree in 1971, both from Loyola University Chicago
Patricia O'Connell Killen (Ph.D., Stanford University), coeditor of The Future of American Catholicism, is professor of religious studies and senior university fellow at Gonzaga University where she previously served as academic vice president. Killen is co-editor of Selected Letters of A.M.A Blanchet, Bishop of Walla Walla and Nesqualy, 1846–1879 (2013) and of Religion and Public Life in the Pacific Northwest: The 'None' Zone (2004). Currently she is collaborating with Canadian colleagues on a cross-border study of spirituality, secularization and civic life in British Columbia, Oregon, and Washington.
Timothy Matovina (Ph.D., Catholic University of America) is professor and chair of the Department of Theology at the University of Notre Dame. He is a former director of Notre Dame's Cushwa Center for the Study of American Catholicism and is a specialist in American Catholic and Latino Catholic life. His most recent books are Latino Catholicism: Transformation in America's Largest Church and Theologies of Guadalupe: From the Era of Conquest to Pope Francis.
Emily Kate Marticello is a Senior at Loyola University Chicago majoring in Business Management with minors in Finance and Catholic studies. Her focus within management is Business Ethics and she attended the Markets and Catholic Social Thought Symposium at Georgetown University the final weekend of March. She has worked as an undergraduate research assistant and graphic design intern at The Hank Center for the Catholic Intellectual Heritage for two years. After Graduation, Emily Kate will be working full time with the U.S. Air Force in Project Management and Acquisition.
Kathleen McNutt is a Ph.D. student in Theology at Loyola, writing her dissertation on the meaning of salvation in ecotheology. She has taught courses in Christian Theology and Ethics and is currently the Graduate Research assistant at the Hank Center. Previously she was Campus Minister at Marist College in Poughkeepsie, NY. She has an M. Div. from Yale Divinity School and a B.A. from St. Olaf College.
Mark Neuhengen is a senior at Loyola University Chicago majoring in History and Religious Studies with minors in Catholic Studies, Arabic Language and Culture, and Islamic World Studies. He was a Ricci Scholar during the 2017-2018 school year where he studied the venerated dead's role in spirituality and politics in Rome and Beijing. He is a 2018-2019 Ramonat scholar and is studying the use of populist rhetoric by Mother Angelica of the Eternal Word Television Network and its impact on modern American Catholicism as part of that program.
Bren Ortega Murphy (Ph.D., Northwestern University) has been a faculty member in Communication Studies at Loyola University Chicago since 1984. She later joined the Women's Studies faculty and now holds a joint appointment in both the School of Communication and the Women's Studies/Gender Studies program in the College of Arts & Sciences. She has taught numerous courses in both of these areas and in 1996 received the Sujack Award for teaching excellence. She has written, directed and produced one radio documentary and two video documentaries, the latest of which is A Question of Habit: the image of women religious in U.S. popular culture. She has been the department chair for Communication, Associate Dean for the College of Arts and Sciences, Chair of Faculty Council, Director of Women's Studies and interim Graduate director for Women's Studies.
Heidi Schlumpf is The National Catholic Reporter's national correspondent, based in Chicago. She has three decades of experience covering religion, spirituality, social justice and women's issues, and is the author/editor of three books, including Elizabeth A. Johnson: Questing for God (Liturgical Press, 2016). Schlumpf is a graduate of the University of Notre Dame and has a master's degree in theological studies from Garrett Evangelical Theological Seminary at Northwestern University. She and her husband are members of St. Gertrude Parish in Chicago.
Katarina Schuth, O.S.F. (Ph.D., Syracuse University; S.T.L., Weston Jesuit School of Theology) is professor emerita and holder of the Endowed Chair for the Social Scientific Study of Religion at the St. Paul School of Divinity at the University of St. Thomas. She has served multiple faculty and research roles at St. Thomas, with interests in theological education for ministry, Church leadership, and the relationship between the Church & American culture. She worked for six years with the John Jay College of Criminal Justice to develop the 2011 report on "The Causes and Context of Sexual Abuse of Minors" for the American bishops. She has written five books on seminary education and well over 100 articles and book chapters. Her latest book is Seminary Formation: Recent History—Current Circumstances—New Directions, (2016).
Mark Silk (Ph.D., Harvard University), coeditor of The Future of American Catholicism, is director of the Leonard E. Greenberg Center for the Study of Religion in Public Life and coeditor of the Future of American Religion series. His most recent book, coauthored with Andrew Walsh, is One Nation Divisible: How Regional Religious Differences Shape American Politics.
Jacob Torbeck is a doctoral candidate and instructor in theology and ethics at Loyola University Chicago. His current work focuses on the concept of seeing the face of God in mystical and philosophical theology, and the intersection between theology and the imagination, especially in movies, television, and video games.
Andrew L. Walsh (Ph.D., Harvard University) is associate director of the Leonard E. Greenberg Center for the Study of Religion in Public Life at Trinity College. A historian of religion in America, he is coeditor of the Future of Religion in America series. With Mark Silk, he is coauthor of One Nation Divisible: How Religious Differences Shape American Politics.
Richard Wood (Ph.D., University of California at Berkeley)is serving as interim Provost at the University of New Mexico. He is a professor of Sociology and served as the Director of the Religious Studies Program, as well as various other roles at the college and university level. Wood serves as co-editor of a book series at Cambridge University Press, the Cambridge Studies of Social Theory, Religion, and Politics. He has served as advisor to the national bishops' committee that oversees the Catholic Campaign for Human Development. His books include A Shared Future: Faith-Based Organizing for Racial Equity and Ethical Democracy (2015; with Brad Fulton), and award winning Nonprofit Organizations and Voluntary Action; and Faith in Action (2002).