Info
Programs
Post Bac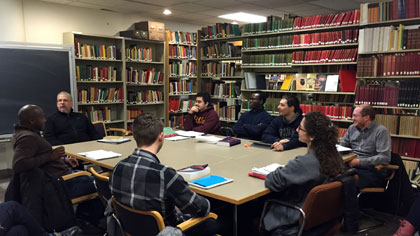 Post-Baccalaureate in Classical Studies
Continue your study of Latin and Greek -- or begin it for the first time. New scholarships available for 2023-2024!!
LEARN MORE
Language Placement
Yes, you CAN take Latin for your language requirement!!
One year of Latin or Ancient Greek fulfills your College of Arts & Sciences language requirement, and if you already took one of those languages in high school, we can work together so you start at the right level for you here at Loyola.
LEARN MORE
150th Anniversary
The Raymond V. Schoder, SJ, Slide Collection
The Loyola University Archives maintains the papers and image collection of Raymond Schoder, SJ, who served as professor of Greek and Latin at Loyola-Chicago from 1960-1981.
Explore ancient civilizations in their broader Mediterranean context from the Bronze Age to the 5th century CE. LEARN MORE
Apply by January 30 for this annual award in honor of Dr. Fauci for undergraduate students who excel in both Classics and STEM disciplines. Find more information at https://camws.org/fauciaward.

Join us October 28 for this 2nd Annual Halloween humanities event

Dr. Jennifer Finn, Associate Professor and Chair of the Department of Classical Studies in the College of Arts and Sciences at Loyola University Chicago, published her most recent book with the University of Michigan Press.

The Department of Classical Studies is proud to celebrate the 2021-22 Key and Certificate honorees

Registration for Fall 2022 is underway, and we have courses for you in Greek and Roman literature, art, and history. You can also learn Latin or Ancient Greek to read ancient works in their original language.

Join us April 11 for a virtual talk by Dr. Adrienne Mayor

The Department is pleased to announce undergraduate awards for study abroad, tuition, and resources, and a new post-bacc diversity scholarship.

Join us October 25 for a virtual talk by Dr. Blouin, finally rescheduled from spring 2020!

The Department of Classical Studies celebrated its graduates and recognized several outstanding students at our virtual Department Honors Convocation on April 29.

Dr. Christopher Polt (Boston College) presented the Callahan lecture on March 22 for the 150th anniversary of Loyola University Chicago

Enter the 2021 contest for essays written on Classical Studies topics from 2020 (full year) or 2021 (spring)! Submit by March 29!

The Department of Classical Studies celebrated its graduates and recognized several outstanding students at our virtual Department Honors Convocation on April 23.

Loyola's Iota Sigma chapter of Eta Sigma Phi initiated six new members on February 17, honored for their achievements in the study of Latin or ancient Greek.

Starting in fall 2019, enjoy increased flexibility as you pursue your study of ancient languages.

RESEARCH

Classics students research ancient agriculture, Roman graffiti, and more, and present the results at national conferences.

Dr. Krishni Burns presents on ancient Rome, multiculturalism, and the cult of the Great Mother.

It's time for the annual Halloween tradition in the Department of Classical Studies! Furibunda Productions presents Seneca's Thyestes, a gruesome play written during the rule of the Roman emperor Nero.

Join us for a panel discussion of the Balbo Monument, a Roman column gifted to Chicago by Mussolini. Wednesday, October 25, 5:30pm, Cudahy Science 202.

This year, Classical Studies students did independent research projects and won departmental and national awards!

Justin Leidwanger (Stanford University) presented "The Late Antique 'Church Wreck' at Marzamemi: Marble, Maritime Heritage, and Museum Development along the Sicilian Coast" on March 22, 2017.

Professor Laura Gawlinski spent her first summer digging up artifacts at the Athenian Agora in Greece nearly 20 years ago. Now, she's giving her students at Loyola a chance to do the same.

On April 18, Loyola Latin students performed "Exitium Caesaris," a play about the death of Caesar -- COMPLETELY IN LATIN!!