Internships and Community Outreach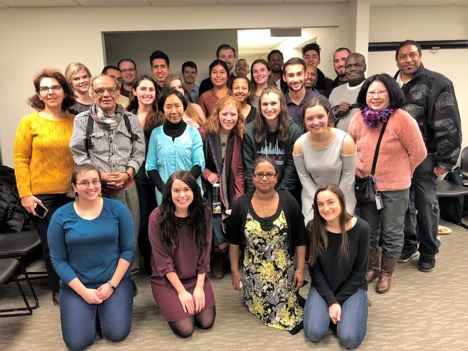 Internships: Students who are searching for internship opportunities are encouraged to use the resources of the Career Development Center and of the Center for Experiential Learning, both of which are located in Sullivan Center. The Department of English often forwards information about available internships from institutions such as the Newberry Library, but students will want to search for other internships aligning with their wider interests on Linkedin and the City of Chicago websites.
University Involvement: Besides discipline-specific or department groups, dozens of LUC student groups focus on community outreach and service, diversity, and other topics. Groups can be both found and originated on the Student Activities and Greek Affairs (SAGA) website.
The Literacy Center: The Loyola Community Literacy Center offers free tutoring in a supportive, welcoming environment for those adults in the Rogers Park community who are interested in learning English, in developing their English or literacy skills, or in working for their GED. Many learners are recent immigrants or refugees, but native speakers also come to the Center for assistance. A service outreach project of the Department of English and the College of Arts and Sciences, the Literacy Center is also supported by The Paul Glassco Endowment. The Center is located in the 2nd floor conference room of Loyola Hall, 1110 W. Loyola Avenue, and is open for tutoring Monday - Thursday evenings from 7-9:30 pm during the fall and spring semesters. Along with experienced undergraduates, many graduate students of Loyola University Chicago serve as managers, staff, and tutors at the center. Former graduate student tutors at the Literacy Center have found their tutoring experiences beneficial in future careers.If you are interested in volunteering and have never tutored for the Literacy Center, email the center.
Local Involvement: Check the Community Service & Action page on the university website for opportunities to serve the Rogers Park and Chicago area.