Research and Writing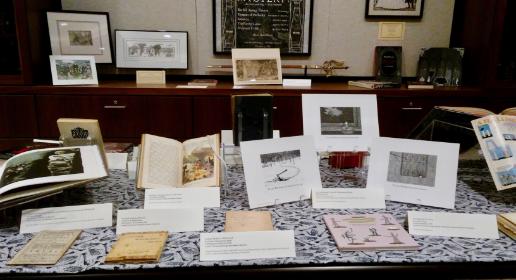 Containing hundreds of thousands of volumes, this library has three locations, on LSC, WTC, and in the Rome Center. Besides providing online catalogues of print and digitally accessed books, articles, and media, Interlibrary loan via WorldCat, research guides, and databases, librarians can be contacted in person, over the phone, via email, or through the chatbox on the home page to answer any research questions about a subject or to help locate primary sources. Graduate students may check out a maximum of 500 books at one time. Additionally, students writing a thesis or dissertation can email the library to be waitlisted for a study carrel on one of the library's floors.
---
Located on the second floor of the Cudahy library on LSC, this newly remodled resource boasts a growing collection of Jesuitica, including missionary reports, scientific works, and literature from the medieval to Modern periods. Notable collections include the Jesuitica Collection, Michalak Collection of 19th century British satire & caricature, Charles A. Whittingham Chiswick Press collection, and History of Medicine collection. You will need to email librarian Kathy Young before making your trip, show your LUC ID, and sign the reader's record.
---
Bring your LUC student ID to this famous Chicago library to access thousands of primary sources. Membership is free, but will need to be renewed every year. Consult the website for hours of operation, especially around the holidays. To save time, make reading room document requests in advance via the library's website before making the trip to the library. In addition to offering multiple humanities seminars, lectures, and workshops year-round, which Chicago students can register for, also consider applying for the annual fellowships offered by the library for individual research projects. The yearly book fair is an event eagerly anticipated by Chicago bibliophiles.
---
Local Libraries
Consider searching the archive holdings and book collections of local and university libraries including those of Northwestern, UIC, the University of Chicago, and Purdue University. Though many universities have the same academic books, they will hold vastly different and specialized archives such as collections on the transatlantic slave trade, the Victorian novel, modernist literature, Chicago history, law, and politics, etc. Often LUC students have reciprocal borrowing privileges with institutional libraries after presenting a LUC ID at the library circulations desk and establishing an account. Remember to abide by the use and borrowing rules of each library you utilize for your research. For other local research, register for a library card at CPL's Harold Washington Library after establishing proof of residence.
---
Research Grants
If you need to travel outside of the local area, consider submitting a Research Funding Request well in advance of your travel to the Graduate School for a maximum research grant of $300.00. Once having successfully applied through GSPS, you will be reimbursed after your travel. There are several windows for research funding requests, which can be viewed on the "Graduate Research" page of the Graduate School website.
---
With two locations, one on the 2nd floor of LSC's Klarcheck Information Commons, and another on the 6th floor of WTC'S Lewis Towers, this free service provides LUC students, faculty, and alumni with expert editing advice. While the Writing Center is not a drop-off editing service, tutors will read and give advice on essays, CVs, theses, dissertations, conference presentations, articles, and any other piece of writing imaginable. After making an account, both in-person and online appointments can be made within specific time slots open on the schedule. Also look through the Loyola Online Writing Lab (OWL) on the Writing Center website for valuable writing, editing, language skills, and professionalization help.
---
Periodic workshops on thesis/formatting, graduate writing, grant writing, and other topics are sponsored by the Professional & Academic Development outreach program and advertised in emails.