Study in Rome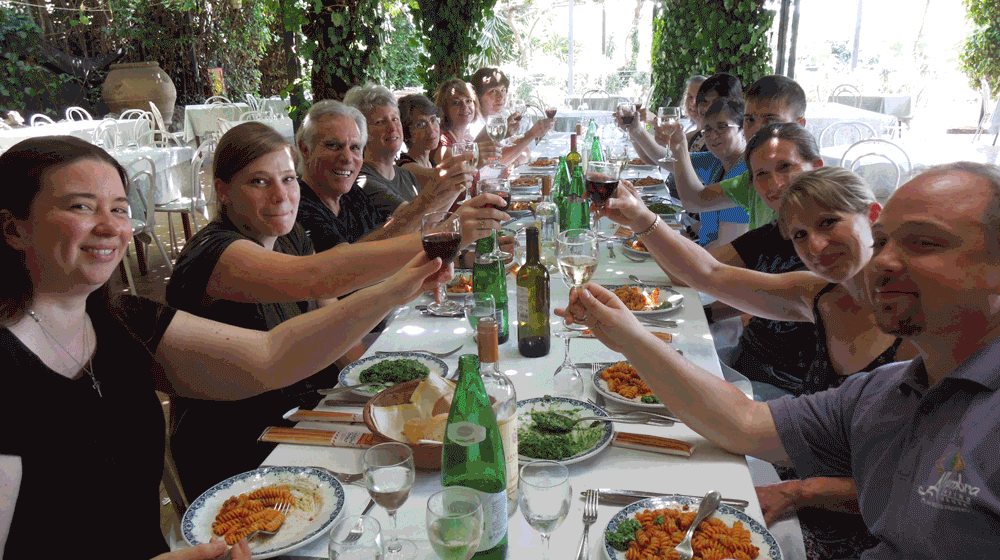 The IPS Summer Rome program provides a unique opportunity to experience firsthand the historical, cultural, and spiritual benefits of the Eternal City and the Vatican. Led by faculty members with longstanding personal relationships with local academic and ecclesial leaders there, the program is designed for students of the IPS but is open to others. Participants are able to draw upon the invaluable resources of Loyola's half-century presence running a campus for students of various ages and degree programs who choose to study in the Eternal City. International study scholarships and prorated payment plans make the cost feasible for full- and part-time IPS students. Often the richly diverse classes include non-degree seeking students interested in personal enrichment or those earning graduate degrees at other institutions as well.
Looking to make the most of your summer travels, while learning along the way? The IPS Rome program offers learning and cultural experiences that you can't find in a classroom in Chicago. Join us one summer to:
Complete a core or elective course towards your degree
Reconnect with your spirituality while living in the Eternal City, Rome
Combine classroom lessons and adventures abroad
In addition to classes, students tour some of Rome's most famous landmarks and attractions, including the Colosseum, St. Peter's Square, and much more.
---------------------
The upcoming IPS Study Abroad Rome immersion trip
is planned to take place June 12-22, 2022
IPS 599 - The Spirituality of Pilgrimage in the Context of Faith (Elective)
Offered by Prof. Bill Schmidt
Pilgrimage is a transformational journey toward a sacred center. This IPS three credit course is an invitation to a deeper personal sacred journey in which our inner and outer experiences intersect. Sacred intentional travels can move us along the spiritual journey in heightened and accelerated ways, providing renewal as well as insights for life and work.
This course will use the unique environment of Rome as the external context with all its historical and contemporary relevance. While the days in Rome (and Assisi) will be largely experiential, the course will also include theological, practical, and reflective elements. Students will prepare for the pilgrimage events by completing the course readings in the five weeks prior to the experience. In addition to course readings, personal narrative material, didactic and student participation and presentations, there will be specific experiential/spiritual/reflective activities during the process including: journaling/engagement with art and history/prayer and reflection at pilgrimage churches in Rome and beyond/meditative walking/Nature Immersion etc.
IPS 572 - Introduction to Ignatian Spirituality
Offered by Prof. Mike Canaris
This course invites students to consider the core elements and principles of the spirituality of St. Ignatius of Loyola. It will include study of Ignatius's writings, relevant literature on the history and mission of the Jesuits, and intersections with historical and contemporary theological themes -- including the ecclesiology of Pope Francis, connections with other religious orders (particularly the Franciscan and Benedictine traditions), the development of pastoral skills like discernment and cura personalis, and familiarity with contemporary apostolates of the Society of Jesus in areas like ecological theology, migration, interreligious dialogue, and care for those of the human family who socio-political forces view as descartados ("disposable"). Site visits in Rome and Assisi will blend Ignatian landmarks (e.g. Loyola's rooms, the Gesu, the tombs of Bellarmine and Francis Xavier) with meetings in Rome, the Gregorian University, and the Holy See with those working on the front lines of Jesuit life today.
To view our introductory video for the Study Abroad program, please click here!

To register and pay the program fee, please click here!
IPS students are also eligible to apply for the Rome Scholarship.
View the International_Study_Scholarship_Application for more details.
If you have questions about travel to another location before or after, flights, transfers from the airport, etc., the IPS has an unofficial and informal relationship with the following travel agent who is eager to help our students:
Stephanie Goldberg-Glazer
Owner, Live Well, Travel Often
855-940-1119, extension 1
Stephanie@livewelltraveloften.com
http://LiveWellTravelOften.com
If you have more questions, please contact your academic advisor.
Future Courses
2022
Ignatian Spirituality
The Spirituality of Pilgrimage in the Context of Faith (elective)
2023
The Teaching and Learning Church: Hermeneutics and Interpretation (elective)
Religious Education, Evangelization, and Cultures
2024
The Theology of Karl Rahner for Pastoral Ministers (elective)
Christian Doctrine
2025
Theology and Migration (elective)
Literature of Ancient Israel