Study in Rome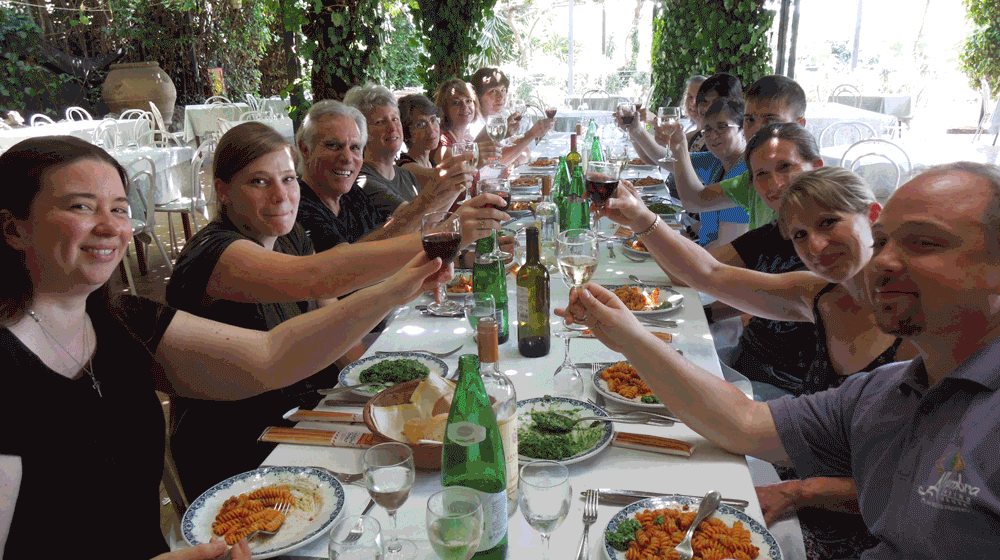 The IPS Summer Rome program provides a unique opportunity to experience firsthand the historical, cultural, and spiritual benefits of the Eternal City and the Vatican. Led by faculty members with longstanding personal relationships with local academic and ecclesial leaders there, the program is designed for students of the IPS but is open to others. Participants are able to draw upon the invaluable resources of Loyola's half-century presence running a campus for students of various ages and degree programs who choose to study in the Eternal City. International study scholarships and prorated payment plans make the cost feasible for full- and part-time IPS students. Often the richly diverse classes include non-degree seeking students interested in personal enrichment or those earning graduate degrees at other institutions as well.
Looking to make the most of your summer travels, while learning along the way? The IPS Rome program offers learning and cultural experiences that you can't find in a classroom in Chicago. Join us one summer to:
Complete a core or elective course towards your degree
Reconnect with your spirituality while living in the Eternal City, Rome
Combine classroom lessons and adventures abroad
In addition to classes, students tour some of Rome's most famous landmarks and attractions, including the Colosseum, St. Peter's Square, and much more.
---------------------
The Pandemic has significantly disrupted our plans. Two courses were offered and completed online but the trip to Rome never occurred: IPS 532 (with Dr. Canaris) and IPS 599 (with Dr. Watson). Students who completed these courses will travel to Rome January, 2022.
For Summer 2021, we will offer online IPS 531: Christian Doctrine and then travel with the other courses in January 2022. Anyone may enroll in this course for summer 2021. Students in this course also able to travel to Rome in January 2022 may do so. Assignments incorporating that travel experience will be included for those students. Those unable to make the trip will be able to complete the class online during the summer 2021 term.
The upcoming IPS Study Abroad Rome immersion trip
is planned to take place January 3-14, 2022

Class participation:
IPS 532: Social Context of Ministry: Global Ecclesiology and Exclusion, taught by Dr. Michael Canaris.
Due to the pandemic, this immersion trip has been postponed from the year 2020/21 to take place January 3-14, 2022.


IPS 599: Human Sexuality, Gender, and Feminist Voices across Cultures, taught by Dr. Deborah Watson.
Due to the pandemic, this immersion trip has been postponed from the year 2020/21 to take place January 3-14, 2022.


IPS 531-001: Christian Doctrine, taught by Dr. Peter Jones. This course will be offered fully online in the summer of 2021 and will prepare students to travel to Rome January 3-14, 2022.
Registration will open soon, please note limited capacity.
To view Course Descriptions click Here
IPS students are also eligible to apply for the Rome Scholarship.
View the International_Study_Scholarship_Application for more details.
If you have questions about travel to another location before or after, flights, transfers from the airport, etc., the IPS has an unofficial and informal relationship with the following travel agent who is eager to help our students:
Stephanie Goldberg-Glazer
Owner, Live Well, Travel Often
855-940-1119, extension 1
Stephanie@livewelltraveloften.com
http://LiveWellTravelOften.com
If you have more questions, please contact your academic advisor.
Future Courses
2021
Pope Francis & the Teologia del Pueblo (elective)
Christian Doctrine in Art and Architecture
2022
Ignatian Spirituality
The Spirituality of Pilgrimage in the Context of Faith (elective)
2023
The Teaching and Learning Church: Hermeneutics and Interpretation (elective)
Religious Education, Evangelization, and Cultures
2024
The Theology of Karl Rahner for Pastoral Ministers (elective)
Christian Doctrine
2025
Theology and Migration (elective)
Literature of Ancient Israel