IPS Scripture School
Biblical Pilgrimage: In the Footsteps of St. Paul
Tuesday, July 4th through Sunday, July 16th, 2023
Please Note: July 4th and 16th are travel days to get to Athens and back from Istanbul
This pilgrimage is meant to inspire a concrete expression of personal and communal faith rooted in Sacred Scripture, and more specifically in the letters of St. Paul. On this journey of faith, we will look at the geography, history, and spirituality of St. Paul and the communities he visited and corresponded with. Our efforts aim to recover the ancient cultural, religious, and literary contexts of Paul's Letters to authentically appropriate this literature in our present-day contexts of pastoral ministry and personal spiritual growth.
The lifelong journey of studying the Bible is enhanced by this pilgrimage to Greece and Turkey so that participants come away with a greater sense of communion with God and God's people, the Church.
Pilgrimage Objectives
After completing this pilgrimage, we will be able to:
Identify the reality of the Judeo-Christian tradition and the Roman and Hellenistic influences in their geographic context (modern day Greece and Turkey).
Recognize the people and communities from Paul's Letters and their relationship to the cultural time and place that gave them expression.
Co-create a liturgical space that engages body, mind, and spirit.
Identify Paul's teachings and, through learning and understanding, integrate them into our own lives because of having walked in his footsteps.
Pilgrimage Cost
• For Adults (18+): $2,880
• For Kids/Teens (10-17 yrs.): $2,580
Costs Include
• Accommodations as follows:
o 2 nights at hotel Divani Palace Acropolis in Athens
o 1 night at hotel Amalia in Delphi
o 1 night at hotel Amalia in Kalambaka
o 1 night at Grand Hotel Palace in Thessaloniki
o 1 night at hotel Lucy in Kavala
o 2 nights at hotel Kent in Istanbul
o 3 nights on the cruise in XA (outside cabins) with Celestyal Cruises
o Daily breakfast and dinner
• Three-day cruise to the islands of Mykonos, Patmos, Crete, Santorini, and Kusadasi
o Shore excursion in Patmos; St. John's Monastery and Grotto of Apocalypse
o Shore excursion in Kusadasi; House of Virgin Mary & Ancient Ephesus
o Shore excursion in Heraklion; Minoan Palace of Knossos – 1st European Civilization
o Shore excursion in Santorini; Spectacular Oia Village perched on the Caldera rim
o Lunches and select drinks
o Gratuities
o Port taxes
Entrance fees to all archaeological sites & museums mentioned in the program (based on current entrance fees)
English-speaking guides during the land program; 1 in Greece and 1 in Turkey (no guide during the cruise, July 7, 8 and 9). Shore excursions at each port are accompanied by a local guide.
Air-conditioned coaches for the tours and transfers
Whisper phones
Porterage at hotels
Costs Not Included:
1. Airfare
2. Overnight tax (Greece only): The tax is currently €3 per room per night for the 4-star hotels and €4 per room per night for the 5-star (Divani Palace Acropolis in Athens and the Grand Palace in Thessaloniki). This adds up to a total of €21 per room.
3. Tips for guide, driver, and hotel staff. Each pilgrim is responsible for paying the overnight Greece tax and tips for the guide, driver, and hotel staff, suggested at 3 to 5 dollars for tour guide per person per day, 2 to 3 dollars for driver per person per day, discretionary for hotel staff.
Initial Deposit:
$800 please get in touch with Mirta Garcia to confirm availability at mgarcia29@luc.edu.

Pilgrims may select from any of the following payment plans:
1. Full Payment
2. Two-Payment Option
**Note: Each payment option excludes $800 nonrefundable initial deposit.
**Note: Final payment due by Thursday, April 20, 2023
ATTENTION: Ensure your passport will be valid for at least six months after July 16, 2023
Cancellation Policy:
1. DEPOSITS are non-refundable.
2. Cancellation Policy:
o May 16 - 29: 30% cancellation charge/ 70% refunded
o May 30 - June 13: 50% cancellation charge/ 50% refunded
o June 14 - 28: 75% cancellation charge/ 25%/ refunded
o June 29 - July 4: 100% cancellation charge/ no refund
Here's a brochure of our itinerary.
Here's the registration link!!
We are using Terra Santa Travel and Tours: English - Terra Santa Travel
For more information, please contact Mirta Garcia at mgarcia29@luc.edu or Mariana Miller at mmiller60@luc.edu.
___________________________________________________
Welcome to the Institute of Pastoral Studies at Loyola University Chicago!
At the request of the Office of Lifelong Formation at the Archdiocese of Chicago, the Institute of Pastoral Studies (IPS) became the new home for the Chicago Catholic Scripture School (CCSS) in the fall of 2017. This has broadened IPS' mission to educate and form the lay faithful through adult Scripture Studies by offering courses in English and Online as well. IPS has been teaching CCSS courses in Spanish since the fall of 2014. In December 2019, this program was renamed and is now the Institute of Pastoral Studies Scripture School (IPS-SS). The new name reflects the reality of the program's goals, diverse participants, and reach beyond Chicago.
The IPS Scripture School provides in-depth knowledge of the Bible within a Roman Catholic framework. The lay faithful, parishioner leaders, catechists, parish staff, or anyone wishing to deepen their understanding of Sacred Scripture will benefit from this program.
If you're a current student, please let us know your level and location.
If you're an alumnus of the program, we'd also love to know about you so we can keep you informed about the IPS-SS events and learning opportunities as they become available. Just let us know you're an alumnus.
For questions or assistance, please contact Director, Kevin Pease: kpease@luc.edu or 312-915-7457.
Mission
The IPS Scripture School (IPS-SS) is a center for comprehensive formation in the area of Scripture for Catholic adults including: laypersons, Deacons, parish catechetical leaders, catechists, RCIA leaders, pastoral associates, youth ministers, parish Bible study leaders, lectors, and others who work with Scripture in various parish ministries.
Our goal is to help bring students into a closer relationship with God's revealed Word in the Roman Catholic tradition. Empowerment of the Word, and one's response, transforms lives.
Program Description
The IPS Scripture School (IPS-SS) uses the Catholic Biblical School Program published by Paulist Press. The program guides students through every book of the Bible in four years (or twelve units of study, each 10 weeks in length). Students may register for one unit at a time or one year at a time , three units per year.
The IPS-SS can be undertaken in two phases:
Basic Scripture Studies
The first two years (or six units) focus on methods of biblical interpretation and spirituality with the Bible in the Roman Catholic tradition, including a comprehensive study of some major books of the Old and New Testaments. Students who fulfill the requirements of the first two years receive a Certificate of Basic Scripture Studies from the Institute of Pastoral Studies at Loyola University Chicago.

Advanced Scripture Studies
The remaining two years (an additional six units of study) delve more deeply into the Old and New Testaments, covering all other books in the Bible. Students who complete this phase receive a Certificate of Advanced Scripture Studies from the Institute of Pastoral Studies at Loyola University Chicago. PLEASE NOTE: Currently, this phase of study is only available Online.
Course Offerings for Academic Year 2022-23:
Second Year Class (Welcomes New / First-Time Students!)

New Testament Foundations – Jesus and Discipleship

ONLINE : Tuesdays, 6:30 - 8:30 PM
ONLINE : Thursdays, 10:00 AM - 12:00 NOON
Unit I: "Jesus: Two Synoptic Views," September through November (Fall Term)
Unit II: "Jesus: A Pauline View," January through March (Winter Term)
Unit III: "Jesus: Johannine Views," March through June (Spring Term)
Fourth Year Class
Old and New Testaments Concluded – The Word in the Hellenistic World
ONLINE : Tuesdays, 10:00 AM - 12:00 NOON
ONLINE : Thursdays, 6:30 - 8:30 PM
Unit I: "Wisdom in Israel," September through November (Fall Term)
Unit II: "Judaism in the Hellenistic World," January through March (Winter Term)
Unit III: "Early Christian Development," March through June (Spring Term)
Course Fees:
$150.00 for one unit of study / $400 for tthe full year (Save $50!)
Program Requirements
Access to a computer with Internet
An individual (not shared) email address
Purchase of course student workbook (one per year, each covering three units of study and other required texts)
Optional purchase of recommended reference books
CLICK HERE TO REGISTER for the IPS Scripture School (IPS-SS)
IPS-SS STUDENT RESOURCES

STUDY PLAN
Student_Information_Sheet_and_Plan_of_Study

IPS-SS BOOK LIST

Year One
Year Two
IPS_Booklist_yr2

Year Three
PLEASE CONSIDER MAKING A GIFT!
Your support means the world to us! Scripture School has continued to grow over the years, but only as much as it has been rooted in and nurtured by the generosity of our community. With your help, we can reach our goal of being a fully self-sustaining program! Every gift counts and is most appreciated!
$5, $10, $20, $50, $100, $200+
A screenshot for how to make a gift is included below. You may enter any gift amount in the larger box, select "Direct your gift," choose "Other," and then write "IPS SCRIPTURE SCHOOL" in the smaller box provided.
Thank you so much for your consideration, and kindly click here to contribute.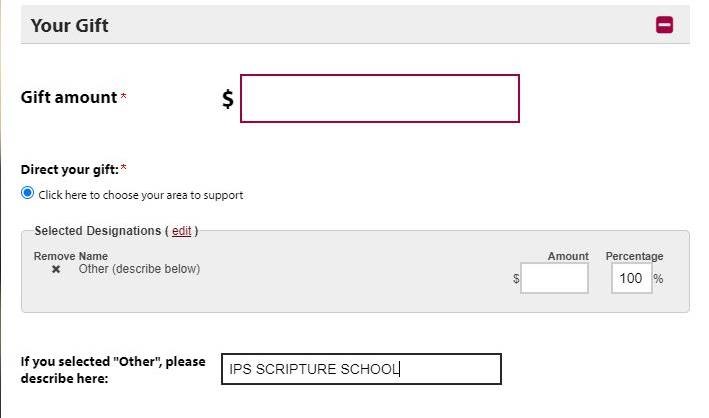 If you prefer, you may also write a check, payable to Loyola University Chicago. Please write in the memo line, "IPS Scripture School," and mail check to:
Loyola University of Chicago
Gift Processing
P.O. Box 4336
Carol Stream, IL 60122-4336
THANK YOU!
IMPORTANT LINKS:
2022-2023 Calendar English (pdf)
2022-2023 Calendar English (word)
IPS Cursos Biblicos en Español
Letter_of_Recommendation_from_the_Archdiocese_of_Chicago‌