Contextual Education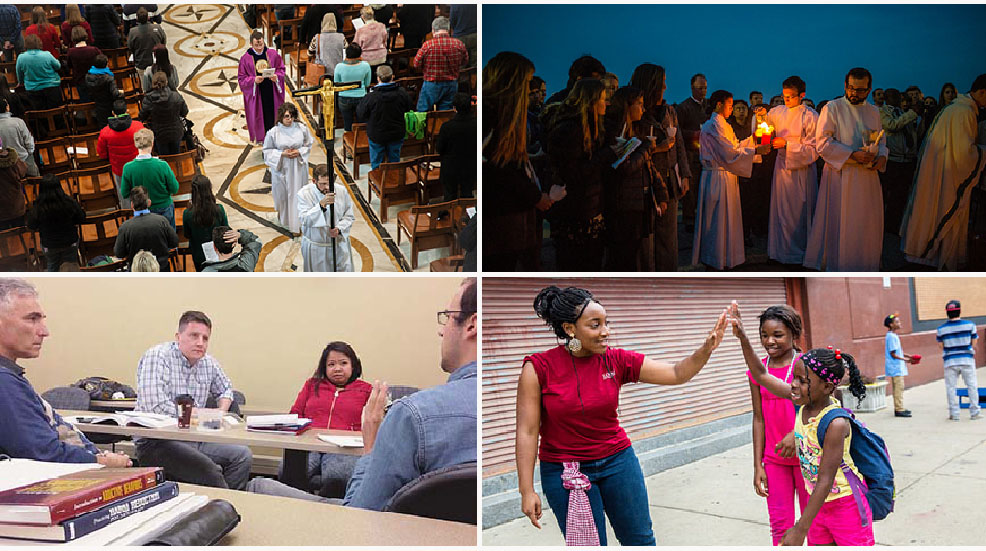 Practical experience is built into each degree at the Institute of Pastoral Studies and integrated throughout the student's program of study. Based in Ignatian spirituality's theme of "contemplation in action" and in order to meet the IPS mission of developing "diverse and dynamic leaders for creative, compassionate, and courageous service to church and society," Contextual Education at the Institute of Pastoral Studies engages students in the practice of Theological Action Research (TAR).[1] Action research is an approach to learning that interfuses the mode of inquiry proper to research with ongoing action, and theological action research involves an intentional focus on the theological dimension of inquiry, research, knowledge, and practice. In doing so, students develop and participate in community-based collaborative projects that seek to address issues through co-creative processes of inquiry, leadership, knowledge production, and effective action. Through these experiences students learn the essential practice of how to rely on and engage with their community as a way of attending to its needs, wounds, and hopes and for cultivating theological wisdom and discernment. Students are strongly encouraged to join with other fellow students to form Theological Action Research Teams (TARTs) in order to enrich and deepen their learning experience in concert with maintaining a strong connection with IPS community partners.
Contextual Education is designed to be a multi-dimensional learning experience drawing together instruction, workshops, and small group reflection to help facilitate and support the Theological Action Research students are conducting at their learning site. These components provide a thick learning environment for training students in leadership and professional ministerial practice to proactively engage a changing context. The Contextual Education course connects them with expert coaches, provides insight on the changing landscape of ministry and service, and allows them to bring the research and knowledge they gain in the classroom to these specific settings while, at the same time, allowing the realities of those settings to inform their theological education.
CONTEXTUAL EDUCATION REQUIREMENTS
Each degree program has its own Contextual Education requirements and students should refer to the detailed listing for CE requirements under their degree program. Students are also strongly encouraged to discuss the CE requirements for their program with their advisor.
LOCATING A CONTEXTUAL EDUCATION SITE
The Office of Contextual Education has developed relationships with various community partners throughout the Chicagoland area and students are encouraged to consider these sites for their Contextual Education, especially those students interested in forming Theological Action Research Teams. A comprehensive list is available through the CE office and students considering one of these options should contact the Faculty Coordinator of Contextual Education, Dr. Dan Rhodes, to discuss these possibilities. Students are, however, ultimately responsible for locating their own contextual education sites. The Office of Contextual Education is happy to work with students to identify parishes and/or agencies appropriate to their interests and to support them in their searches. The CE office suggests students begin visiting possible sites even in their first semesters as this allows one to gain some familiarity with the site and can make it easier to decide upon and finalize a site. Additionally, some locations have very specific recruitment processes, including background checks and letters of recommendation so beginning early is important. Sites that have not previously hosted an IPS student are welcome, pending approval by the Faculty Coordinator of Contextual Education in conjunction with the student's advisor.
All students are encouraged to contact the university's Career Development Center for additional assistance.
__________________________________________
[1] David Coughlin, "Seeking God in All Things: Ignatian Spirituality as Action Research," The Way, 43/1 (January 2004), 97-108.