Course Descriptions
IPS Summer Program in Rome: June 18–28, 2019
These graduate-level courses are taught during Loyola's summer session C, an 8-week summer term that runs from June 3 - July 27, 2019. The courses are taught as hybrid courses, with online content and course requirements both before and after the time spent together in Italy. ‌
IPS 402: Church and Mission, taught by Dr. Michael Canaris
This course is designed to provide an introduction to ecclesiology. In our increasingly shrinking and globalized world, the nature, purpose, mission, and structure(s) of the Church of Christ (which, as we will see, is from the Catholic perspective subsisting and articulated in, but by no means coterminous with the Roman Catholic Church) is a crucial dimension to pastoral ministry and theological study. We will be examining the development of different conceptions of "church" from Catholic and ecumenical perspectives, and exploring what the community's role is and can be in regard to culture. Due to the unique site of the course, all of this will intentionally be connected to historical and contemporary visits around Rome, meetings with relevant officials in Vatican, ecumenical, and lay leadership positions, and explorations into ancient and modern understandings of "apostles" (teachers/ambassadors) and "disciples"(learners/pupils), which represent twin charges for all Christians and in some sense for people of all faiths and none. ‌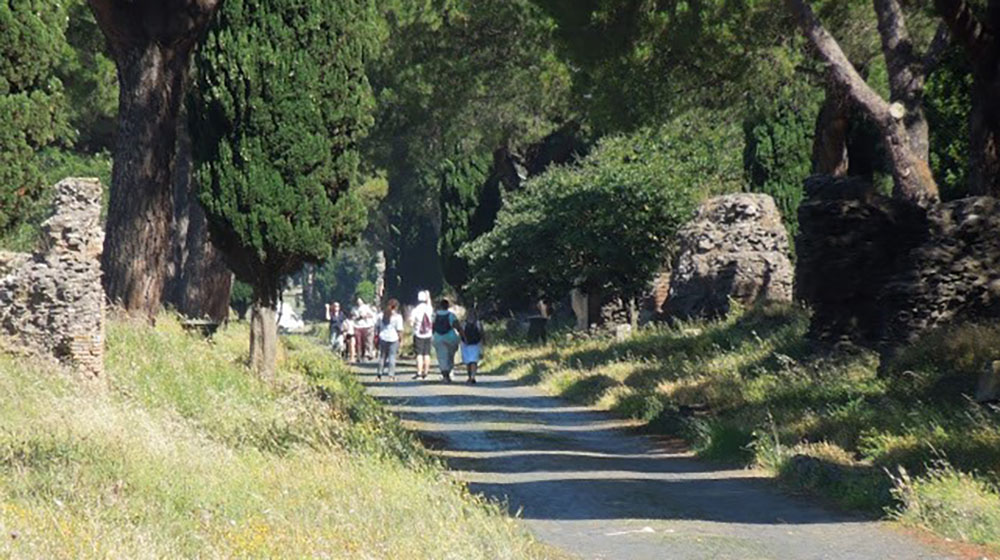 IPS 599: Spirituality of Pilgrimage and the Contexts of faith, taught by Dr. Bill Schmidt ‌
Pilgrimage is a transformational journey toward a sacred center. This IPS three credit course is an invitation to a deeper personal sacred journey in which our inner and outer experiences intersect. Sacred intentional travels can move us along the spiritual journey in heightened and accelerated ways, providing renewal as well as insights for life and work. This course will use the unique environment of Rome as the external context with all its historical and contemporary relevance. While the days in Italy will be largely immersive and experiential, the course will also include theological, practical, and reflective elements. While in Rome students will experience a rich array of pilgrimage contexts and settings, including elements of the traditional historic visit to the Seven Pilgrim Churches in the heart of Rome, and more rural and bucolic contemplative spaces. Both Ignatian and Franciscan spirituality will be actively utilized. Students will prepare for the pilgrimage events by completing the course readings in the five weeks prior to the experience. In addition to course readings, personal narrative material, didactic and student participation and presentations, there will be specific experiential/spiritual/reflective activities during the process including: journaling/engagement with art and history/prayer and reflection at pilgrimage churches in Rome and beyond/meditative walking/Soul Collage, etc.​