archive
Faculty Member of the Year - Maria Vidal de Haymes, PhD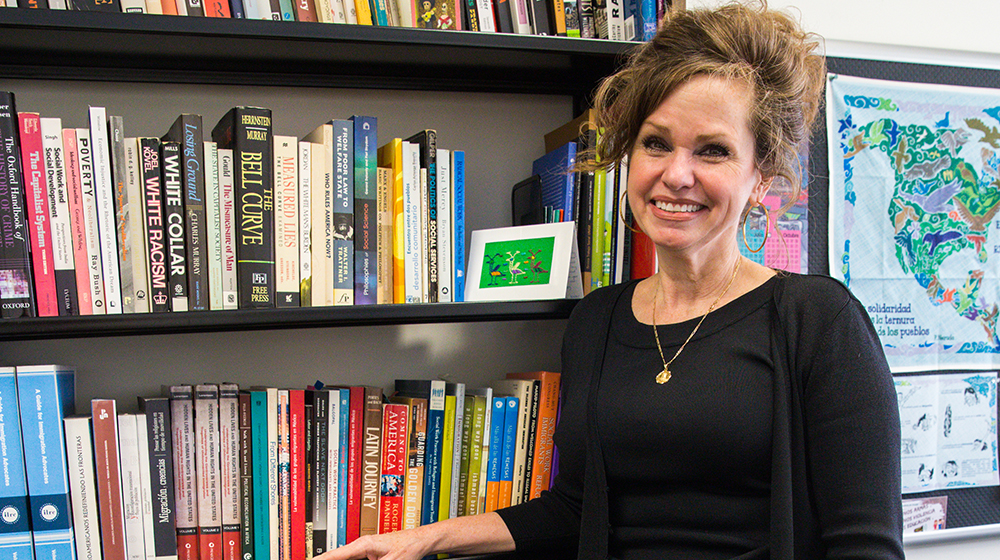 School of Social Work Professor Maria Vidal de Haymes, PhD, hit two milestones in 2017. This year marks her 25th year of teaching at Loyola as well as the honor of being named Faculty Member of the Year. She's spent the past two decades teaching courses in the areas of social welfare policy, community organizing, and race and ethnicity as well as building relationships with Jesuit institutions across Mexico and Central America.
Learn about her contributions to Loyola and universities across the Americas in the interview below.
Tell me a little bit about your role when you started here 25 years ago.
I was hired pretty much straight out of graduate school to teach at Loyola. I spent one year at the University of Wisconsin in Milwaukee while I was finishing my dissertation. Loyola is where I cut my teeth teaching, and I'm still learning every day. I was initially hired to teach our social welfare policy and diversity courses as well as a community intervention course. That's pretty much what I did up until about 10 years ago.
What changed 10 years ago?
There was a turn in focus to migration issues and that came out of my work with Jesuit Migrant Services. Maybe 11 or 12 years ago, there was a call from Fairfield University's Father Rick Ryscavage, S.J., to Jesuit universities across the Americas. It invited the institutions to come together for a weekend seminar focused on leveraging Jesuit institutions of higher education and Jesuit refugee and migrant services to develop an opportunity for teaching, research, and service for migrants.
We were the only school of social work represented at that gathering. I went with one of our students at the time, Alejandro Olayo Mendez, S.J., who was a Jesuit scholastic at the time working on his master's in social work. We were really moved by what we were hearing and energized and excited about the possibility of working with colleagues from across the Americas.
After expanding your network at this seminar, what happened when you got back to campus?
We got a call from Vladimiro Valdés Montoya, S.J., who then was the founding director of Jesuits Migrant Services in Mexico. This was new to me, I was very familiar with Jesuit Refugee Services, which has been around since 1980, but I hadn't heard of Jesuit Migrant Service because it was only a couple of years old. While the reach of Jesuit Migrant Services is worldwide, Jesuit Migrant Services focused on Central and North America and a bit in the Caribbean.
Father Valdés explained they were working on a certificate program in parishes along the Mexican migration corridor, which is one of the most heavily traveled migration corridors in the world. They were working with lay pastoral agents in these parishes who had made a commitment to studying the issue of migration and developing projects to tend to, address, or provide some sort of accompaniment to migrants.
This was a pretty significant commitment—it required the participants give up their weekends every other week for a year and a half. They invited folks from Jesuit universities across Mexico and us to develop the curriculum and teach the classes. They asked if we could bring a team to teach, so I went with Alejandro, Ivan Medina from the School of Social Work, alumnus Marta Arias, an immigration attorney with the Chicago Legal Clinic, and Bernadine Karge, a Dominican Sister. We all spent one to two months there and taught every day for eight hours.
What did you learn from the experience?
It was a super eye-opening experience. With the exception of Sister Bernadine, all of us were immigrants ourselves and social workers who had been working in immigrant communities. The work in these parishes revealed a huge blind spot. We realized how conditioned our understanding of migration had been. It was focused on migration from a country of destination: the United States.
We didn't realize the impact of immigration in communities of origin and transit. Typically, we think of Mexico as a source country for migration, but the migration corridor has much more complicated dynamics.
What types of projects did you and Jesuit Migrant Services develop through this initiative?
Some of the parishes focused on creating mental health, self-help groups for the women who remained in Mexico while their husbands, sons, daughters, and fathers went north for work. There was depression, loneliness, anxiety—migratory loss from folks who were still there and out of reach in many ways. The Jesuit Migrant Services worked with the pastoral agents to start these groups. Other examples included shelters, soup kitchens for Central American migrants in transit, and programs to generate income for people to remain in place.
How did this all connect back to your work at Loyola?
I also started going to the Jesuit Migrant Services annual meeting. The first time I went, 11 years ago, I met Dr. Graciela Polanco who's a psychologist at Universidad Iberoamericana in Mexico City, a Jesuit university. Between the two of us and with the help of Catholic Charities of the Archdiocese of Chicago, we started a two-way, fieldwork exchange for students. Now we've had more than 200 Iberoamericana and Loyola students participate in the exchange over the last 10 years, all working in migrant focused projects. Iberoamericana sends students year-round, usually about six students each semester, and they work on research projects with us as well as within different Catholic Charities' programs. This gives the students an applied experience—experiential learning. At the School of Social Work, we also provide some academic accompaniment, and Jerry Overbeck, S.J. meets with the students once a month for a reflection. In turn, we get similar support for our students at Iberoamericana and now ITESO, the Jesuit university in Guadalajara.
We also received a grant from the Federal Department of Education and its counterparts in Mexico and Canada to develop a migration studies sub-specialization. Even though the grant has now ended, for the last eight years we've been hosting a two-week seminar in Mexico City with Iberoamericana and Jesuit Migrant Services of Mexico, under the direction of Arturo Garcia, S.J. More recently, we've added a spring break border immersion class with the Jesuit Kino Border Initiative. Another 200 plus students have participated in these programs.
What's next for these programs?
We recently received a Plan 2020 grant to collaborate with the Center of the Human Rights of Children (CHRC). We jointly submitted for the grant with the CHRC, Ruth Gomberg-Muñoz in Anthropology, and some faculty from the Stritch School of Medicine. The goal is to take what we're doing in migration studies and in these student exchanges and incorporate law and medical students so we can have more interprofessional courses and opportunities for research.
In this project, we are also working with our two Jesuit partner universities in Mexico, Iberoamericana and ITESO, to make the classes two-way. The goal is to create interdisciplinary and binational teams comprised of our students. We will provide an immersion experience in Mexico at the beginning of summer, then several months to work on projects collaboratively, and at the end of the summer, have an immersion experience in Chicago with an immigration institute. This will give students a broader idea of migration from the perspectives of source, transit, destination, and return migration.
What has kept you at Loyola so long?
Being at Loyola, I am inspired by the mission and my colleagues and students. It has also opened the door for me to work with colleagues at Jesuit institutions in Mexico, Central, and South America and given me a community not just for scholarship and teaching, but also for spiritual reflection and growth. In fact, the research project that I'm working on right now is analyzing data that we collected from interviews focused on the social and pastoral accompaniment of migrants by faith-inspired actors. We interviewed shelter workers, nuns and priests, volunteers, social workers who do work with migrants in Chicago and Mexico. All Catholic faith inspired actors and most are connected to Jesuit institutions and projects in the Americas.
MSW student completes internship in Thailand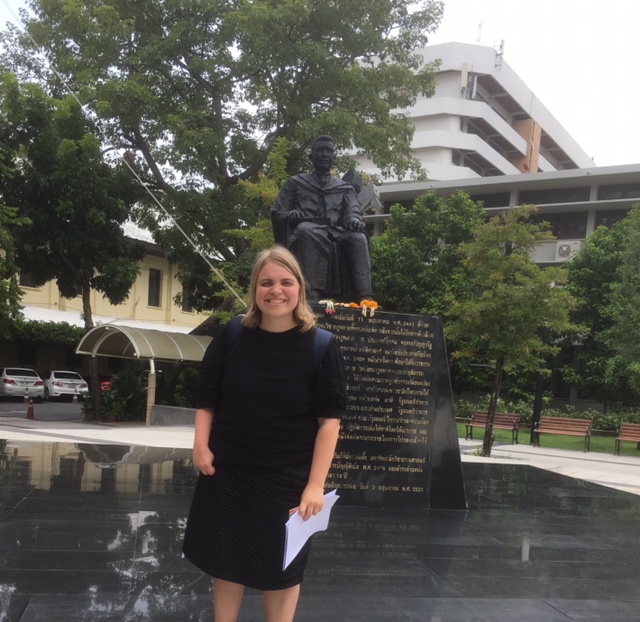 My name is Nicole Betteridge and I am a recent MSW student at Loyola University Chicago. While I have been studying in the United States, my love of international social work has taken me to many parts of the world. I am currently completing my final MSW internship through a partnership between Thammasat University in Bangkok and Loyola University Chicago. My internship is in the Child and Adolescent Psychiatry Department of Siriraj Hospital in Bangkok, Thailand. Situated on the banks of the Chao Phraya River, Siriraj Hospital is one of the oldest and largest hospitals in Thailand. It was established in 1888 by His Majesty King Chulalongkorn and covers a land space of 73 rai (approx. 117,000 square feet).
As a medical social worker in Thailand our cases may be much more diverse than a social worker may find working in a department of a USA hospital. We handle cases of children living in severe to moderate poverty with a single parent or grandparent, children with learning disabilities and low IQ's, child victims of rape and other sexual abuse, drug use, school refusals, mental and mood disorders, such as depression and suicidal thoughts, schizophrenia, anxiety, adjustment and conduct disorders. The department also works with a few cases of asylum seekers (currently from Pakistan). Our work with children and adolescents is broad and takes us to many parts of Bangkok as well as outlying locations for court hearings, school consultations, and home visits. As a teaching hospital we also have time with senior level doctors for seminars on medical conditions and research as well as case analysis and review.
While the situations faced by Asian children and youth may sound similar to that of many children and adolescents in the United States, there are many differences to the work here. There are only two universities in Thailand where an individual can obtain a Bachelor's or Master's degree in Social Work. Therefore, institutions, such as hospitals, lack enough professionals needed to help advocate and empower vulnerable children and youth. Thai culture is very collective and community focused. Thai people remain tranquil throughout the most traumatic of events. These cultural behaviors play an important role in the work we do at Siriraj Hospital.
I strongly encourage you to take the time to explore international social work opportunities as you further your education or career. While exploring international social work may seem irreverent to some people or take them outside of what is familiar (your "comfort zone"), I guarantee that an awareness of global social work will strengthen an individual's understanding of what it means to be a social worker. This is essential today as our world continues to become internationally interconnected!
Loyola SSW attends inaugural CRISP Political Bootcamp
In July 2017, Loyola School of Social Work sponsored Assistant Professor Amy Krings and three leaders of the School of Social Work Student Organization (SSWSO) - Meagan Tomasiewicz, LaDonna Miller, and Megan Ammer - to attend a three-day intensive training on political social work. The training, which was sponsored by the Congressional Research Institute for Social Work and Policy, provided participants with skills and confidence necessary to engage in electoral and issue politics. Trainers included key staff from the campaigns to elect President Barack Obama as well as former Congressman Ed Towns, a founder of the Congressional Social Work Caucus.
​According to MSW students Meagan Tomasiewicz, LaDonna Miller, and Megan Ammer:
"Participating in the inaugural year of CRISP allowed us to learn of potential contributions social workers can make for large-scale policy, in political office, and as campaign forerunners. But, the inaugural year also gave us space for a critical analysis of the systems involved in politics, their reliance of structures, and how social work fits in with politics.
Ultimately, the experience was a confidence booster for participating social workers. Nearly every presenter and planning committee member maintained a desire to have more social workers run for office, manage campaigns, and contribute to policy formation.
Any doubts of our capability to run for office have been replaced with a feeling of empowerment because of our experience at CRISP."
New $1.35 million grant to help unemployed adults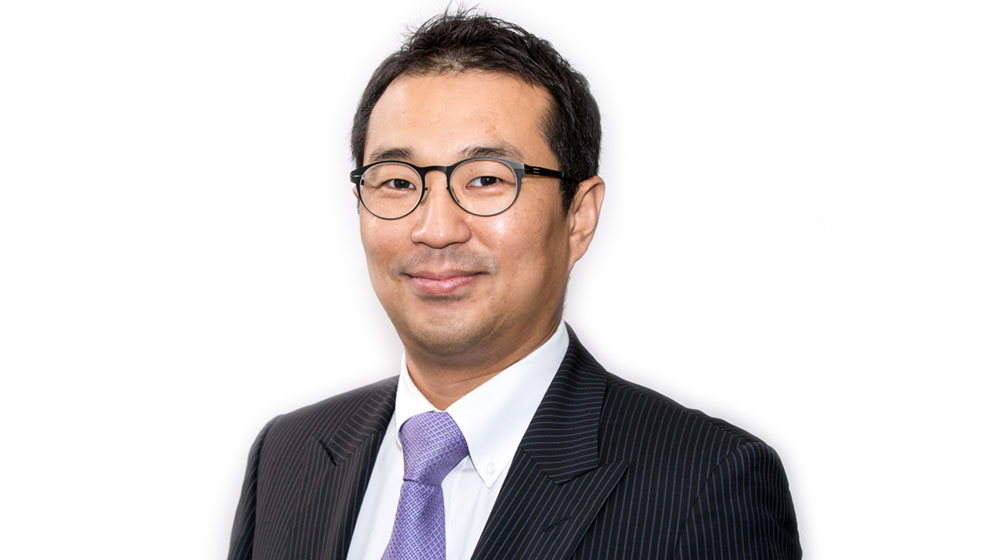 Thanks to a new $1.35 million grant, School of Social Work professor Philip Hong, PhD, can expand his research into helping low-income adults overcome the barriers that prevent them from finding and keeping full-time jobs.
This is the second time that Hong and his research team has received funding from the U.S. Department of Health and Human Services for their work. The first grant, also for $1.35 million, was awarded in 2011.
"It's great to get another round of funding," Hong said, "but more importantly, it means that there is some recognition by the federal government that there is still important work to be done using our research."
To help continue his work, Hong recently created the Center for Research on Self-Sufficiency (CROSS) within the School of Social Work. But the name, Hong said, is more than just a catchy acronym.
"The center is called CROSS to drive home the idea that we're trying to 'cross over' to the other side and study a segment of society that is often ignored by most people who promote job outcomes," he said. "CROSS hopes to represent the impossible act of sacrificial love and compassion that God showed the world through Jesus by researching a concept called self-sufficiency in a bottom-up way."
"The term 'self-sufficiency' is a dominant social policy goal targeting public assistance, adult education, workforce development, foster youth emancipation, refugee resettlement, and public housing. And we are committed to making this a process-based empowering concept that can be owned by individuals and families trying to overcome their barriers with hope to achieve their goals."
Hong, who came to Loyola in 2006, has been studying self-sufficiency among the long-term unemployed for more than a decade. When he started, he focused on the individuals themselves on the journey they make to conquer obstacles with hope using survey research. After surveying more than 5,000 individuals over time, the Perceived Employment Barriers Scale (PEBS) and Employment Hope Scale (EHS) were developed. From these metrics, a theory of change called psychological self-sufficiency (PSS)—switching from barriers to hope—was validated.
Evidence from this work informed the development of an empowerment program called the Transforming Impossible into Possible (TIP)—basically using the content of the questionnaire to transform the psychological barriers people face when they've been out of work for an extended time to hope-filled actions that build and restore hope as they move the needle on PSS.
By reflecting on questions such as "Do I have purpose in life?" and "Am I capable of working in a good job?" people can eventually switch from feeling helpless to being hopeful, Hong discovered.
"We quickly realized that employment barriers are linked with hope," he said. "We wanted to break down those barriers and show these individuals that success is possible–that hope is possible."
Now Hong is shifting his focus to the other side of the equation to see how schools can better support low-income students and how organizations can help workers keep their jobs. This latest round of research—done in partnership with Chicago State University, South Suburban College, Proactive Community Services, and Metropolitan Family Services—looks at entry-level health-care positions, such as certified nursing assistants and medical aides. The research will examine how students make career pathway advancement using PSS as their internal motivator.
"Our partners are going into the communities and educating people about health-care careers," Hong said. "These are typically people who would not have gone into these careers or even registered for classes on their own."
But many of these students face significant barriers—from financial to transportation to housing—and often quit studying for a career or walk away from jobs after only a few months. By working directly with employers, Hong hopes to invite employers as partners to help strengthen the career pathway.
"We'll train employers to be coaches and to be more engaged with their new workers," he said. "They'll learn how to use the TIP program, which we hope will reinforce the concept of self-sufficiency and help the employees succeed."
Loyola helping veterans adjust to civilian life
As a mother with three children in the military, Loyola professor Janice Matthews Rasheed, PhD, is keenly aware of the dangers that service members face while on active duty. And as a researcher in the School of Social Work, she also knows the challenges that military men and women deal with when they return to civilian life.
Those difficulties—which include high rates of unemployment, homelessness, and suicide—are outlined in "The State of the American Veteran: The Chicagoland Veterans Study," a joint survey by Loyola University Chicago and the University of Southern California. Conducted in 2015 and released earlier this year, the study is the first comprehensive look at the Chicago area's military population.
"This is a starting point that will help us develop relevant social policy and begin to address service barriers and gaps for veterans and military families," Rasheed said.
The study paints a jarring picture of post-military life for many area veterans. Among the findings:
• About 61 percent of pre-9/11 and 65 percent of post-9/11 veterans left the military without a job waiting for them in the civilian world.
• About half of pre-9/11 and 42 percent of post-9/11 veterans left the military unsure of where they would be living.
• Many left active duty with untreated physical and mental health issues, which were higher among post-9/11 veterans.
Although there are local agencies and organizations now that help veterans, Rasheed said they often focus on just a single issue, such as job training or counseling. That approach can force veterans to visit several places before they receive all the help they need. Loyola is hoping to change that "silo" model and create what Rasheed calls "a constellation of service systems."
"We want to build programs for veterans that are linked, like a spider web," she said. "That means someone could come in for one issue but also benefit from the other services we offer."
The School of Social Work is developing four projects to help veterans, Rasheed said, and they all will contain a social services element. One partnership is with the School of Law to provide legal aid for veterans. Another is with the Marcella Niehoff School of Nursing to study sleep disorders, which affect many veterans who were deployed in combat zones.
The School of Social Work also will partner with the new Loyola Community and Family Services to provide mental health counseling for veterans and their families. And the school will work with private agencies and community groups to help improve their job training programs.
That last effort is especially important because unemployment can lead to so many other problems, Rasheed said. And while many veterans leave the military with years of high-tech work experience—in fields ranging from avionics to cyber security—they often are overlooked for positions because they don't have civilian certifications.
Rasheed said the country must do a better job of preparing men and women to succeed after their military service comes to an end.
"Career counseling should start while they are in the military," she said. "Planning for a new job after you get out is already too late. Students at Loyola get to attend job fairs and resume workshops before they graduate. We should be doing the same thing with veterans before they leave the service."
MORE ONLINE
Rasheed also works with Illinois Joining Forces, a public-private network of organizations that help service members, veterans, and their families. Visit illinoisjoiningforces.org for more information and a list of resources.
---
Professor, team win $500,000 grant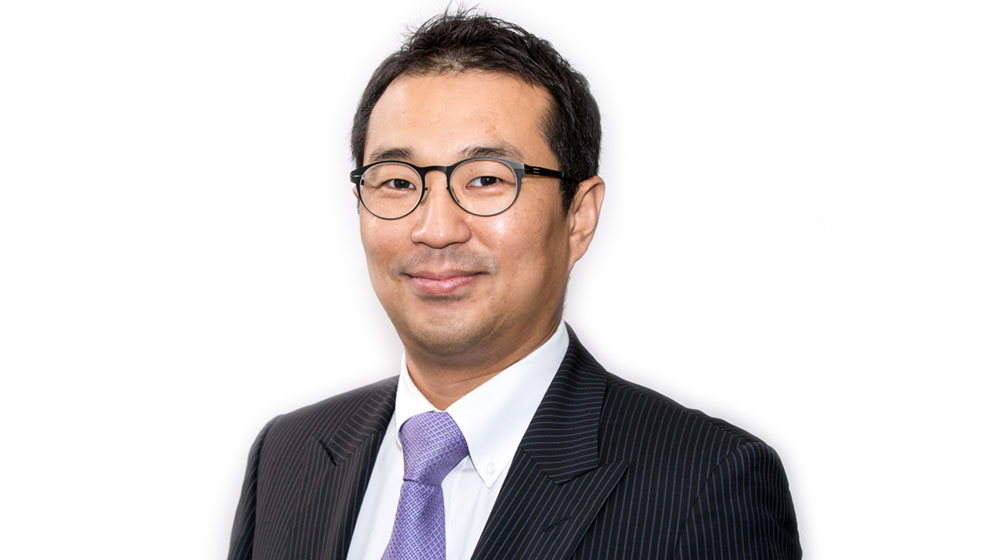 By Kristen Torres | Student reporter
School of Social Work professor Philip Hong's research helps unemployed adults get back on their feet and find full-time work. And now, after he and a team from the Chicago Jobs Council and Allied Health Care Career Network recently received a $500,000 grant, he hopes to lift even more people out of poverty.
Hong and his partners were one of three groups to win grants in the inaugural Urban Labs Innovation Challenge. The event, which was hosted by the University of Chicago as part of Chicago Ideas Week, awarded funding for programs and ideas that address three focus areas: energy and the environment, health, and poverty. More than 100 groups submitted ideas across all three categories.
Hong—along with his research team and community partners—has developed a program called Transforming Impossible into Possible (TIP), which helps long-term unemployed adults overcome the psychological barriers that prevent them from landing full-time jobs. TIP has been tested as part of the job-readiness curriculum at three organizations, but with the new grant money, Hong wants to expand the program to three more groups in the next 17 months—and possibly five more groups after that.
"During the early stages of my research, I worked with low-income participants to figure out what self-sufficiency meant to them," Hong said, "the results of which show that people respond to a process that's more psychologically empowering based on where they are in life."
'Hope is possible'
Using those research results, Hong developed a questionnaire that looks at the psychological barriers people face when they've been out of work for an extended time. By answering questions such as "Do I have purpose in life?" and "Am I capable of working in a good job?" people can eventually switch from feeling helpless to being hopeful, Hong discovered.
"We quickly realized that employment barriers are linked with hope," he said. "We wanted to break down those barriers and show these individuals that success is possible–that hope is possible."
TIP is a 15-session program that features small-group reflection. Every meeting is focused around a theme, ranging from Identity and Purpose to Unresolved Triggers of Stress. The group reflection setting of the program resembles the educational approach taken at Jesuit universities, and Hong has used his experience at Loyola to shape his program and develop a deeper sense of self-awareness in participants.
"I strongly believe in Jesuit ideals and what it means for society, so the program sits close to it," Hong said. "I try to reflect and learn more about the impact it has on the community, my thinking, and my ability to connect with my agency partners."
Hong came to Loyola as an assistant professor in 2006, and the University's urban location gave him the ideal environment to expand his research. He soon connected with social services agencies across the West and South Sides of the city, including the Abraham Lincoln Center and the Near West Side Community Development Corporation, to test the program in its earliest stages.
"There's a component of collaboration in what we do," Hong said. "We work with all these pockets in all these agencies to help people get steady jobs and homes, and teach them to be self sustaining."
Positive feedback
Rebekah King, executive director of Hope Works, a social service program based in Chicago that focuses on individual self-sufficiency, used a beta version of TIP in the agency last year.
"We worked collaboratively with professor Hong to employ his curriculum at our agency," King said. "Our target population is long-term unemployed adults, so it was a natural fit to have a beta version here and incorporate it into our existing workforce programming."
Hope Works is still using TIP and is getting ready to launch an updated version of the program this November.
"We had a really good response among participants," she said. "There were some key individuals that we can now point to and recognize that they fit as an example of the power of TIP."
Though meant for unemployed adults at the poverty level, TIP is also being used at other agencies around the city that work with different populations.
The Safer Foundation, for instance, helps ex-offenders find work after being released from prison. Thomas Kenemore, a faculty member in the master of social work program at Chicago State University, helped the foundation incorporate TIP into its mentoring curriculum.
"Safer has a previous mentoring program in place, but we adopted TIP because it was a very good fit for the experiences and training the program wanted to produce," Kenemore said. "Because TIP is process-oriented, it's identifying individual ways to help people move toward better attitudes, better freedom, and a more successful possibility of finding and keeping work."
Changing mindsets
Governmental agencies in other states and countries have contacted Hong about his program, and he hopes that his work will help spread awareness of the power that psychological transformation can have on a person's success.
"People who have gone through the program are now more empowered and can better handle the stresses of everyday life," he said. "But also, it helps change the mindset of the employers who are hiring them because they see that these workers have overcome all these obstacles—and now they're on the job and full of hope."
Hong's commitment to the people he helps runs deep, and it extends far beyond the academic arena.
"I had a conviction based on what I learned from participants," he said. "I owe much to them for telling me their reality. What they shared was their life, not data. I had to live up to that. I had to make sure that I made their hopes a reality too."
SSW alum's 'journey' leads to underserved LGBTQ seniors
By Anna Gaynor
Howard Brown Health Center is an LGBTQ-focused clinic located on Chicago's North Side, and for Hugh Cole, a social worker and addiction counselor, there's no place he'd rather be.
"The LGBT experience is something that's personal to me," Cole said. "I know that access to care for people in the community is harder than it is for the public at large, even though it's changing now with policies as far as marriage and rights of relationship. I'm very interested in helping bridge disparities and access to care."
In 2008—well before he earned his bachelor's degree in 2013 and his master's degree in 2014 from Loyola's School of Social Work—Cole started volunteering at the Uptown clinic, which provides wrap-around health care benefits to the LGBTQ community, including behavioral health, mental health, and case management services. And it was while he was still at Loyola that he helped develop a support group called The Journey Continues for senior citizen clients at Howard Brown.
"There are some services for elder queer folk in the city, but they tend to be day programs or activity-based," Cole said. "Not therapy that asks, 'What is your experience like and how can we talk about what's really going on? How can we address how you're feeling in this experience of aging?' "
The meetings, which are held once a week for 16 weeks, can touch on losing friends and partners, moving into assisted living facilities, and getting older within a community so heavily impacted by HIV/AIDS. One of the group's early supporters was Julia Pryce, PhD, an associate professor at the School of Social Work.
Discovering a new purpose
Cole was a nontraditional student for many reasons. For starters, he began his education at Loyola as a 50-year-old who also was working part-time at Howard Brown and full-time at a hotel. That work ethic made an impression on Pryce, as did Cole's enthusiasm to learn and his commitment to helping the LGBTQ community.
"He had this idea that he thought was important, but it was just a fledgling idea," Pryce said. "We helped him move the idea forward. What would that look like on the ground? How would we actually implement this project? How would we study it? How would we measure it? How would we get funding for it? Who would we talk to?"
In Pryce's Methods of Social Work Research class, Cole started discussing the concept with her and his classmates. She quickly saw that he was open to learning from younger peers' experiences—and that they were just as eager to learn from his.
That experience included 17 years in New York City volunteering at the Gay Men's Health Crisis, or GMHC, which is dedicated to HIV/AIDS prevention and care services. Cole also worked as an actor and then later managed hotels. After September 11, 2001, though, he decided to move back to his hometown Chicago.
"9/11 made me think about why I'm doing the work that I'm doing," Cole said. "If I wanted to stay on that track for the rest of my life or if I wanted to shift into something more service-oriented. That's why I chose Loyola, actually. The Jesuit mission is really about service, commitment to community, and that grounded sense of faith."
As it turns out, Pryce was one of Cole's first professors at Loyola. Besides being the person to nominate Cole for his President's Medallion in 2012-13, she also encouraged him to apply for the Albert Schweitzer Fellowship. The fellowship, which encourages students in health care to pursue helping underserved groups, is often given to medical students finishing their degrees. As a social worker-to-be, Cole found applying to be a little unnerving.
"You have to go through this big application process," he said. "I went to the interview with other Schweitzer Fellows. They asked me one question: 'Why do you do this work?' I said because I am my brother's keeper, and I believe that.
"That is one of the core reasons why I came back here, why I'm a social worker, why I was in school. These are my brothers, and sisters, and we can't let them suffer and stand silent. I think that's the one thing that won people over."
Getting to work
From there, the other hard part began. When designing his program for older clients, Cole set up focus groups to find out firsthand what types of services LGBTQ seniors wanted. But after his first 16-week session was over, Cole received an unexpected note on what they felt needed to be changed.
They wanted someone younger.
It wasn't that they wanted to replace Cole, they assured him, or that they didn't like the group's other facilitator, who was about Cole's same age. It had more to do with their own legacy.
"What they were saying is that what they wanted was to leave behind their knowledge," Cole said. "Use us to inform what services should look like and what they could look like. Bring someone younger, who's going to be able to do it longer, because you're getting kind of old, Hugh. The fact that they felt OK to say that to me was just really awesome."
So Hugh's next co-facilitator was in her 20s, and the next session's group loved her. Today she works with the aging population in Latino communities on Chicago's West Side, while Cole leads The Journey Continues with a doctor of pharmacy student from Chicago State University as well as a Loyola student in the School of Social Work.
"It's such a great example of a really transformative education and also what can happen with good ideas that get support," Pryce said. "In this case, I think they're having a big impact on the community, which is just really exciting."
Supporting a community
It's not the only group at Howard Brown that Cole can be seen attending to. In addition to being an addiction counselor in the Recovering with Pride program, Cole also organizes behavioral health clinicians' luncheons a few times a year, offering health care workers a primer in working with the LGBTQ community.
With more than a hundred clinicians attending from hundreds of miles away, the lunches have focused on issues such as micro-aggressions and race, bisexuality, and queer-identified people within the military.
Cole himself knows the importance of giving people a safe place to talk about what's happening in their lives. From the beginning of his journey, Cole saw his role as being a listener offering insight whenever he can. It's a goal he sets for the sessions he leads today and is teaching to the students who are learning to do the same.
"Whether someone is religious from a faith community or not, the Jesuit mission at its core is about this idea that is absolutely at the heart of social work," Cole said. "We are our brothers' and sisters' keepers. We have a responsibility to each other to look after our well-being, particularly the marginalized and most vulnerable."
Student Helps Refugees Adjust to Life in America
Aqela Rahman
Major: Social Work; expects to graduate in 2017
Internship: Refugee resettlement intern at Catholic Charities (August 2014–May 2015)
Tell us a little about your role and what you did.
Catholic Charities receives hundreds of refugees every year and helps these families and individuals find homes, get jobs, and become self-sufficient in the U.S. My job was to help these families learn about all the resources available to them.
And how did you do that?
All sorts of ways. I would take them to school open houses, doctor's appointments, ESL classes, and more. I also took many of them to government offices so they could learn more about the educational, health care, and public welfare systems here.
What attracted you to the internship?
I was drawn to it because it gave me a chance to work in case management to see who establishes policies, but it also allowed me to work directly with the people who are affected by these laws and rules. The internship showed me both the macro- and micro-systems ‪involved in social work.
Talk about some of your favorite memories from your time there.
I loved seeing my clients adjusting to their new country and enjoying life here. I've celebrated with clients when they've gotten their first job, had their first child, or simply learned how to navigate the public transportation system on their own.
What was the main thing you learned from your experience?
It taught me the role that social workers and government agencies play in helping new immigrants become oriented in their new country—and it encouraged me to one day pursue a career in public service.
Learn more about Loyola's Social Justice Internship program on the Center for Experiential Learning's website.
April 17: "Social Work through the Holocaust: The Life and Legacy of Louis Lowy"
April 17: "Social Work through the Holocaust: The Life and Legacy of Louis Lowy"
Join us on April 17 for the 19th Annual Greenstone Memorial Lecture, open to all Loyola School of Social Work students, alumni, faculty, staff, field supervisors, and friends. This year's lecture will feature Professor Lorrie Greenhouse Gardella, JD, MSW, ACSW, who will present "Social Work through the Holocaust: The Life and Legacy of Louis Lowy." Gardella will discuss Holocaust-survivor Louis Lowy's professional journey as a social worker and its implications for modern clinical social work. The lecture is framed through the lens of Gardella's recent book, The Life and Thought of Louis Lowy: Social Work through the Holocaust, which is listed in "100 Great Books for the Social Worker's Library".
The lecture series was established in memory of Joan Greenstone, a valued faculty member of Loyola's School of Social Work and the Institute of Clinical Social Work.
The lecture will take place Friday, April 17, from 9 a.m. to 1 p.m. at Loyola University Museum of Art's Simpson Lecture Hall. A panel discussion, Q&A session, lunch, and book sale and signing will follow the lecture. The lecture is free for those not seeking CEUs; for those seeking CEUs the cost is $25.
ABOUT THE SPEAKER
Professor Lorrie Greenhouse Gardella, JD, MSW, ACSW, is a national leader in social work education, dedicating her career to helping culturally diverse populations gain access to social work education. She received her AB degree at Smith College and her JD and MSW degrees at the University of Connecticut. She served as the Associate Dean of the School of Graduate and Professional Studies at the University of Saint Joseph, Connecticut. She recently completed her service as Professor and Vice President for Professional and Graduate Studies at Albertus Magnus College.
She has also served as President of the Association of Baccalaureate Social Work Program Directors, Chair of the NASW Legal Defense Fund, and has held positions in the Council on Social Work Education. In 2013 Gardella was named a Health Leadership Fellow of the Connecticut Health Foundation.
Her research interests include social work history, multicultural health equity, and social work with displaced populations.
Helping others through music
Before joining the faculty at Loyola's School of Social Work, assistant professor Brian Kelly pursued a career in music. Now, he uses that musical background to connect with young clients.
Kelly—who holds a degree in audio engineering in addition to a bachelor's, master's, and doctorate in social work—came here in 2013 with a mission in mind: to help others. Here, he talks about his career, the hardest part of being a social worker, and which DJs he loves to see perform.
You hold an associate's degree in recording arts. How did you decide to get into social work?
In my late teens I played music around Chicago, and I pursued a career in music in my early 20s that led me to get an associate's degree in audio engineering. I came back to Chicago in 1998 and pursued a career in music for two years. It was a lot of fun, but I reached an end game with that particular phase of my life. I knew I wanted to do something different, and I had an interest in helping others, which led me to social work.
Talk a little more about your work with music.
I used to provide addiction counseling services to young people at a transitional living program on the South Side. The agency had a makeshift studio space, and I saw young people using music equipment—and they were happy. I thought, "That's a connection that we should explore as social workers." Over the course of several years, I observed and interviewed young people who used the studio and found that the studio space is a place where they engage and foster their strengths.
One of your areas of interest and study is social justice and anti-oppressive practice with young people. Talk about that and how that connects with the Jesuit mission.
Research and teaching need to come from a space of service. Although I need to be productive in terms of producing scholarship, I want my research to have some benefit to the young people and agencies I work with. I want the work that I do to serve the community. That is social justice to me. It's about meeting clients where they're at and working with them from that space.
What is the hardest part about social work?
There is so much work to do. How do I choose what work to engage in? For me, it's about finding the work that I'm passionate about and understanding that I can't address every concern. If I can do what I'm passionate about and I can push it forward, then I'm OK with that. A lot of it is being OK with knowing that I can only do so much.
And finally, what music do you like to listen to?
Currently, I'm listening to a lot of Chicago house DJs: Michael Serafini, Innerspace Half-life , Hakim Murphy. And I was very excited I got to see Slowdive reunite this fall at the Vic.
A century of social work in Chicago
The School of Social Work's foundation is deeply anchored to issues of social and economic justice for the oppressed and marginalized.
Now in its 100th year, the School of Social Work is the oldest university social work program in Chicago. From its inception, founder Frederic Siedenburg, S.J., made it a priority to work directly with and for those who were being excluded from opportunities to fully engage as US citizens.
Whether it was assuring access to advanced training in applied sociology or defending immigrants' rights, Fr. Siedenburg did not turn his face from the social injustices of his day. That spirit prevails today in the School of Social Work in many ways. With more than 600 master's-level students, social work is the second-largest graduate program at Loyola.
A significant portion of the graduate education is conducted in supervised field education/internships in more than 400 field internship locations across the Chicagoland area. Students in the two-year program must complete 1,200 hours of internship before degree completion.
These placements embody the school's commitment to being front and center in efforts to combat social injustices, work with marginalized populations, and produce a more socially just and equitable society. Our students and alumni work in diverse settings, including schools, prisons and jails, family and child welfare agencies, health and mental health care settings, substance and addiction treatment, international services, disaster planning and preparedness, and many governmental settings.
The work begun by Fr. Siedenburg is being nurtured and advanced by a cadre of outstanding academic faculty, staff, and our community partners.
Did you know?
Loyola's School of Social Work, founded in 1914 by Frederic Siedenburg, S.J., as the University's School of Sociology, was the first department of its kind in a Catholic university in the United States.
Father Siedenburg was a passionate defender of immigrants' rights, denouncing attempts by the United States Congress to exclude newcomers from Southern and Eastern Europe.
Father Siedenburg was the only Catholic priest to accompany Chicago reformers to Booker T. Washington's Tuskegee Institute in Alabama in February 1915, riding in a special Pullman train provided by philanthropist Julius Rosenwald.
Loyola's first female students—Ella Rose Connell, Celia M. Gilmore, and Catherine Meade—who graduated from the School of Sociology in 1915, were well-known teachers in Chicago's public schools.
Father Siedenburg was an early member of Chicago's Motion Picture Commission in 1918, who believed that film "has come to stay" and "has a great educational future."
The founder of Loyola's School of Sociology crossed religious, racial, and class lines, working closely on labor issues with Progressive reformers such as Ellen Gates Starr, cofounder of Chicago's Hull-House Settlement, and Agnes Nestor, president of the Chicago Women's Trade Union League.
Facts by Ellen Skerrett: A Chicago historian, Skerrett is the author of Born in Chicago: A History of Chicago's Jesuit University (2008). In October she delivered a talk on Father Siedenburg as part of the 100th anniversary of Loyola's School of Social Work.
Dentato focuses on LGBTQ health and social justice
As a graduate of two different Jesuit universities, assistant professor Michael Dentato is committed to social justice. And it's a mission he lives every day.
Dentato, who focuses much of his work on the LGBTQ community, has been a part of numerous research projects and teaches practice, policy, and leadership courses in Loyola's School of Social Work. No matter what he's doing, however, his goal is always the same: to be an advocate for those most in need.
Here, he talks about his early teaching career, how he became interested in his area of expertise, and why Chicago isn't really the Second City—at least as far as he's concerned.
How did you go from a degree in theater and media studies at Fordham to a PhD in Social Work at Loyola?
I realized early on that it would be difficult to maintain a long-term career in theater and media, so I returned to Fordham for a master's degree in social work. After relocating to Miami post-9/11, I started teaching part-time courses in the School of Social Work at Barry University—and that experience confirmed my decision to pursue a PhD in social work and teach full time. Soon after, I relocated to Chicago and entered the PhD program at Loyola. I've been here ever since.
How did you first become interested in your area of study?
My primary area of research and scholarship pertains to LGBTQ health and health disparities. As a gay man, it has always been a personal and professional interest to examine various aspects of LGBTQ health to promote better understanding and advocacy—as well as to work toward eliminating oppression of this largely diverse minority community. My coming out process and undergraduate studies also occurred during the early years of the HIV epidemic in which I was propelled to advocate for those living with and impacted by HIV when little was being done around the country regarding treatment, education, and prevention.
How does Loyola's social justice mission factor into your work?
The mission of the Jesuits is strongly connected to the tenets of social work, especially when it comes to social justice. I received my undergraduate, graduate, and doctoral degrees all from Jesuit institutions—and if you combine that with my 20 years of experience in social work—you can clearly see how promoting social justice is a huge part of who I am.
What is your favorite New York weekend activity?
My favorite weekend trips to New York City are often spent wandering around, visiting Central Park, museums, and theaters. I especially enjoy spending time with friends, checking out new restaurants, and reconnecting with my second favorite city in the world—clearly Chicago has become No. 1.
Cross-age peer mentoring program funded by U.S. Department of Justice
Dr. Katherine Tyson of the School of Social Work and Dr. Maryse Richards of the Department of Psychology recently received a grant from the U.S. Department of Justice for their proposal to evaluate the effectiveness of community-based cross-age mentoring to reduce negative outcomes related to violence exposure and to promote positive development.
The mixed-methods study will collaborate with four sites serving low-income, high violence urban neighborhoods including Dr. Tyson's StandUp!HelpOut! program, as well as CeaseFire, the Lawndale Christian Legal Center, and Enlace. A prospective approach will be implemented to follow cross-age mentor and mentee pairs for one year of mentoring. The approach will emphasize the collaborative partnerships with the four community organizations, with the objective of promoting positive development and reducing delinquency and negative outcomes in Chicago youth.
Dr. Tyson has been teaching at Loyola's School of Social Work since 1989 and teaches in both the masters and doctoral programs. Her current practice and research focuses on community development through supporting parents in non-violent caregiving methods, psychotherapy with children, therapeutic residential care for severely mentally ill and homeless clients, and international social work. She teaches Global Social Work Practice, Clinical Social Work Treatment with Children, Participatory Action and Qualitative Research, and the Nature of Social Work Knowledge in the doctoral program.
Loyola University Chicago proudly sponsors the RACE Project
Loyola University Chicago is a proud sponsor of the RACE: Are We So Different? exhibition that is being brought to the Chicagoland area by the YWCA Evanston/North Shore and the Illinois Holocaust Museum and Education Center in Skokie, IL. The exhibition, which opens October 12, 2014 and runs through January 25, 2015, offers our University community the opportunity to delve more deeply into one of the key issues related to our social justice mission. The exhibit examines race from the biological, cultural, and historical perspectives.
Dr. Jeanne Sokolec, Director of the BSW Program in the School of Social Work, participated on a committee this summer with others from the University to plan what they hope will be interesting on-campus lectures and discussions this Fall to complement the exhibit. The RACE website offers additional information about the project, availability of bus transportation to the museum, and the on-campus offerings. The scheduled Fall Speaker Series is as follows:
RACE Exhibition Fall Speaker Series at LUC
Each talk will be held from 4pm to 5:30pm in Klarchek Information Commons, 4th Floor. Light Refreshments will be served.
Wednesday, October 22nd

"RACE in Biocultural Perspective: Why Biology, not Genetics, Matters"
James M. Calcagno, Professor, Department of Anthropology and Director, Fellowship Office
Thursday, November 6th

"Will It Ever Be Equal? Achievement Disparity in Education"
Dean Michael Dantley and Associate Dean Anita Thomas, School of Education
Wednesday, November 19th

Race and Racial Inequality: Through a Legal Lens

"The Legal Construction of Race"
Steven Ramirez, Professor and Director, Business and Corporate Governance Law Center, School of Law
"Learning to See Straight: Legal History and the Creation of Racial Inequality"
Juan Perea, Professor, School of Law
For social workers, the topic of the RACE exhibition is highly relevant as professionals within the field work in diverse settings, in diverse places, and with people who express the full range of diversity in our society. The social work program accreditation body, the Council on Social Work Education, requires that social work programs incorporate material for students to explore the extent to which a culture's structures and values may oppress, marginalize, alienate, or create or enhance privilege and power. The goal is for social work students to gain sufficient self-awareness to eliminate the influence of personal biases and values in working with diverse groups.
The themes and topics presented by the RACE exhibition and its supporting events and discussions align with assignments and reflections asked of social work students as well as professionals. While the focus of the exhibit is on "race," its questions can be applied to other cultural issues such as ethnicity, religions, gender, etc.
Students, faculty, and staff will hopefully take advantage of the opportunity to experience the exhibition and to participate in the related on-campus programs this Fall.
Study Abroad Summer 2015
Registration Deadline: Friday, February 27, 2015
Interested in learning about how other countries approach social work theory and policy? Traveling abroad is an excellent way to experience these approaches firsthand. The School of Social Work offers great study abroad opportunities in China, Mexico, and Italy.
The program at China's Beijing Center explores aging and family in a country-specific context. Both cultural and historical factors are analyzed to determine how they have shaped modern Chinese social work practices. The registration deadline for this program is Friday, February 27, 2015.
In Mexico, the School of Social Work offers intensive field-work placements that challenge students to apply what they've learned in the classroom to real-life situations. For the 2015 summer, placements will be offered in San Cristobal and Tapachula, both vibrant cities that promise rich experiences. (The application deadline for field placement has passed.)
The program in Italy allows students to take courses at either the University of Milan-Bicocca or Loyola's John Felice Rome Center. In Milan, students will participate in a seminar that brings students and faculty from China, Italy, and the US to discuss how an aging population is impacting global social services. At the Rome Center, students learn and apply different clinical treatments and therapies in social work practice. The registration deadline for either program is Friday, February 27, 2015.
Our study abroad programs help students develop true understandings of what it means to be a global citizen in such an interconnected world.
Explore more detailed information by choosing the country below: