archive
Loyola Faculty, Staff, Students and Alumni Present at the Society for Social Work and Research Annual Meeting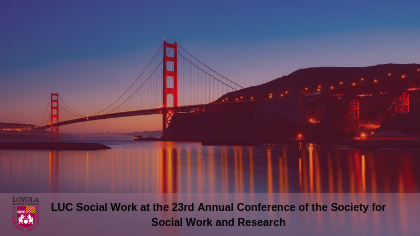 SSWR 23rd Annual Conference in San Francisco, CA from January 16 - 20, 2019.
There are different ways you can connect with our School of Social Work during the conference:
Add to your agenda the numerous talks from our faculty, students and alumni: Loyola SSWR 2019 Presenters Schedule.
Visit our reception on Friday January 18 from 8-9 pm at the Hilton - San Francisco - Union Square Rooms 3 & 4
Follow our Twitter feed @LoyolaSSW, we will be tweeting updates regularly using #SSWR2019
The SSWR Annual Conference offers a scientific program that reflects a broad range of research interests, from workshops on the latest quantitative and qualitative research methodologies to symposia featuring studies in child welfare, aging, mental health, welfare reform, substance abuse, and HIV/AIDS. Over 500 symposia, workshop, roundtable, paper and poster presentations.
Loyola Faculty at the 40th International Association for Social Work with Groups (IASWG) Symposium
Kruger National Park, South Africa
In attendance to the June 2018 IASWG Symposium: Brian Kelly (Board member and Assistant Professor), Terri Kilbane (Associate Professor), Ann Bergart (Adjunct Professor), Brent In (PhD Student), Stephanie Drozd (2018 MSW Graduate), Yesenia Roman (2017 Graduate), Jennifer Sefcik (2nd Year MSW Student), Benjamin Marton (2017 MSW Graduate).
These international symposia have provided opportunities for the membership of IASWG to meet others interested in and committed to the use of groups in social work, to hear and consider new approaches to social work with groups. This with the intention to help shape the present and the future of group work in social work as a whole and in education, and to participate in decision making that directs the business of the Association.
Group photo at the outdoor GALA Event at Kruger National Park: Ann Bergart, Terri Kilbane, Benji Marton, Brian Kelly, Yesenia Roman, and Laura Nessler.
Poster Presentations. Photo on the left: Stephanie Drozd. Photo on the right: Jennifer Sefcik.
Workshop Presentation. Photo on the left: Benjamin Marton. Photo on the right: Terri Kilbane.
Those attending had a firsthand view of the social issues affecting this part of the world. One of the long-lasting problems is that the family circle is affected in many ways by AIDS. The children are vulnerable due to either have parents with AIDS or have died from AIDS, and in other cases the children themselves are HIV positive.
At the South African not-for-profit center, women come to assist children with activities, tutoring, preparing food and offer other type of contributions. During this time, Dr. Terri Kilbane gave away Loyola bags and pens, and Chicago tokens.
Dr. Simon & fellow faculty presented at the Joint World Social Work, Education and Social Development Conference
The Joint World Conference on Social Work, Education and Social Development 2018 (SWSD) was held in Dublin, Ireland on July 4-7 at the Royal Dublin Society (RDS). "The theme of the gathering is the third pillar of The Global Agenda for Social Work and Social Development, Environmental and Community Sustainability: Human Solutions in Evolving Societies'. With a final theme of the Agenda Strengthening recognition of the importance of human relationships". The international event included people who use social work services, researchers, social work educators and practitioners and others who work across the spectrum of social work services.
Dr. Shirley Simon and Dr. Terri Kilbane presentation topic was on Status of Group Work Education in Masters-Level Social Work Education: Survey Findings and Implications.
Other Loyola School of Social Work faculty also joined the conference, among those presenting their work: Jeanne Sokolec Ed.D., Dr. Amy Krings, Dr. Nathan Perkins, Dr. Jonathan Singer, and Dr. Phil Hong, as well as one recent alum, Yesenia Roman.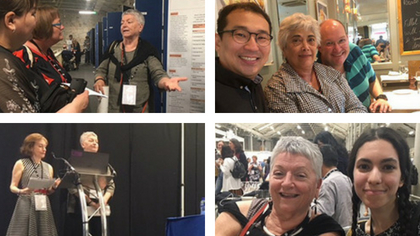 Dr. Dentato presented at the Annual International Meeting of the Society for Psychotherapy Research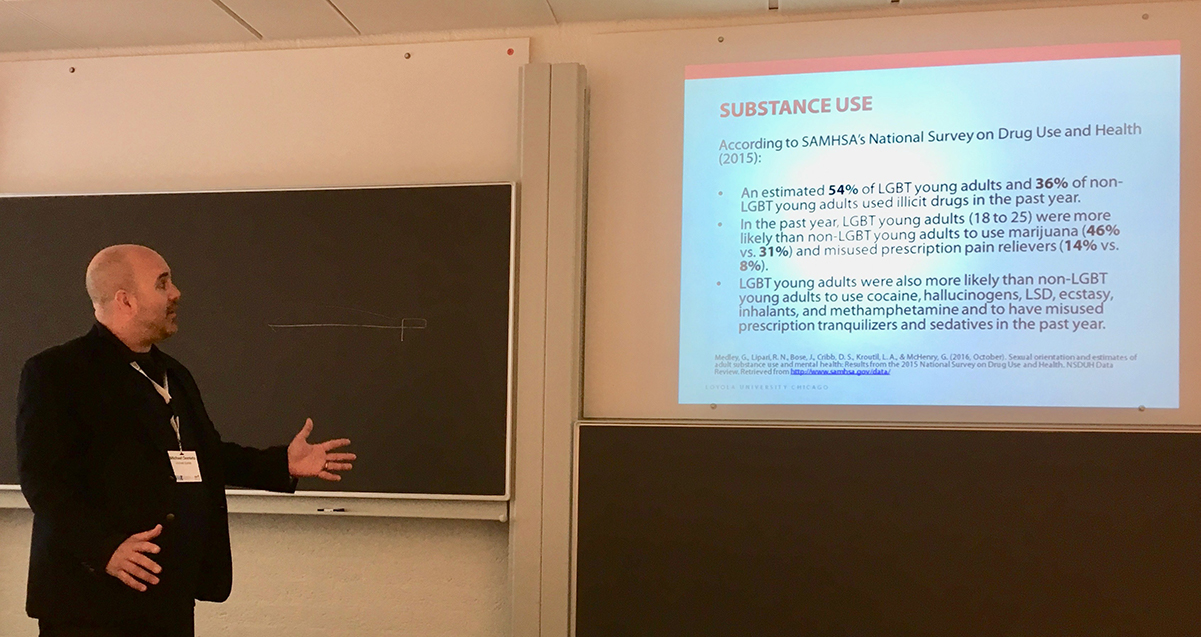 The Society for Psychotherapy Research is an international, multidisciplinary scientific association devoted to research on psychotherapy. SPR encourages the development of research on psychotherapy as well as aims to support and enhance both the empirical basis and applied value of research on psychotherapy. The 49th Annual meeting took place during June 27-30, 2018 in the vibrant city of Amsterdam, Netherlands at Vrije Universiteit.
Dr. Dentato presented on the important role of utilizing the SBIRT model to assess for substance use among LGBTQ youth, as well as two panel presentations on mental health treatment and care for LGBT clients with colleagues from Rutgers University, University of Toronto, Barry University and Arizona State University. In between attending the conference he also visited the Anne Frank House & Museum, a Banksy exhibit at the Moco Museum, the Homomonument, as well as other local sights.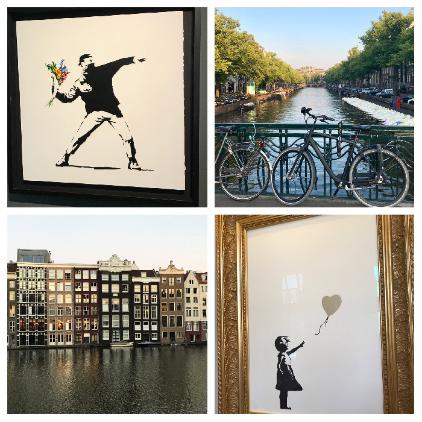 Around Amsterdam, visiting the cultural sites of interest: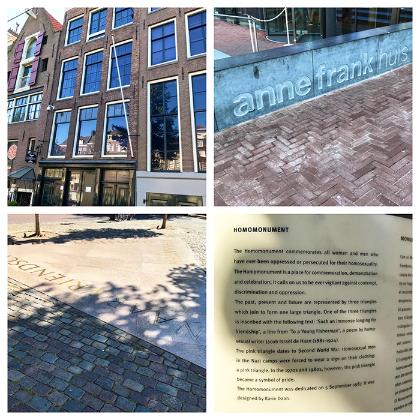 Voting is Social Work!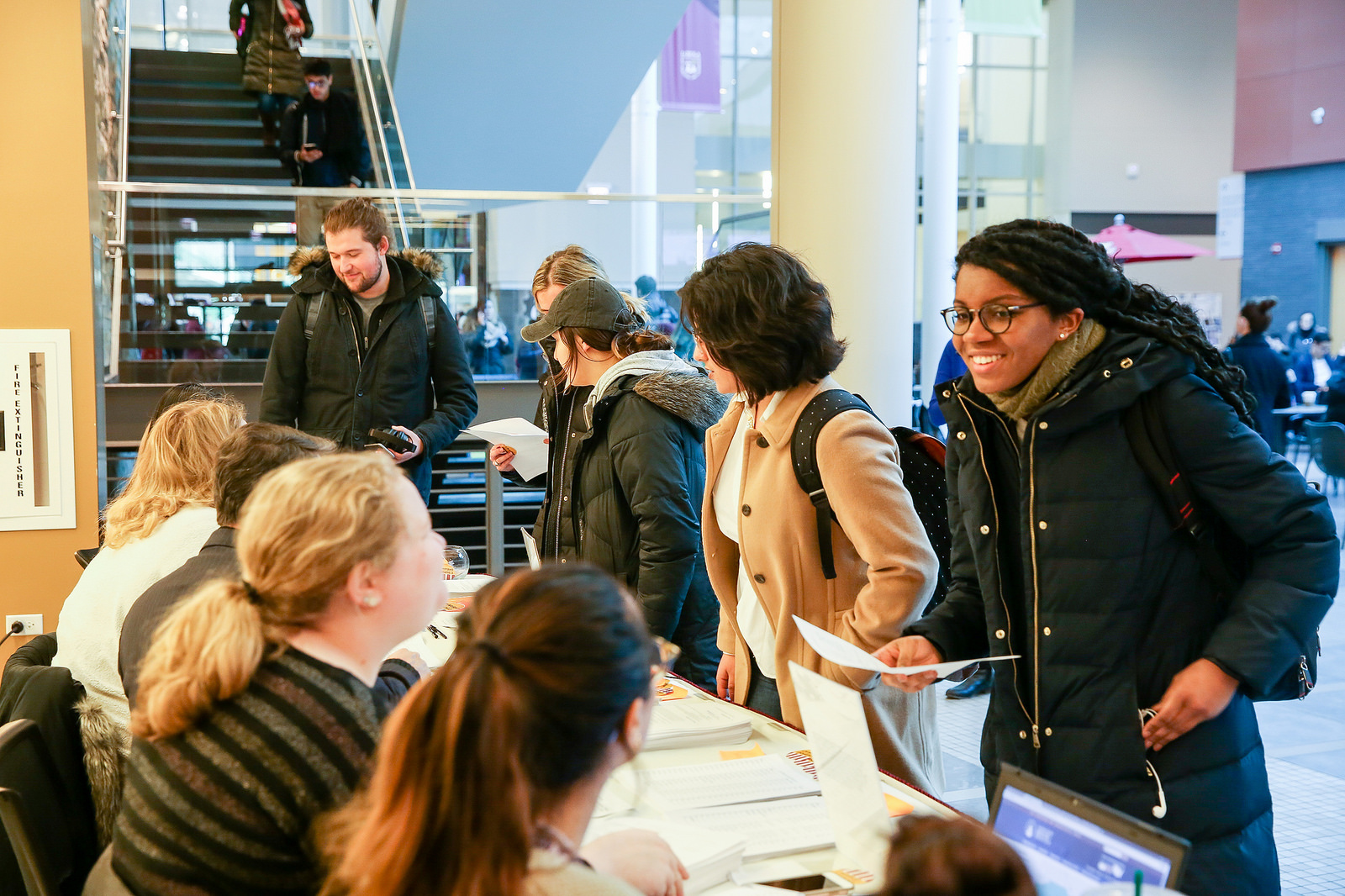 The National Association of Deans and Directors Board (NADD) has endorsed the National Social Work Voter Mobilization Campaign. As you know, voter engagement is clearly central to social work values. Both the NASW Code of Ethics and CSWE (EPAS) endorse activism. Yet studies show that (1) many social workers still wrongly believe that voter mobilization is partisan, illegal or unimportant and (2) the profession has been slow to incorporate non-partisan voter engagement as an important part of its mission.

Therefore The Campaign seeks to:
Raise awareness of the importance of voting to social work practice and social policy,
Promote trainings that refute the prevailing myths,
Explain why voting matters to the social work community,
Integrate voter engagement activities into field education for all micro and macro students,
Offer voter mobilization skills and strategies for field instructors, staff, students and faculty,
Ensure that all the people we serve have access to the vote.
To Learn More Visit: www.votingissocialwork.org
Ignatian Fellows for Social Justice in the PhD program
The School of Social Work at Loyola University Chicago is announcing two full-time Ignatian Fellows for Social Justice in the PhD Program. This opportunity was created to address underrepresented populations in the current PhD programs in the U.S. According to the Annual Statistics of Social Work Education in the U.S. 2015 (CSWE), under 20 percent of PhD graduates were of African American/Other Black, Latino/Hispanic, Puerto Rican, Chicano/Mexican American and American Indian/Native American/Indigenous descent. Applicants from countries that also meet the above population criteria are welcome to apply.
For full details visit: Ignatian Fellows Program
Loyola MSW Students participate in Advocacy Day 2018
On April 11, 2018 over 1,000 social workers and social work students from across the state attended a half day of educational seminars on lobbying in Illinois. The afternoon was spent lobbying at the Capitol and meeting with legislators about social work related issues. Our efforts helped us get one of our major bills passed out of committee, HB 5122, Foster Youth Tuition and Fee Waivers. Over 50 Loyola students, staff and faculty made the trip to Springfield to let their voices be heard! Advocacy is an integral part of the social work profession and this is a great opportunity to get involved!
2017 IASWG Board Meeting in New York City
Loyola University Chicago faculty and alumni had a significant presence at IASWG Board Meeting.
Left to right: Kristina Lind, Alumnus; Ann Bergart, Adjunct Faculty; Joyce Webster, Adjunct Faculty & Alumnus; Meghan O'Donnell, Alumnus; Professor Shirley Simon, Faculty; Dr. Brian Kelly, Faculty
Left to right: Kristina Lind, Alumnus; Emily Wilk, Alumns; Professor Shirley Simon, Faculty
Professor Shirley Simon, Faculty and Meghan O'Donnell, Alumnus
Joyce Webster, Adjunct Faculty & Alumnus with Lorrie Gardella, Former Greenstone Keynote Speaker
Dr. Brian Kelly, Faculty
Post-Meeting gathering
Check Out Assistant Professor Michael Dentato's New Book
Social Work Practice with the LGBTQ Community, edited by Dr. Michael Dentato, Assistant Professor in the School of Social Work, and published by Oxford University Press aims to weave together the realms of sociopolitical, historical, and policy contexts in order to assist readers with understanding the base for effective and affirming health and mental health practice with diverse members of the LGBTQ community. Comprised of chapters written by social work academics - whose combined knowledge in the field spans decades of direct experience in human behavior, practice, policy, and research - this book features applicable and useful content for social work students and practitioners across the allied health and mental health professions, as well as across disciplines. The expansive practice text examines international concerns and content associated with the LGBTQ movement and ongoing needs related to health, mental health, policy and advocacy, among other areas of concern. Specific highlights of the chapters include narrative that blends conceptual, theoretical, and empirical content; examination of current trends in the field related to practice considerations and intersectionality; and snapshots of concerns related to international progress and ongoing challenges related to equality and policy. Additionally, as a classroom support for instructors, each chapter has a corresponding power point presentation which includes a resource list pertaining to that chapter's focus with websites, film, and video links as well as national and international organizations associated with the LGBTQ community. Overall, Social Work Practice with the LGBTQ Community is an invaluable resource for graduate students within social work programs and related disciplines, academics, and health/mental health practitioners currently in the field. For more information, contact Dr. Dentato at mdentato@luc.edu or visit this link below.
Loyola Focus on Teaching & Learning Program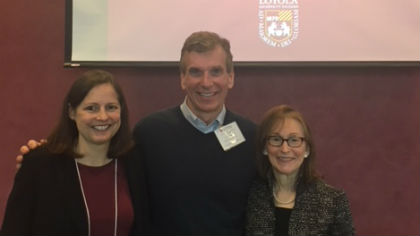 School of Social Work faculty John Orwat, Shirley Simon, and Maria Wathen presented at the FOTL in January: Strategies for Developing, Grading, and Evaluating Group Assignments.
The Pathways to Academic, Career, and Employment Success (PACES) Scholarship awarded to MSW students for the 2017-2018 academic year
Pictured above: 2017-2018 Water Tower Campus Recipients
Pictured Above: 2017-2018 Carthage Campus Recipients
Pathways to Academic, Career, and Employment Success (PACES) Scholarship
The Pathways to Academic, Career, and Employment Success (PACES) Scholarship is awarded to incoming MSW students who are economically, academically, ethnically, and/or environmentally disadvantaged.
Eligibility
Full-time Summer, Fall, or Spring MSW admits who demonstrate coming from a background defined as economically, academically, ethnically, and/or environmentally disadvantaged.*
Applicants must maintain a GPA of 3.0 or higher, specialize in Health, Mental Health, or Children and Families, be willing to take required classes associated with the PACES program, complete field placements at an agency located in a Medically Underserved Community (UMC), and have a commitment to pursuing post-MSW employment at mental and behavioral health site in a medically underserved community.
*An individual with a disadvantaged background is defined by the U.S. Department of Health and Human Services as follows: an individual from a disadvantaged background is defined as one who comes from an environment that has inhibited the individual from obtaining the knowledge, skill, and abilities required to enroll in and graduate from a health professions school, or from a program providing education or training in an allied health profession; or comes from a family with an annual income below a level based on low income thresholds according to family size published by the U.S. Bureau of Census, adjusted annually for changes in the Consumer Price Index, and adjusted by the Secretary, HHS, for use in health professions and nursing programs. This information was retrieved from www.bhw.hrsa.gov/loansscholarships/schoolbasedloans.
Apply
Here is a link to a survey which will help determine if you are eligible for this opportunity: 2018 PACES Application
Applications will be reviewed on a rolling basis - we suggest applying early!
For more information, please contact Associate Professor, Dr. Caleb Kim, at ckim4@luc.edu.
Faculty Member of the Year - Maria Vidal de Haymes, PhD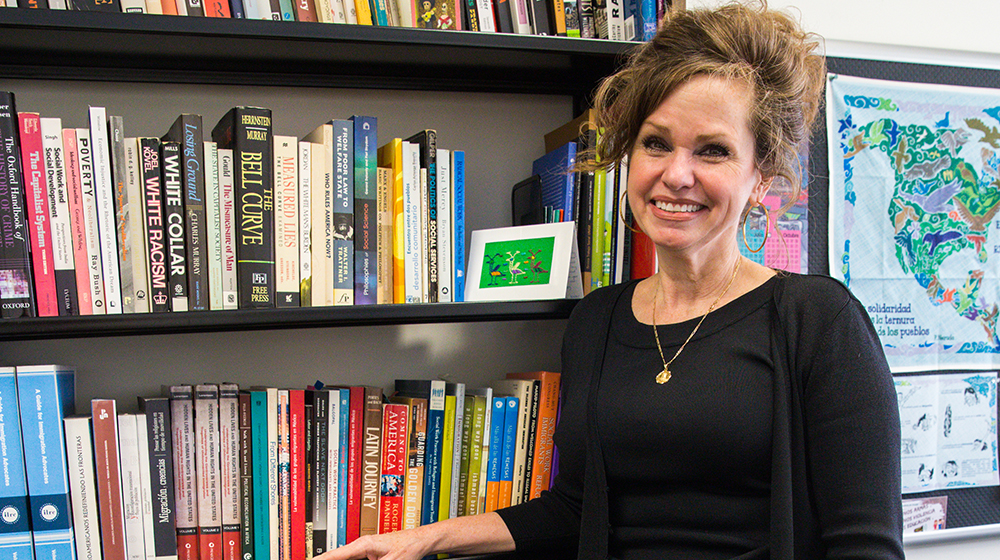 School of Social Work Professor Maria Vidal de Haymes, PhD, hit two milestones in 2017. This year marks her 25th year of teaching at Loyola as well as the honor of being named Faculty Member of the Year. She's spent the past two decades teaching courses in the areas of social welfare policy, community organizing, and race and ethnicity as well as building relationships with Jesuit institutions across Mexico and Central America.
Learn about her contributions to Loyola and universities across the Americas in the interview below.
Tell me a little bit about your role when you started here 25 years ago.
I was hired pretty much straight out of graduate school to teach at Loyola. I spent one year at the University of Wisconsin in Milwaukee while I was finishing my dissertation. Loyola is where I cut my teeth teaching, and I'm still learning every day. I was initially hired to teach our social welfare policy and diversity courses as well as a community intervention course. That's pretty much what I did up until about 10 years ago.
What changed 10 years ago?
There was a turn in focus to migration issues and that came out of my work with Jesuit Migrant Services. Maybe 11 or 12 years ago, there was a call from Fairfield University's Father Rick Ryscavage, S.J., to Jesuit universities across the Americas. It invited the institutions to come together for a weekend seminar focused on leveraging Jesuit institutions of higher education and Jesuit refugee and migrant services to develop an opportunity for teaching, research, and service for migrants.
We were the only school of social work represented at that gathering. I went with one of our students at the time, Alejandro Olayo Mendez, S.J., who was a Jesuit scholastic at the time working on his master's in social work. We were really moved by what we were hearing and energized and excited about the possibility of working with colleagues from across the Americas.
After expanding your network at this seminar, what happened when you got back to campus?
We got a call from Vladimiro Valdés Montoya, S.J., who then was the founding director of Jesuits Migrant Services in Mexico. This was new to me, I was very familiar with Jesuit Refugee Services, which has been around since 1980, but I hadn't heard of Jesuit Migrant Service because it was only a couple of years old. While the reach of Jesuit Migrant Services is worldwide, Jesuit Migrant Services focused on Central and North America and a bit in the Caribbean.
Father Valdés explained they were working on a certificate program in parishes along the Mexican migration corridor, which is one of the most heavily traveled migration corridors in the world. They were working with lay pastoral agents in these parishes who had made a commitment to studying the issue of migration and developing projects to tend to, address, or provide some sort of accompaniment to migrants.
This was a pretty significant commitment—it required the participants give up their weekends every other week for a year and a half. They invited folks from Jesuit universities across Mexico and us to develop the curriculum and teach the classes. They asked if we could bring a team to teach, so I went with Alejandro, Ivan Medina from the School of Social Work, alumnus Marta Arias, an immigration attorney with the Chicago Legal Clinic, and Bernadine Karge, a Dominican Sister. We all spent one to two months there and taught every day for eight hours.
What did you learn from the experience?
It was a super eye-opening experience. With the exception of Sister Bernadine, all of us were immigrants ourselves and social workers who had been working in immigrant communities. The work in these parishes revealed a huge blind spot. We realized how conditioned our understanding of migration had been. It was focused on migration from a country of destination: the United States.
We didn't realize the impact of immigration in communities of origin and transit. Typically, we think of Mexico as a source country for migration, but the migration corridor has much more complicated dynamics.
What types of projects did you and Jesuit Migrant Services develop through this initiative?
Some of the parishes focused on creating mental health, self-help groups for the women who remained in Mexico while their husbands, sons, daughters, and fathers went north for work. There was depression, loneliness, anxiety—migratory loss from folks who were still there and out of reach in many ways. The Jesuit Migrant Services worked with the pastoral agents to start these groups. Other examples included shelters, soup kitchens for Central American migrants in transit, and programs to generate income for people to remain in place.
How did this all connect back to your work at Loyola?
I also started going to the Jesuit Migrant Services annual meeting. The first time I went, 11 years ago, I met Dr. Graciela Polanco who's a psychologist at Universidad Iberoamericana in Mexico City, a Jesuit university. Between the two of us and with the help of Catholic Charities of the Archdiocese of Chicago, we started a two-way, fieldwork exchange for students. Now we've had more than 200 Iberoamericana and Loyola students participate in the exchange over the last 10 years, all working in migrant focused projects. Iberoamericana sends students year-round, usually about six students each semester, and they work on research projects with us as well as within different Catholic Charities' programs. This gives the students an applied experience—experiential learning. At the School of Social Work, we also provide some academic accompaniment, and Jerry Overbeck, S.J. meets with the students once a month for a reflection. In turn, we get similar support for our students at Iberoamericana and now ITESO, the Jesuit university in Guadalajara.
We also received a grant from the Federal Department of Education and its counterparts in Mexico and Canada to develop a migration studies sub-specialization. Even though the grant has now ended, for the last eight years we've been hosting a two-week seminar in Mexico City with Iberoamericana and Jesuit Migrant Services of Mexico, under the direction of Arturo Garcia, S.J. More recently, we've added a spring break border immersion class with the Jesuit Kino Border Initiative. Another 200 plus students have participated in these programs.
What's next for these programs?
We recently received a Plan 2020 grant to collaborate with the Center of the Human Rights of Children (CHRC). We jointly submitted for the grant with the CHRC, Ruth Gomberg-Muñoz in Anthropology, and some faculty from the Stritch School of Medicine. The goal is to take what we're doing in migration studies and in these student exchanges and incorporate law and medical students so we can have more interprofessional courses and opportunities for research.
In this project, we are also working with our two Jesuit partner universities in Mexico, Iberoamericana and ITESO, to make the classes two-way. The goal is to create interdisciplinary and binational teams comprised of our students. We will provide an immersion experience in Mexico at the beginning of summer, then several months to work on projects collaboratively, and at the end of the summer, have an immersion experience in Chicago with an immigration institute. This will give students a broader idea of migration from the perspectives of source, transit, destination, and return migration.
What has kept you at Loyola so long?
Being at Loyola, I am inspired by the mission and my colleagues and students. It has also opened the door for me to work with colleagues at Jesuit institutions in Mexico, Central, and South America and given me a community not just for scholarship and teaching, but also for spiritual reflection and growth. In fact, the research project that I'm working on right now is analyzing data that we collected from interviews focused on the social and pastoral accompaniment of migrants by faith-inspired actors. We interviewed shelter workers, nuns and priests, volunteers, social workers who do work with migrants in Chicago and Mexico. All Catholic faith inspired actors and most are connected to Jesuit institutions and projects in the Americas.
MSW student completes internship in Thailand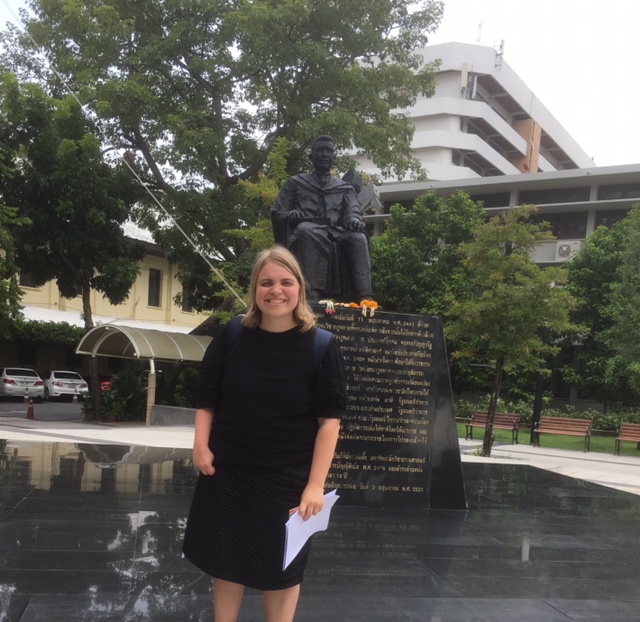 My name is Nicole Betteridge and I am a recent MSW student at Loyola University Chicago. While I have been studying in the United States, my love of international social work has taken me to many parts of the world. I am currently completing my final MSW internship through a partnership between Thammasat University in Bangkok and Loyola University Chicago. My internship is in the Child and Adolescent Psychiatry Department of Siriraj Hospital in Bangkok, Thailand. Situated on the banks of the Chao Phraya River, Siriraj Hospital is one of the oldest and largest hospitals in Thailand. It was established in 1888 by His Majesty King Chulalongkorn and covers a land space of 73 rai (approx. 117,000 square feet).
As a medical social worker in Thailand our cases may be much more diverse than a social worker may find working in a department of a USA hospital. We handle cases of children living in severe to moderate poverty with a single parent or grandparent, children with learning disabilities and low IQ's, child victims of rape and other sexual abuse, drug use, school refusals, mental and mood disorders, such as depression and suicidal thoughts, schizophrenia, anxiety, adjustment and conduct disorders. The department also works with a few cases of asylum seekers (currently from Pakistan). Our work with children and adolescents is broad and takes us to many parts of Bangkok as well as outlying locations for court hearings, school consultations, and home visits. As a teaching hospital we also have time with senior level doctors for seminars on medical conditions and research as well as case analysis and review.
While the situations faced by Asian children and youth may sound similar to that of many children and adolescents in the United States, there are many differences to the work here. There are only two universities in Thailand where an individual can obtain a Bachelor's or Master's degree in Social Work. Therefore, institutions, such as hospitals, lack enough professionals needed to help advocate and empower vulnerable children and youth. Thai culture is very collective and community focused. Thai people remain tranquil throughout the most traumatic of events. These cultural behaviors play an important role in the work we do at Siriraj Hospital.
I strongly encourage you to take the time to explore international social work opportunities as you further your education or career. While exploring international social work may seem irreverent to some people or take them outside of what is familiar (your "comfort zone"), I guarantee that an awareness of global social work will strengthen an individual's understanding of what it means to be a social worker. This is essential today as our world continues to become internationally interconnected!
Loyola SSW attends inaugural CRISP Political Bootcamp
In July 2017, Loyola School of Social Work sponsored Assistant Professor Amy Krings and three leaders of the School of Social Work Student Organization (SSWSO) - Meagan Tomasiewicz, LaDonna Miller, and Megan Ammer - to attend a three-day intensive training on political social work. The training, which was sponsored by the Congressional Research Institute for Social Work and Policy, provided participants with skills and confidence necessary to engage in electoral and issue politics. Trainers included key staff from the campaigns to elect President Barack Obama as well as former Congressman Ed Towns, a founder of the Congressional Social Work Caucus.
​According to MSW students Meagan Tomasiewicz, LaDonna Miller, and Megan Ammer:
"Participating in the inaugural year of CRISP allowed us to learn of potential contributions social workers can make for large-scale policy, in political office, and as campaign forerunners. But, the inaugural year also gave us space for a critical analysis of the systems involved in politics, their reliance of structures, and how social work fits in with politics.
Ultimately, the experience was a confidence booster for participating social workers. Nearly every presenter and planning committee member maintained a desire to have more social workers run for office, manage campaigns, and contribute to policy formation.
Any doubts of our capability to run for office have been replaced with a feeling of empowerment because of our experience at CRISP."
New $1.35 million grant to help unemployed adults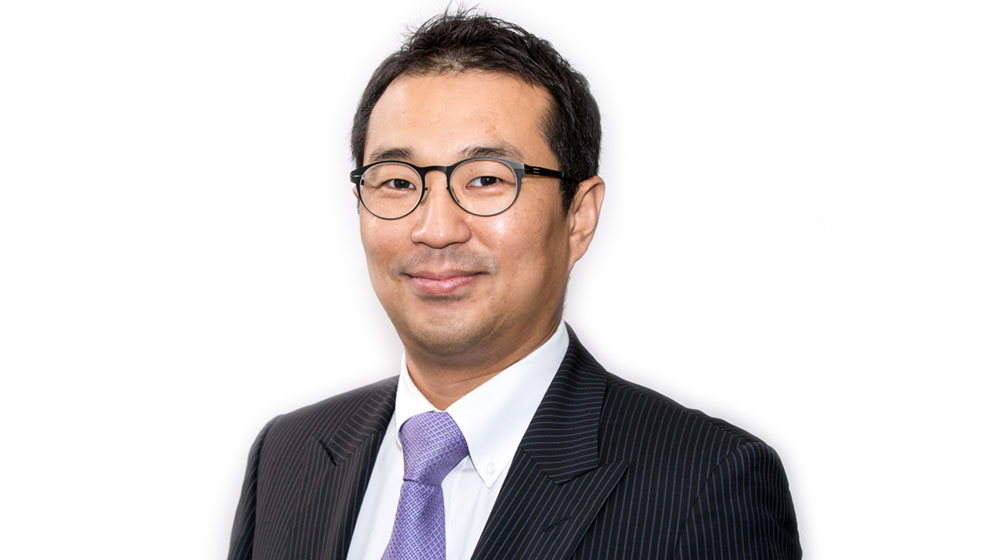 Thanks to a new $1.35 million grant, School of Social Work professor Philip Hong, PhD, can expand his research into helping low-income adults overcome the barriers that prevent them from finding and keeping full-time jobs.

This is the second time that Hong and his research team has received funding from the U.S. Department of Health and Human Services for their work. The first grant, also for $1.35 million, was awarded in 2011.

"It's great to get another round of funding," Hong said, "but more importantly, it means that there is some recognition by the federal government that there is still important work to be done using our research."

To help continue his work, Hong recently created the Center for Research on Self-Sufficiency (CROSS) within the School of Social Work. But the name, Hong said, is more than just a catchy acronym.

"The center is called CROSS to drive home the idea that we're trying to 'cross over' to the other side and study a segment of society that is often ignored by most people who promote job outcomes," he said. "CROSS hopes to represent the impossible act of sacrificial love and compassion that God showed the world through Jesus by researching a concept called self-sufficiency in a bottom-up way."

"The term 'self-sufficiency' is a dominant social policy goal targeting public assistance, adult education, workforce development, foster youth emancipation, refugee resettlement, and public housing. And we are committed to making this a process-based empowering concept that can be owned by individuals and families trying to overcome their barriers with hope to achieve their goals."

Hong, who came to Loyola in 2006, has been studying self-sufficiency among the long-term unemployed for more than a decade. When he started, he focused on the individuals themselves on the journey they make to conquer obstacles with hope using survey research. After surveying more than 5,000 individuals over time, the Perceived Employment Barriers Scale (PEBS) and Employment Hope Scale (EHS) were developed. From these metrics, a theory of change called psychological self-sufficiency (PSS)—switching from barriers to hope—was validated.

Evidence from this work informed the development of an empowerment program called the Transforming Impossible into Possible (TIP)—basically using the content of the questionnaire to transform the psychological barriers people face when they've been out of work for an extended time to hope-filled actions that build and restore hope as they move the needle on PSS.

By reflecting on questions such as "Do I have purpose in life?" and "Am I capable of working in a good job?" people can eventually switch from feeling helpless to being hopeful, Hong discovered.

"We quickly realized that employment barriers are linked with hope," he said. "We wanted to break down those barriers and show these individuals that success is possible–that hope is possible."

Now Hong is shifting his focus to the other side of the equation to see how schools can better support low-income students and how organizations can help workers keep their jobs. This latest round of research—done in partnership with Chicago State University, South Suburban College, Proactive Community Services, and Metropolitan Family Services—looks at entry-level health-care positions, such as certified nursing assistants and medical aides. The research will examine how students make career pathway advancement using PSS as their internal motivator.

"Our partners are going into the communities and educating people about health-care careers," Hong said. "These are typically people who would not have gone into these careers or even registered for classes on their own."

But many of these students face significant barriers—from financial to transportation to housing—and often quit studying for a career or walk away from jobs after only a few months. By working directly with employers, Hong hopes to invite employers as partners to help strengthen the career pathway.

"We'll train employers to be coaches and to be more engaged with their new workers," he said. "They'll learn how to use the TIP program, which we hope will reinforce the concept of self-sufficiency and help the employees succeed."


This content should not be displayed. If you are seeing this content please contact: jdrevs@luc.edu.