Ignatian Wisdom Fellowship
Become an Ignatian Wisdom Fellow!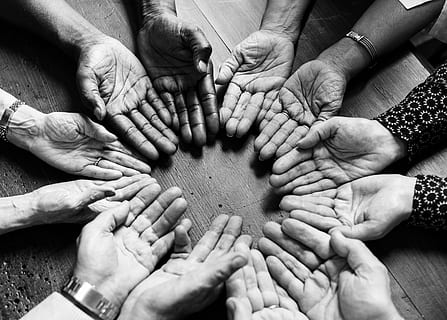 Are you considering retirement or discerning a transition to a more service-oriented life?

Are you becoming more attentive to the realities and challenges of life transitions?

Do you want to cultivate the insights gained from your life experience and focus on wisdom leadership?

Are you ready to reimagine the shape of the next stage of your life with a community of peers?

Would you like to explore these questions through a faith-formed and spiritual lens, such as one rooted in the tradition of St. Ignatius of Loyola, founder of the Jesuits?
Here is an opportunity for you! This is an invitation to join the Ignatian Wisdom Fellowship:
- A learning community of adults,
- recalibrating for new stages of life,
- perhaps transitioning from work to retirement,
- or exploring newly integrative ways of living,
- becoming family and community wisdom leaders.
"Our greatest power is not in the respect that others have for us, but the service we can offer others." - Pope Francis, Let Us Dream (2020)
Program description: 
This is a one-year cohort learning program: a Fellowship of adult co-learners gathered for guided reflections and formation for wisdom leadership. A graduate professional school at Loyola University Chicago, the Institute of Pastoral Studies (IPS), offers this unique program steeped in the spiritual practices of St. Ignatius of Loyola (founder of the Jesuit order). The Ignatian Wisdom Fellowship is for adults who seek interior growth in a community of support and who seek mission and meaning, taking on roles and flourishing as wisdom leaders in their families, communities, and society.

Becoming an Ignatian Wisdom Fellow begins with a year-long discernment and formation experience. Your fellowship year kicks off with a week in Chicago, continues with regular online meetings and discussions, includes a short trip to encounter specific expressions of vocation and mission in action, and culminates in a pilgrimage following in the footsteps of St. Ignatius through Spain to Rome. Accompanying the group are spiritual directors, Loyola University Chicago faculty, and trusted community leaders.

Come and see! Come and experience this unique program!
As an Ignatian Wisdom Fellow, you will take an inward journey while exploring the story and full life of St. Ignatius. His Spiritual Exercises are the foundation. Equally important is the way he carried forward this wisdom and insight through the rest of long life and the work of Jesuits following in his footsteps today (including Pope Francis, a Jesuit). The experiences during this process will prepare, prompt, and guide the Ignatian Wisdom Fellows through the work of self-discovery and the internal cultivation of your personal spiritual maturity, a hallmark of resilient, connected, and creative wisdom leaders in our families and society. This journey toward wisdom leadership is best undertaken not alone but in community and with seasoned guides. The Fellows and their guides will learn together, pray together, and accompany and support each other while traveling through this process involving the whole self, an integration of mind, soul, and body.
The 2024-2025 Ignatian Wisdom Fellowship Schedule
September 2024 to November 2025

October 2024 (5 Days, TBD): Loyola University Chicago
February 2025 (4 Days, TBD): US-Mexico Border, Tucson, Arizona
November 2025: Spain to Rome: A Pilgrimage in Footsteps of St. Ignatius
Online Meetings: 15 virtual meetings (via Zoom, dates and times TBD)

Key Priorities and Values
All contribute their wisdom, nurtured through their lived experience: presentations and conversations set up the encounters and dialogues among the Fellows, in which deep learning will take place. It is through encounter, listening, and dialogue among the Fellows, integrating their individual and collective experiences and insights, that the cohort will discern together the substance, meaning, and possibilities of their expanding understandings and imaginations for vocation and mission.
Loyola University Chicago faculty will facilitate encounters and dialogues that privilege the contexts and interests of the Fellows who gather. The Fellows will help chart the course: while the initial topics and themes along with the goals are set, the specific contexts, histories, interests, anxieties, and hopes of each Fellow will guide ways the group proceeds. Among the themes that may emerge as priorities for exploration are:

• Discernment and mission, life choices and aligning values
• Spiritualities of aging
• Preparing for the identity change of your "third act"
• Family systems and dynamics
• The life cycle and developmental psychology
• Work, Leisure, Rest, and Renewal
• Christian social teachings and movements
• Community engagement
There are three trips integrated in to the Fellowship period, at the beginning, middle, and end. The focus is on learning, community formation, and mission integration, building especially on the foundation of the four global priorities set by the Jesuit order, which we call Universal Apostolic Preferences: https://www.jesuits.global/uap/
Show the way to God through the Spiritual Exercises and discernment
Walk with the poor, the outcasts of the world, those whose dignity has been violated, in a mission of reconciliation and justice
Journeying with Youth: Accompany young people in the creation of a hope-filled future
Caring for our Common Home: Collaborate, with Gospel depth, for the protection and renewal of God's Creation
CHICAGO: The Fellowship year begins with a residency experience in Chicago. Together, we will begin the process of transforming a group of individuals into a learning community. Through carefully curated group experiences, including meals, reflection, dialogues, presentations, and prayer, we will plant the seeds for relationships and set expectations for the coming year. With your attention on developing trust and habits of openness, each Fellow will help create a group dynamic to enable bringing safely their whole person, their authentic self, to the process of sharing, learning, and growing.
US-Mexico Border: The Fellowship continues with online meetings through the Fall and Winter before convening in February at the US-Mexico border, in Arizona. We will stay at a retreat center near Tucson and then travel to meet with leaders of the Kino Border Initiative, a Jesuit ministry of care, service, and accompaniment for individuals, families, and communities on the move.

"If there is no friendship with [the poor] and no sharing of the life of the poor, then there is no authentic commitment to liberation, because love exists only among equals."
Gustavo Gutierrez, A Theology of Liberation (Revised Edition, xxxi)
Spain and Rome: Once again, the work continues through online meetings until the conclusion of this year of formation with a pilgrimage following in the footsteps of St. Ignatius himself through Northern Spain to Rome in early November 2024. We will literary go "In the Footsteps of St. Ignatius" accompanying him and one another on a journey of growth and discernment.

"Up to his twenty-sixth year the heart of Ignatius was enthralled by the vanities of the world. His special delight was in the military life, and he seemed led by a strong and empty desire of gaining for himself a great name... [upon] recovery [from his cannonball injury in the battle of Pamplona] his one wish was to make a pilgrimage to Jerusalem. He fasted frequently and scourged himself to satisfy the desire of penance that ruled in a soul filled with the spirit of God..."
The Autobiography of St. Ignatius


Throughout the Fellowship year, the group will meet regularly via Zoom. This will facilitate continuous learning while allowing you the time truly to reflect on what you are experiencing, learning, and imagining.
Faculty from the Institute of Pastoral Studies at Loyola University Chicago will dialogue with the group. They are experienced in such areas as spiritual accompaniment, psychological development, family systems and dynamics, vocation and mission discernment, the integration of faith and science, personal and social ethics, theology and ministry, community organizing, and much more.

The work you are doing is substantive and challenging, intellectually, spiritually, and personally. Fellows who seek an official University credential can elect to join IPS as a graduate student. With this optional admission as a graduate student, through completing this Fellowship year, and by integrating your experience and goals into course writing projects, you can earn a Graduate Certificate in Wisdom Leadership, complete with a diploma and an official transcript from Loyola University Chicago displaying nine credit hours of master's degree study. You could apply these credit hours to any graduate degree at IPS or elsewhere with a curriculum into which the course topics integrate.
Ignatian Wisdom Fellowship - FAQs