Building Bridges North-South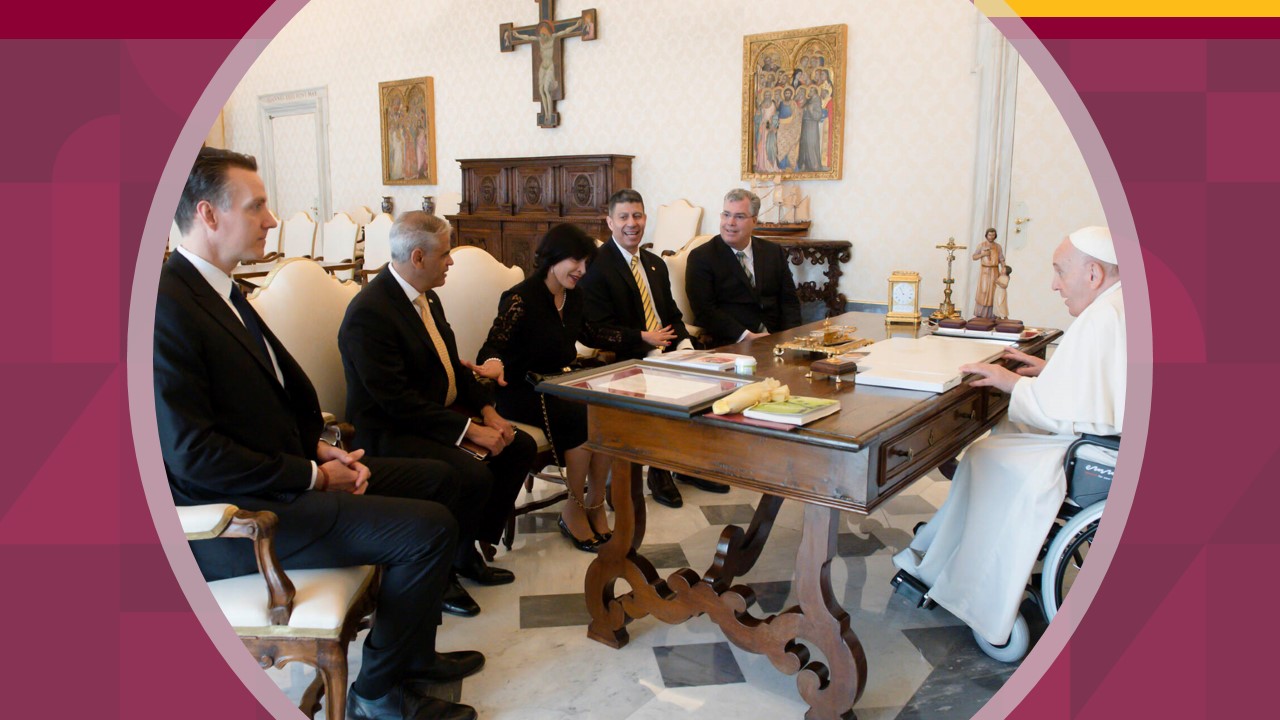 "As long as you make trouble, it's okay." - Pope Francis
Co-authors:
Dr. Peter Jones, Interim Dean and Clinical Associate Professor
Dr. Felipe Legarreta, Clinical Assistant Professor
Institute of Pastoral Studies, Loyola University Chicago
In October 2021, we were part of a team of Loyola University Chicago faculty, brainstorming ways that we could connect the university community to the Synod 2021-2024 process now underway. Pope Francis launched this unprecedented global project more than a year ago with an invitation to Christians everywhere to offer their perspective and voice. His goal is for everyone to participate in a process of shared discernment (a "synodal" process) on the way the Catholic Church must evolve to embody its mission today. Our ideas for University events evolved in unpredictable ways and led to Building Bridges North-South: a Zoom meeting of 16 students with Pope Francis himself! This event was co-sponsored by IPS, The Hank Center for the Catholic Intellectual Heritage and Loyola's Department of Theology Those students were selected as representatives by their peers in regional groups from across North, Central, and South America. In all, we accompanied in those regional groups 128 students attending 59 different universities in 22 different countries.
It went well.
So well, in fact, that Pope Francis invited us to meet with him at the Apostolic Palace in Vatican City. That meeting took place on May 13, 2022 and it represents a transformative moment for us personally and an inflection point for our work with students in the Building Bridges North-South initiative.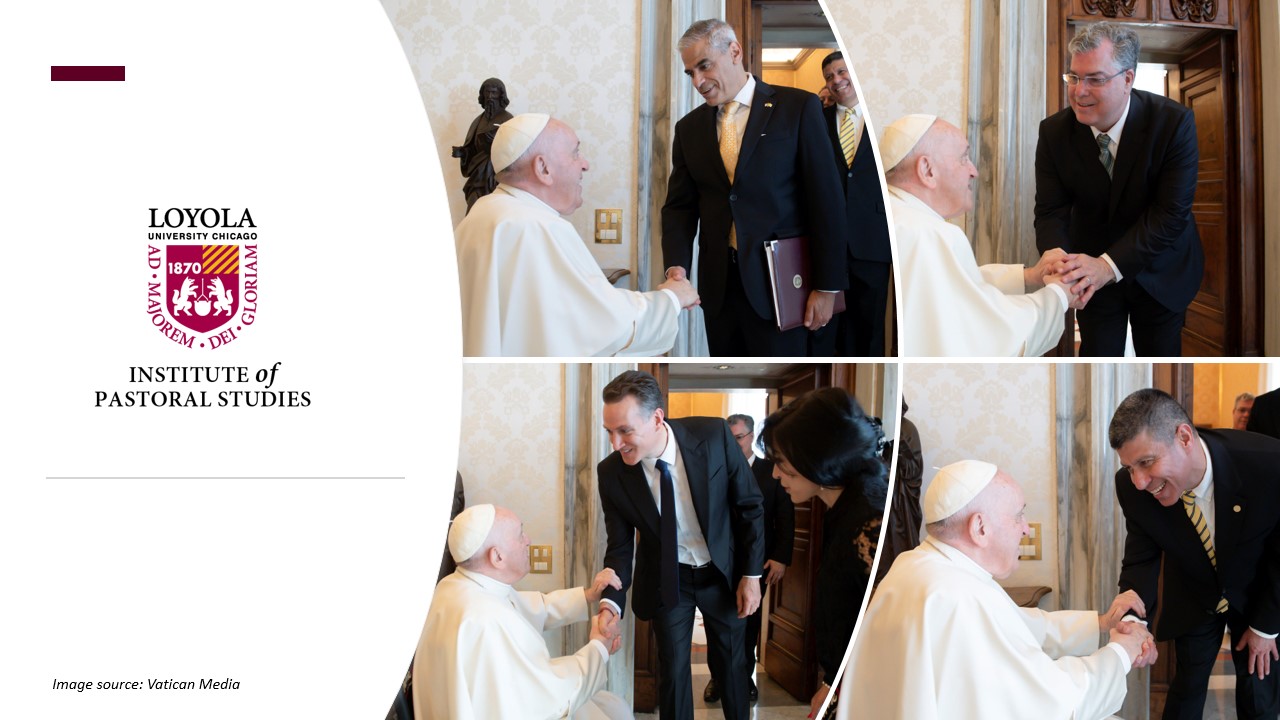 What did we talk about with Pope Francis?
We entered the meeting with talking points but also wanted to leave more than enough room for the Holy Father to lead the conversation. We described our desire to support the participation of university students in the Synod process and to link students across borders to share, listen, and learn from each other in diverse ways and concerning a variety of issues. Pope Francis offered to support our work: "I will collaborate in whatever ways you tell me!" Yes, you read that right!
The Holy Father has a special place in his heart for young people. It's clear to us that he finds joy in this! He described his approach carefully:
Young people must be able to share their experiences freely
Too often, the adults around them "anesthetize" them by dismissing them, constraining them, distracting them, leading them somewhere else, etc.
We must accept them as protagonists of history
We must not lead them where we think they should go but let them discern their way
They should create trouble and stir up conflict
We can accompany them and should help them turn that conflict into crisis and that crisis into constructive transformation, but knowing that they are the agents.
Working with Dr. Emilce Cuda, Secretary of the Pontifical Commission for Latin America, we also met last week with leaders (lay and ordained) both inside and outside the Vatican, including the heads of the Synod itself, the Dicastery for Promoting Integral Human Development, the Pontifical Academy for Life, the Pontifical Council for Culture, and several others.
What will come next?
We continue to discern that together as we proceed… together. This is the way of synodality: meet, listen for understanding, discern a shared vision of the present, and walk forward together toward a common future. Right now, concretely, we've launched the Building Bridges Initiative. Through this Initiative we are organizing university leaders in other regions around the global to create similar opportunities for students and Pope Francis. Building Bridges Across Africa occurred in November 2022 and Building Bridges Across South Asia is taking place in September 2023. Also, we're building out undergraduate and graduate courses that will take place simultaneously in universities across North, Central, and South America (the first in Spring 2023), linking together all the students in new ways and thereby integrating diverse voices and visions into their course experiences. Finally, using the support and network we've created, we are connecting Pope Francis and other leaders in the Vatican to the incredible work already being done according to his vision and which may benefit from his engagement.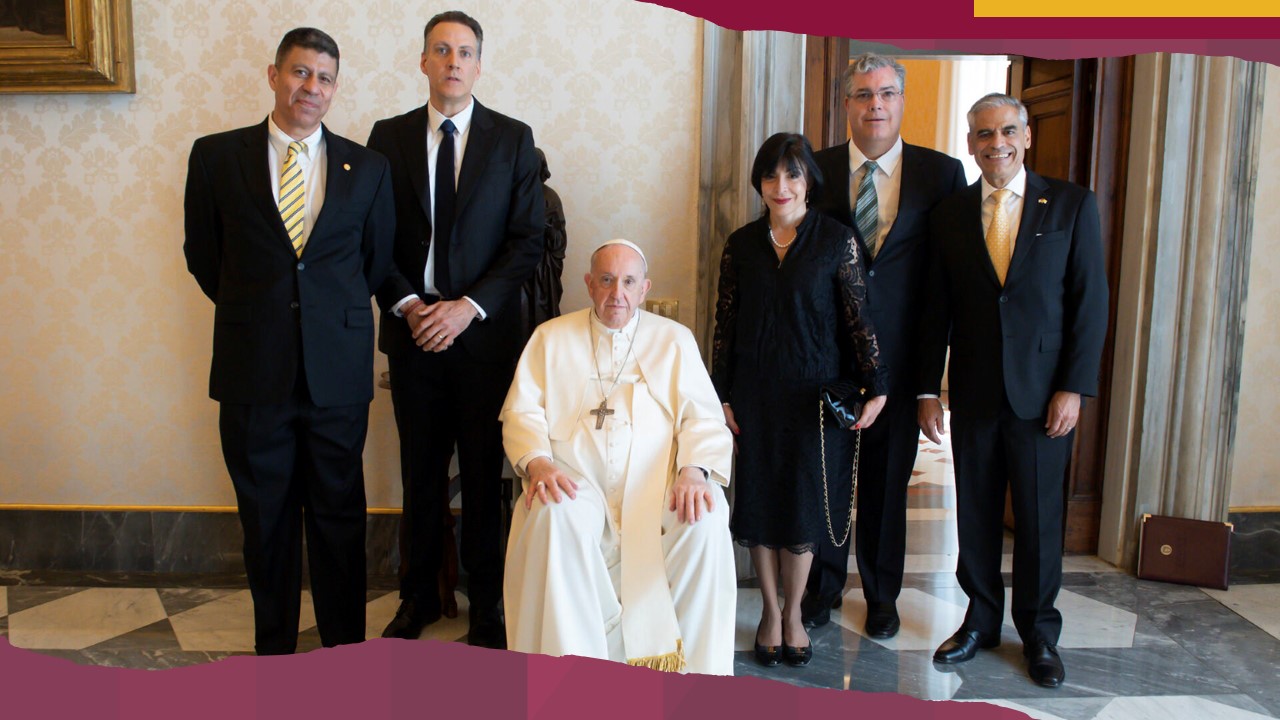 What a transformative experience! We sought to serve our University community by engaging the Synod process. This evolved away from a discussion about synodality to become an act of synodality that centered relationships among students from across the Western hemisphere. When presented with our activity, Pope Francis saw his own desires coming to life in them and agreed to participate by meeting with the students. What an honor for him to pop in on one of our meetings and get to know a few of the students! He stayed up late, listened, took notes, and called the students by name as he responded to them. This is his example of the type of leadership he expects from church leaders, lay and ordained and at every level of the ecclesial community. Not long after this, he invited us to do more and to meet with him. Now, new possibilities we hadn't dared to imagine just six months ago are on the horizon.
The Spirit is at work. God is good!
Image source: Vatican Media