Master of Arts in Pastoral Counseling (MAPC)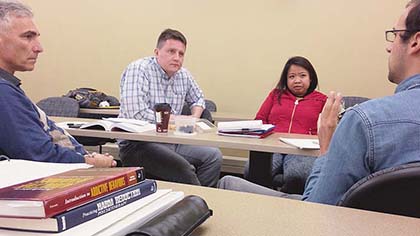 Needed
Pastoral Practicum/Clinical Internship
Two 3-credit IPS courses (IPS 511 & 513)
9-12 month/700-hour placement
Lincensed Clinical Supervisor (LCPC, LCSW, LMFT, PsyD or PhD)
What is involved during Practicum/Internship?
During their Practicum/Internship year, MAPC students secure a clinical counseling role in a parish, school, retreat center, hospital, social service agency or other placement selected for the student's professional development. Contact the CE office for an internship resource packet containing an updated and annotated list of possible internship sites.
The student is typically involved at the site for nine to 12 months, from mid-July until July of the following year.
The student's typical time involvement is 16-20 hours per week for 40-50 weeks, totaling 700 hours of on-site experience that includes at least 280 hours of direct individual or group contact hours (six to eight hours per week).
An experienced licensed professional (LCPC, LCSW, LMFT, PsyD or PhD) is an essential component at the placement site. The supervisor will meet weekly with the student and ultimately complete a formal evaluation.
Course Details
During the practicum/internship year, students enroll in IPS 511 in the fall and IPS 513 in the spring.
These 3-credit courses meet weekly for a 2½-hour peer reflection seminary facilitated by a faculty supervisor.
The primary text for these two courses is the collection of interpersonal experiences at the placement site.
Students learn through action and reflection that flows from the counseling and administrative demands of the specific context.
Full-time students typically take other required coursed concurrent with these Contextual Education courses. The time required in other courses for reading and research is substituted in IPS 511 and IPS 513 with the 16-20 hours per week of direct-contact group and individual counseling and supervision. Written requirements include learning goals, context analysis, case reflections, and self and peer evaluations.
MAPC Forms and Internship Resources