As a practicing attorney, you know the need for learning and career development never stops. The Master of Laws (LLM) in Health Law program is designed for busy attorneys like yourself who wish to develop or enhance a special expertise in health law.
This 24-credit degree program can be completed on-campus or online. However you choose to complete the program, your courses will be led by Loyola's nationally recognized full-time and practitioner faculty. You'll follow a course of study developed alongside leading health lawyers, industry professionals and legal experts. So you'll learn the very latest legal, regulatory, political, ethical, and economic aspects of health care delivery.
Should you choose to focus in compliance, through our accredited program you will be eligible to receive a Certificate in Compliance, enabling you to sit for compliance industry examinations.
Our commitment to you
Upon graduation with an LLM in Health Law, you will possess the following knowledge, skills, and professional values:
Knowledge
You will be able to describe the various laws and regulations that impact the health care industry and understand the challenges and opportunities they pose for providers, suppliers, payors, patients, and industry partners.
Skills
You will be able to:
Communicate effectively and in a professional and credible manner about legal and regulatory issues impacting health care clients;
Demonstrate a mastery of transactional skills to respond in an effective manner to all types of health care clients; and
Demonstrate the skills and knowledge necessary to successfully pass the Compliance Certification Board Certified Healthcare Compliance (CHC) certification exam (for students enrolled in the Compliance Certificate option) or other professional certifications.
Professional Values
You will be able to anticipate clients' needs and assist them in developing tools and procedures for engaging in their health care business in full compliance with the law and in keeping with organizational goals and values. You will also be able to advocate for the changes necessary to advance social justice and equity in the health care system.
By the numbers
#4
LOYOLA RANKED #4 IN THE COUNTRY IN HEALTH CARE LAW BY U.S. NEWS & WORLD REPORT
#1
IN HEALTH CARE LAW, ACCORDING TO LAW STREET MEDIA'S 2017 SPECIALTY RANKINGS
60
COURSES IN HEALTH LAW (ONLINE AND ON CAMPUS) AVAILABLE TO LLM STUDENTS
Curriculum
Online Program Curriculum
You can complete the online LLM in Health Law degree in two years as a part-time student. The online program begins three times each year in the fall, spring, and summer and offers ultimate flexibility for busy attorneys. View the core curriculum here.
Required Courses
Introduction to Health Law and Policy
Introduction to Health Care Financing
LLM Thesis Project, Term 1
LLM Thesis Project, Term 2
Sample Elective Courses
Administrative Law and Health Care Regulation
Advanced Health Care Compliance
Advanced Investigations
Clinical Research Compliance
Compliance Seminar Series
Compliance Training Methods
Conducting Internal Investigations
Corporate Health Care Transactions
Cybersecurity Management
Drafting Policies and Procedures
Enterprise Risk Management
European Union Privacy Law
Food and Drug Law
Fraud and Abuse-Stark Intensive
Global Compliance
Health Care Compliance
Health Care Payment and Policy
Health Care Privacy and Security
Health Insurance and Health Care Regulation
Health Law Seminar Series
Human Subjects Protection
Law and Bioethics
Leadership and Management Seminar Series
Leadership and Strategy
Liability and Dispute Resolution in Health Care
Medical Record Billing and Coding
Privacy Breach Incident Management & Reporting
Privacy Program Management
Public Health and the Law
Risk Management, Patient Safety and Quality
Education Immersion Weekends
The Online Programs team typically holds Education Immersion Weekends (EIWs) twice a year. EIWs offer programming to reinforce learning objectives, provide a venue for networking, and foster communication among students, alumni, and faculty. EIWs are usually held at Loyola University Chicago School of Law. Based on current guidance surrounding the COVID-19 pandemic, we have suspended the requirement to attend Education Immersion Weekends. At this time, EIWs remain recommended but optional. For more information, please email LawOnlineAdvising@luc.edu.
Compliance Curriculum
You may also consider pursuing a certificate in compliance studies. By earning the certificate, you are qualified to sit for compliance certification examinations.
Degree Requirements
To earn an LLM in Health Law degree, you must complete 24 credit hours of coursework, including a thesis project. If you enroll in the online program, you are encouraged to attend two Education Immersion Weekends at Loyola's Chicago campus. Visit our Registrar for a complete list of degree requirements, academic calendars, and registration process. You may access full course descriptions through our student information system through guest access.
Admission
To apply for the LLM in Health Law program, you must possess a Bachelor's degree or its equivalent from an accredited college or university and a primary degree in law. Applicants for the online program must demonstrate a professional connection to the subject area through three years of professional experience.
August 1:

Online Fall Term Application Deadline

December 1:

Online Spring Term Application Deadline

April 1:

Online Summer Term Application Deadline
Outcomes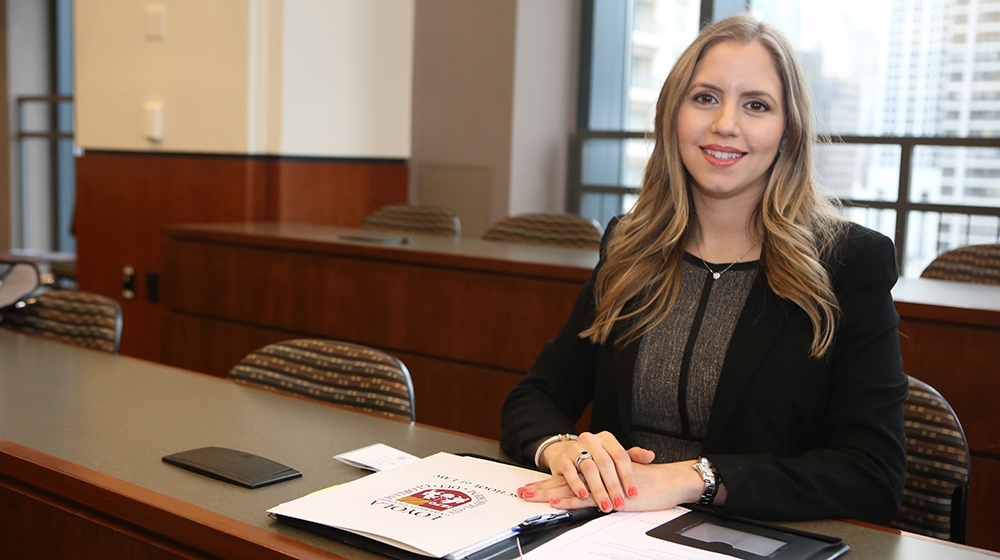 Ana Rivera-Rios
Student
"I chose Loyola University Chicago because of its excellent reputation in health care law."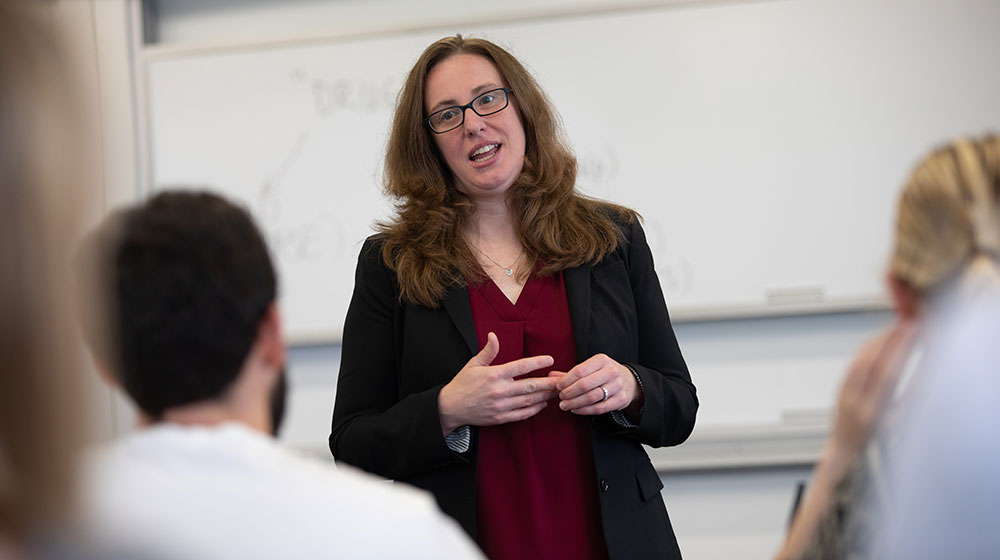 Jordan Paradise
Faculty
"The Beazley Institute for Health Law and Policy supports a vast on-campus and online curriculum."
Sharmi Mahajan
Alumni/Adjunct
"To learn health law is to also learn about corporate, administrative, criminal and constitutional law. Not only does this make the health law field interesting and challenging, it gives me a better understanding of society's overarching and interconnected systems and laws."
Tuition and Fees
The School of Law and Loyola's Office of Student Financial Assistance are committed to helping students secure the necessary financial resources to make their legal education at Loyola affordable.
The Beazley Institute for Health Law and Policy offers fellowship opportunities each year for students in the full-time campus-based LLM program in Health Law. Fellows are required to complete projects at Loyola's Chicago campus. Please review all fellowship details before applying.
FAQs
Do I need a JD degree and need to be a member of the Bar?
LLM applicants must possess a primary law degree. For U.S. lawyers, this is a JD degree. For international lawyers, the degree may vary per country. If you have earned a JD degree from a non-ABA accredited institution in the United States, you must also be a licensed attorney.
What can I expect from the online course experience?
The LLM program is comprised of attorneys with varying practice experience and areas of expertise. Students join the program at various points in their career and each student brings a unique background to the LLM program.
Courses are taught by full-time faculty members at Loyola as well as leading practitioners, each experts in their fields. Each course is organized to teach key substantive areas and practical skills. All courses are offered online through Loyola's learning management system and consist of reading assignments, recorded lectures, quizzes or exams, bulletin board assignments, writing assignments, and live classes. Course materials are available 24 hours a day, 7 days a week.
Please review this short video for an overview of the online course platform and experience.
Will I have access to Career Services?
Can I transfer credits from other schools?
Due to the unique nature of our online degrees, transfer credits are generally not accepted. Applicants or students seeking exceptions to this rule should request consideration of transfer credit in the application process.
May I take both online and campus courses?
Students must select one LLM program--on campus or online--and take all required courses and the majority of their credit hours in that program. With permission from an advisor, students may take elective coursework in the other program option.
Is there is an accelerated option for this program?
Loyola offers an accelerated option for students who complete health law courses at Loyola University Chicago School of Law while enrolled as a JD student. With approval upon admission to the LLM program, Loyola JD students may apply up to six credit hours of coursework, completed with a grade of "B" or better, to the LLM in Health Law degree. Accelerated LLM candidates must complete 18 additional credits to earn an LLM in Health Law degree.
The US Department of Education requires any institution offering distance education/online programs to students outside of its home state to acquire authorization from the states in which students reside. Regulations vary from state to state. While Loyola University Chicago is authorized, exempt or pursuing authorization in most states, some restrictions apply. Please see our State Authorization page for the most up-to-date information.
Loyola University Chicago is registered as a private institution with the Minnesota Office of Higher Education pursuant to sections 136A.61 to 136A.71. Registration is not an endorsement of the institution. Credits earned at the institution may not transfer to all other institutions.