Faculty and Administration Profiles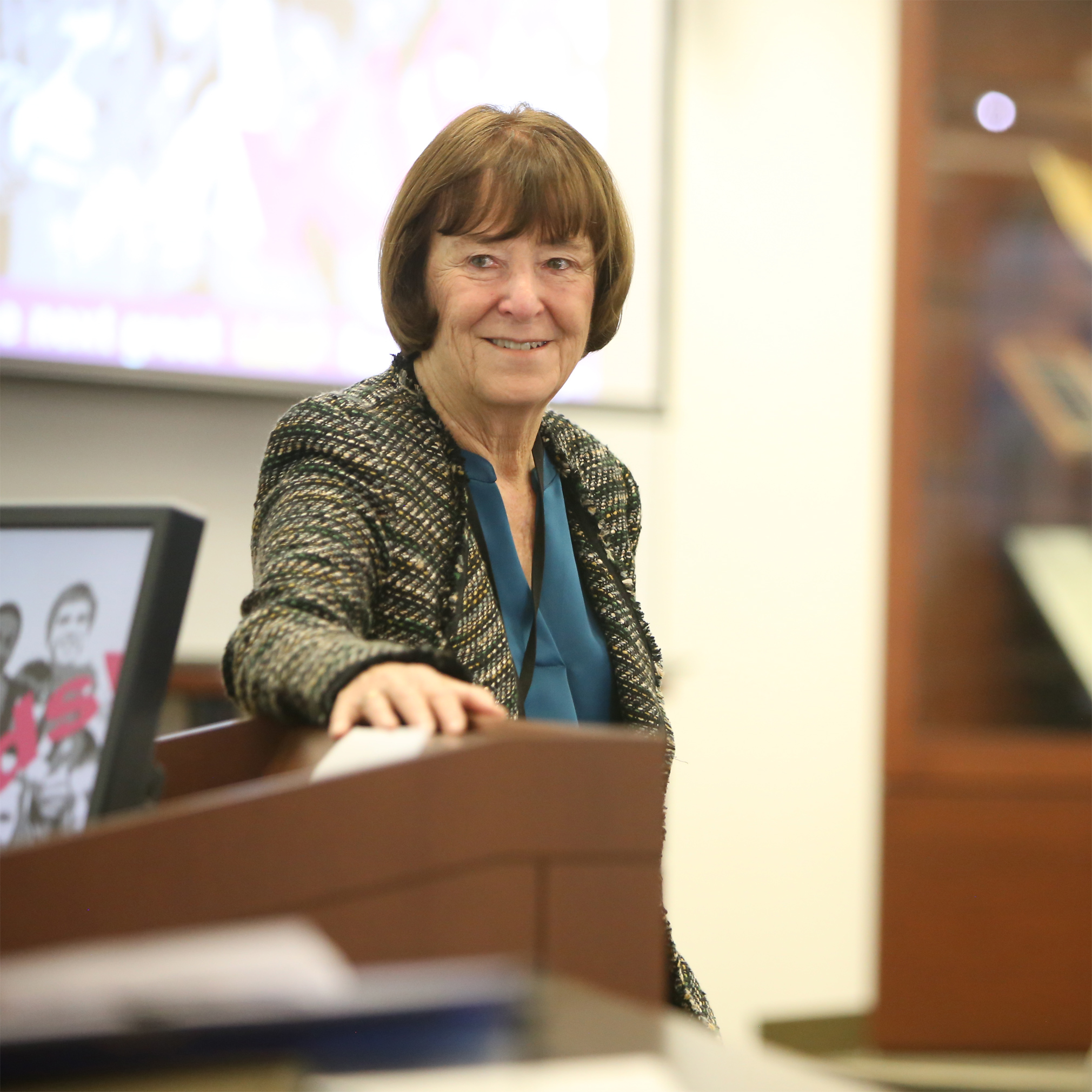 Diane C. Geraghty
Title/s: Interim Executive Director, Rule of Law Institute
Office #: Corboy 1316
Phone: 312.915.7155
Email: dgeragh@luc.edu
About
A member of the Loyola faculty since 1977, Professor Geraghty developed and directs Loyola's nationally recognized Civitas ChildLaw Center. Her teaching, scholarship, and service focus primarily on all aspects of the law as it affects children and families. For nearly a decade she served as the director of the Illinois Models for Change initiative. Currently she co-chairs Loyola's new interdisciplinary Center on Criminal Justice Research, Policy and Practice. Professor Geraghty has served as a consultant on legal education and children's rights in Africa and Asia and is the recipient of many awards for her contributions to children's law, including the American Bar Association Livingston Hall Award, the National Council of Juvenile and Family Court Judges Award, and the Women of Concern Leadership Award. From 2004 - 2005 she served as Interim Dean of the School of Law. In 2009 she received Loyola University Chicago's Faculty Member of the Year award.
Degrees
BA, California, 1965
MA, University of Chicago, 1967
JD, Northwestern, 1972
Professional & Community Affiliations
Get In Chicago, Board of Directors
Maryville Academy, Board of Directors
North American Council on Juvenile Justice, Founding Director
Awards
Legal Legend Award, American Constitution Society, 2014
International Women of Concern Leadership Award, 2012
National Association of Juvenile and Family Court Outstanding Child Advocate Award, 2009
Laureate of the Illinois State Bar Association Academy of Illinois Lawyers, 2005
Leonard Jay Schrager Award, Chicago Bar Foundation (with Thomas F. Geraghty), 2003
Livingston Hall Juvenile Justice Award, American Bar Association, 2001
Selected Publications
Articles
Bending the Curve: Reflections on a Decade of Illinois Juvenile Justice Reform (publication pending 2016)
Undocumented Children and Families in America: An Interdisciplinary Exploration of Challenges and Emerging Opportunities, Preface,33 Child. L. Rts. J. (2013).
Models for Change: A Post-Modern Initiative to Promote a Fair, Rational, and Effective Juvenile Justice System, 27 Child. L. R. J. 66 (2007)
The Youngest Felons: A Proposal for Civil Prosecution of "Tender Age" Children Accused of Serious Crimes, 21 Child. L. R. J. 2 (2002)
Ethical Issues in the Legal Representation of Children in Illinois: Roles, Rules and Reforms, 29 Loy. U. Chi. L. J. 289 (1998)
The Role of Legal Education in the Emerging Legal Specialty of Pediatric Law, 26 Loy. U. Chi. L. J. 131 (1995)
Other
Child-Friendly Legal Aid in Africa, (with T. Geraghty )UNICEF/UNDP/UNODC (2010), available at http://www.unodc.org/pdf/criminal_justice/Child-Friendly_Legal_Aid_in_Africa.pdf (2012)
Access to Justice Teaching Materials, Addis Ababa Center for Human Rights (2013)
In re Pena, Representing Children and Families in Juvenile Court(with T. Geraghty and A. Vigil), National Institute for Trial Advocacy (2003)
Recent Presentations
Improving Cooperation and Exchange on Juvenile Justice in North America, U.S. Senate Briefing, Wash. D.C., Dec. 17, 2014
Current Issues in Children's Law, National Juvenile and Family Court Judges Conference, July 15, 2014, Chicago
Access to Justice for Children, International Conference on Access to Legal Aid in Criminal Justice Systems, Johannesburg, SA, June 26, 2014
Children's Health as a Human Right, Distressed Children International Conference, Yale University, September, 2013
Fifty Years After the Battered Child Syndrome: Reflections on its Legacy, American Professional Society on the Abuse of Children, Chicago, 2012
Access to Justice for African Children, UNDP Access to Justice Conference, Dakar, Senegal, June 2010
Access to Justice for Children, ABA Annual Meeting, San Francisco, Aug. 2010